TOP NOLLYWOOD STAR'S SEXUAL ADDICTION WORRIES FRIENDS AS INNOCENT WIFE SHOWERS HIM WITH LOVE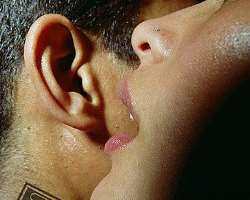 Friends of this light-skinned and dapper Nollywood star are worried he may be sacrificing his career and health at the altar of sexual gratification and are hoping he would get a handle on his addiction before things get out of control.
According to close and concerned sources of the actor who has delighted millions with his superlative performance, in hundreds of movies, his addiction is clearly a cause for concern. "We have always known he had a soft spot for women. He adores them and they adore him too. I mean, look at it this way: he has it all – looks, talent, stardom and of course material comfort. But these qualities should not recommend reckless living and a total disregard for other things that define a person. When a particular addiction takes precedence over all and everything else, including one's career and health, then I think it is best and proper to beat a retreat and re-assess such inclinations."
Information gleaned by Amebo revealed that the popular star spends time with an average of six women a day and this had been going on, for years "he would tell you that this is his moment to shine, and having women is one of the rewards for his talents." Our source had stated. "There was a moment that we had a movie shoot and he was playing the lead role. All other cast members were assembled and the director and producer were waiting anxiously for him to come to the stage, but he was nowhere to be found. We looked for him at almost every location we thought he would have been at, but still no luck. We called his numbers, but they were all turned off. We were thoroughly exasperated and confused. I mean, here we were – all ready to go and the camera we used was rented and we had wasted two hours already waiting for him. And then, one of his PA's remembered that a night before, he met a lady at the hotel's pool bar and had told him he would be visiting her later that night. Since the PA knew the room number the lady was staying, we quickly went with him to the hotel, and lo and behold! Sandwiched between two ladies, was our lead actor, enjoying himself, and pretty oblivious of the fact that he should have been on the set at that time.
We were very disgusted by such display of unprofessionalism, but since it was already too late to get a replacement, we endured his tardiness.
He struggled out of bed and was largely lethargic on set that day. The painful thingwasthat he wasn't apologetic and acted as if we should be grateful that he agreed to act in our production."
According to other sources, the actor is so enamored of sex that he has a PA whose sole responsibility is to collect the phone numbers of his female admirers and to set up dalliances with them. "He would ask the PA how many beautiful women he had set up rendezvous with on daily basis, and woe betides the poor chap if he didn't get the correct specifications of the women he loves: tall, voluptuous, light-skinned and pretty. The interesting thing about this actor is that he is supposed to be happily married and his wife had been known to have crowed in the media about how loyal and dedicated he is as a husband and a father. It's either that she's blissfully unaware of her husband's antics or she's just playing the role of a dutiful wife, who may be suffering and hurting emotionally, but still applauds her husband in public.
Friends however, are hopeful that he may soon come to the realization that playing the field, though exciting, may eventually bring with it, negative and damaging consequences that he may not have bargained for. "I know that he doesn't use protection with all the women he meets" a friend lamented to us, "and that can be dangerous considering the age we live in" the friend had bemoaned. We'll keep an eye on this actor.