I THOUGHT I'D GO TO HELL AFTER HAVING SEX AT 13 - ICE PRINCE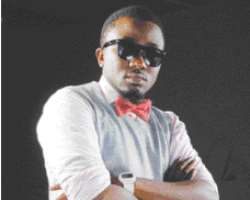 He lost his dad, whom he was very fond of, at a tender age of 13. It was so traumatic for him that he could no longer handle peer pressure, which led him to seek solace in doping. At school, his grades dropped rapidly and he couldn't be the best student that he used to be. But 'my father's spirit was always with me,' he said, and that was all he needed to turn a new leaf.
He stopped doping and faced the challenges of being the only male child in the family, who is now saddled with practically raising his younger siblings.
Rising musical act, Ice Prince, speaks on his travail and his remarkable success in this interview he granted Samuel Olatunji. Excerpts…
Is your life now a dream come true?
Yes, to an extent, because I wouldn't say I want to stop here. I still want more definitely. I always wanted to be more than I am right now. At this point, I am right on the path to my goal.
Are you happy?
Yeah, I'm very much happy. I have peace of mind . I'm not doing anything illegal. I'm making music and I make people happy. I entertain people with music. I make them smile and I inspire them. That makes me happy. It didn't come early and it didn't come late, but it was bound to happen. I'm still young, I'm just 24 years old.
What inspired Oleku?
I inspired myself to write the song, because I can't say it was a girl that inspired me or it was the situation that inspired me. Of course all inspiration comes from God but I pushed myself to write the song. I'm a musician and I need to write songs. Sometimes, I sit down and I say okay, I need to write a song and I am not inspired, what do I do and I try to pick verses and try to put them together in a song. Sometimes it makes sense, sometimes it doesn't. In Oleku, I believe that Jesse Jagz also was an inspiration and in my other songs.
If you reflect on your experience in Jos and now, what comes to your mind?
What comes to my mind is Whoa. Honestly. It's been a long way for me. It's been tough and rough. I just look at my self say Whoa, thank God for making me who I am.
At 24, you are making waves and you say it has not been easy. Tell me the most difficult part?
I had to grab attention before I started making money. I also needed acceptance and that was very tough. It's like that for everybody. You'll be trying to convince people that you can do it and very well. Whether you are a footballer, an actor, or a musician, it's very tough to convince people that you're talented. Getting them to actually spend money on you for your talent is very tough.
I remember I came to Lagos in a night bus. Now I can't even remember when last I took a night bus. I used to sleep on the carpet at Djinee's House. I was chilling with MI then. Luckily my parents, especially my mum, encouraged me with her sweet words. She would say 'you have to try and do it, that is what you like, then do it. The hardest part was lack of money.
I had to sacrifice a lot of things. I lost some friends, because I was very busy. I also sacrificed an opportunity to attend university. I was admitted to study Zoology at UNIJOS, but I couldn't do the programme. I was required to be shuttling between Jos and Abuja. Right now, my mum lives in Jos and I'm in Lagos. Spending time with my mum is now more convenient.
Was there a memorable event that stood out during your formative years?
I remember three things. In secondary school, I used to get kicked out a lot because my parents couldn't afford my school fees. I used to spend like two weeks of every term at home. The school authorities announced names of debtors during morning devotion and sent us back home. It was quite embarrassing and annoying. Now I can afford to pay school fees.
Thank God for that. I remember in Jos, we had a show we called 'Jam session' every Sunday, during which we played music. It was free initially but we made money from it eventually. At a time, my music was not picking up, so I had to look for a job with a radio station. But I was told I didn't have a good voice. I don't want to mention names, because we are friends now. I also tried to be a presenter on radio. It didn't work out because I lacked experience.
How do you feel now when people acknowledge your achievements?
I feel great.
How was life in Jos?
As a teenager I attended church regularly. I was a chorister . I enjoyed playing with friends . We played basketball. Jos was peaceful at that time. I could swear with my life that Jos was the most peaceful place in the whole world. It was conducive for developing your talent. Most basketball stars in this country are from Jos. The town produced successful showbiz stars like 2face, Asa, MI, P-Square and also Mikel Obi, the talented soccer star. Unfortunately, things have gone awry.
When did you lose your dad ?
In 1999. That's about 12 years now.
How has it been since your father's death ?
I thought my world had ended when he died .I was only left with my mum and siblings. I'm the only male child in my family, so I had to be a man at that very tender age. My father had houses and I had to collect rent from our tenants . I really miss him. Sometimes, I see my dad in other persons. I could see something on TV that reminds me of my dad.
Your family has been through a lot. When you see members of your father's family now, what comes to your mind?
We exchange greetings and some of them call me to say hello and 'I'm proud of you and all that.' My focus now is my mum and my sisters school fees.
What was your dad like ?
My dad was very strict. He taught me how to read. He was a policeman, but not like policemen in Nigeria today. He was a man of means. He took me out a lot. As his only son, we went out together and he bought me suya. I went with him anytime he travelled. We were quite close. We went shopping together and whenever he bought anything he bought for me.
As a child, were you rascally?
Yes. I was quite rascally. When I was 15 or 16, I really had bad company around me. I smoked weeds with older men. I was the best student in class, but when I started keeping bad company, my academic performance dropped. It's all part of what shapes you to be a man I guess.
Was it because you lost your father or were you just exploring life as a teenager?
I think I was just exploring life as a teenager. I had to contend with peer pressure. I can't blame my father because he was dead. I stopped being rascally when I realized that it wasn't taking me anywhere. It wasn't profitable. I felt my father's spirit was with me. Nobody sat me down and talked to me. I just realised that I wasn't makng progress and that if I continued that way, my future was doomed .
What bad things do you still indulge in?
Bad things I indulge in? What kind of question is that? (Chuckles). Well, I speed when I am driving. I think that's bad enough and I could be lazy. I could get upset.
Why are you called Ice Prince?
My friend nicknamed me Ice Prince. She started calling me Ice and it stuck. P is my initial. My first name is Pashak. It's not like I got it from a special event . I don't know if the Prince will become P later.
How did you meet MI and Jesse Jagz?
I met them at the church. Jesse was a drummer and member of the choir. MI was the choirmaster. I also used to attend a fellowship with MI and some other people. That's how we became close. We started playing music together and the relationship just grew over time.
When was the first time you had sex ?
I was like 13, but please children don't try it that early. It just felt weird like something funny had happened to me. I felt like I sinned. I was quite depressed and very scared. I felt I was headed for hell. I felt like God won't forgive me. I don't think I enjoyed it.
When did you start enjoying it?
(Chuckles) I don't even know if I enjoy it. You're asking a big question o.
Did you ever feel left behind in your career?
No, I never I felt left behind. Some may say 'Hmm, na lie.' But honestly this is the truth between my God and I. It's a movement that started a long time ago. Then we already knew what it was going to be. We already knew MI was the first, then Jesse and Ice Prince in that order.
Why?
That's how it is, because MI was better prepared than Jesse and I. Jesse was better prepared than me. When MI was recording his first we all cooperated. Also we all cooperated to produce Jesse's album. Now we are cooperating on my album. It's Brymo's turn. We are more than brothers.
Do you share the proceeds from your cooperation?
We share almost everything. I can drive MI's car anytime. I can wear his jeans. I live with Jesse. We share almost everything. I don't think there is anything about MI that I don't know. I don't think there is anything about me that he doesn't know.
Why did you choose rap?
I can do it comfortably without any stress. I don't think I have a good voice. I can't sing per se. I am comfortable with rap. I don't want to do what I cannot do.
You don't understand Yoruba that much. How did you cope in Oleku?
Adding Yoruba to it was the best way I thought I could express myself. When I wrote the song, I asked Brymo to supply the Yoruba angle in it, because I had the Yoruba in mind. They were my target. This is their land and you can't just come to their land like that. You must first greet them by saying my people I hail una oh. That's just a way of saluting the people I live with.
That was probably your first single?
Yes.
How do you write your songs?
I prefer writing in the studio. Jagz makes the melody and I write the lyrics. I first think of what I want to say. If I want to talk about the boys on the street and their hustling, I put myself in their shoes and then I think of what they do and their slangs. I think of how they relate with the rest of the public.
When do we expect your next album?
My next album will be out either in June or July. Marketers are anxious to sell it, but it's not just about packing songs and putting them on CDs . It has to be perfect.
How many tracks are in it?
I can't say yet . Like I said, we record a lot of songs and we pick the best 10, 15 or 18. Whatever.
How many of your peers have you collaborated with?
So far, I have recorded with MI, Jesse, Brymo and I still have sessions with Dr Sid, Tuface, 9ice, Duncan Mighty, and a South African.
Will you go back to school?
Yes. I plan to enrol for a degree program within the next four years in America. I am thinking of studying some business courses or Sound Engineering, because I love doing music.
How did your video leak?
It was a mistake and it's very upsetting when you put in so much effort into something that doesn't come out right. It's quite annoying. Imagine impregnating your wife and expecting the baby to come out in nine months and she delivers after six months. That's premature delivery and you'll be lucky if the baby comes out fine. It was not ready for the market . We needed to go back to the studio and re-edit it.
What of Oleju?
The original video is in the works right now. It's being edited and it should be ready for the market this week or next week.
When will you get married?
I'm not thinking of getting married anytime soon because I am still young. I am still trying to play, I am still flirting with girls. Anything can happen. I can wake up tomorrow and say 'this boy get married' and I will get married, but I don't see myself getting married soon.
How do you cope with girls generally?
God has blessed us with very good women. I have a very understanding girlfriend who knows when to call me. If she calls and I don't respond, she knows I am either in the studio recording, shooting a video or performing. She knows what my job demands and she understands. Definitely being a celebrity or a public figure is not easy. It's harder than medicine.
You've always wanted to be one, isn't it?
Yes, I have always wanted to be but I never knew it will be this tough. I'm relishing the sweeter part of it more than the tough part. For example, boys gather round me and say 'baba, baba' as I walk along the road and I dash them N15,000. I am satisfied. An element of success is sharing your blessings with others. You know God put you there so that you can touch other people. I am always excited when I give .
When women come to me and say 'I'm your neighbour, I live down the road my daughter is this and I give them money, I feel accomplished . People call me from everywhere, I am paying school fees . I just try to help people the best way I can. I'm not the richest in the world and I don't want to have all the money in the world before helping people. I can help people with the little I have.
Being a celebrity comes with gains and pains. Doesn't it?
Yes it does, but being smart is knowing that all that glitters is not gold. For example, if I open my Facebook inbox, you will be surprised at the messages I get . It's the same with my Twitter. Girls ask for phone number and I receive pictures of nude girls in my box. A girl sent me a message lately from Tanzania or Uganda. People send you messages from everywhere all because they want to know you.
You mean you don't 'cut shows' once in a while?
I don't cheat on my girlfriend but sometimes I flirt. Now that I am working on my album, one of the things I promised myself was that I won't have anything to do with any girl until it is done. As long as I'm in a relationship, every other girl steps aside.
Will you take her to the altar?
I don't know; I can't say. Anything can happen.
Tell us about her?
She understands me and she loves me. When I say a joke, she laughs. She's very funny too.
When did you meet?
Last year.