forget about my trip to Dubai - Omoni Oboli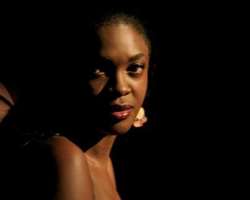 Omoni Oboli's profile has steadily risen over the years. Despite being married with three kids, the lady has become a force to reckon with in the entertainment industry. SEGUN ADEBAYO, in this piece, takes a look at the rise to stardom of the mother of three.
NOT many actresses have her kind of gifts, a matching combination of beauty and poise, even after giving birth to three children, and in Omoni Oboli's world, the best may yet to come as proved by the past year 2010, in which the star actress won many laurels and awards.
Beginning with the City People Entertainment Award where she won the best actress award, the year appeared set to shower accolades on the actress, whose roles in The Figurine and Anchor Baby, two of the few good movies produced in the last few years, have continued to bring praises her way.
Her award-winning spree continued until she hit the goldmine with her victory in the Sunlight Clean and Beauty Awards 2010, where she was featured against the best of the best among actresses in the country. With stars like Funke Akindele, Mercy Johnson and Ronke Ojo on parade, little did Omoni know that she would clinch the prize by not only becoming $10,000 richer but also having an all-expense paid trip to Dubai.
Win, she did, and elated by her successes, the Benin-born actress who hails from Mosogar in Delta State said she has God to thank for the awards. "I have reasons to thank God for His favour over my life and that of my family. My main priority as an actress is to produce good movies. My fans are always eager to watch me star in a movie because that is what they know me for. Winning this award does not make me the best actress; it is just the favour of God. Come to think of it, the list of nominees contains the super stars in the industry, I was just lucky to be voted," she told Glitz.
The actress, as promised by the organisers of the award, left the shores of the country on an all-expense paid trip to Dubai, a trip which Omoni has described as full of fun and luxurious.
Relishing her Dubai trip, she stated that it is the beginning of greater things to come for her this year, saying "we travelled business and first class, there was a limo to pick us up at the airport to Jumeira Hotel where we had a two-bedroom duplex fitted with a kitchen, jacuzzi and everything you could think of. It had a breathtaking view of the city and I just loved to sit in my living room sometimes with a cup of tea and take in the view. I didn't get to spend much time indoors though because there were so many activities lined up."
She described the many places she visited in Dubai as exceptional, admitting that she would never forget the exciting but scary roller coaster ride that she went on.
"The trip would not have been completed if my husband had not gone with me. We were together through out and the experience was mind-blowing," she stated.
When asked on the acceptability of Nigerian movies in Dubai, she added that "Nigerian movies are well accepted all over the world. So many people took pictures with me in Dubai; they were excited to see a Nollywood actress. I was very excited too, not because they took pictures with me, but for the fact that people who live very far from where we produce our movies appreciate what we do. It was indeed a great fun."
Revealing the reaction of her husband to the award, the Figurine star actress said that "I won the award and the award came with an all expense paid trip to Dubai and $10,000 cheque towards my next project. My husband was really excited about the award because he knew I worked really hard in the industry. He's happy when my work is recognised."
With awards and recognitions are trickling in, the actress' role in Anchor Baby can be said to be a blessing, with the movie having won Omoni two international awards, the Best Actress at the Los Angeles Movie Awards and also Best Actress at the Harlem International Film Festival. No other Nigerian actress has won any of these awards, a development which has made many producers to scamper after this bankable actress so she could be part of their production.
To her, scripts come in torrents, ''but many of them are not just it. You have to keep stepping up. You can't do Figurine and Anchor Baby like it is business as usual. Explaining the role she played in The Figurine with Ramsey Nouah and Kunle Afolayan, she said it is just for the screen, saying "Kunle and Ramsey are fantastic actors. We have become friends. The roles we played helped us to get along as actors. The romantic scene stopped immediately the director said cut."
With three kids, Omoni, who still possesses good carriage, revealed her secrets, saying "I'm a big supporter of healthy living. I run a diet and fitness business on the side, so I practise what I preach. I watch what I eat and I exercise, I go to the gym a lot to stay fit and healthy."
When asked what she intended to do with the prize money, she stated: "The money is to help with my movie project which I am currently working really hard on." Omoni's current run of success confirms how she appeared to have been destined for the front row from childhood, as she had at various times, held the positions of Head Girl (1994 set at Delta Steel Company Technical High School, Ovwian-Aladja); President, Literary and Debating Society; Editor, Press Club and President, French Club. Between 1995 and 1999, she studied Foreign Languages, majoring in French at the University of Benin.