Don Jazzy gives okadaman N5000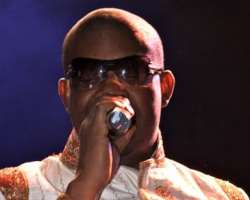 "So I took Okada yesterday after a veryyy long time. Brought back memories. But that shit is still dangerous sha. Guys pls be careful", that's how @DONJAZZYMOHITS began his story on Tuesday.
The President of Mo Hits Records, Nigeria's richest label turned on many followers when he dropped this line. Many were quick to comment saying it was impossible. Anyway, the Don stuck to his tale explaining that he needed to beat the traffic to pop music twins- Psquare's villa.
The villa's located in Omole, Lagos. he even swore on the eventuality of the rest of his life if he had concocted the okada ride tale.
So who was the lucky okada rider and how much did he charge hit producer, Don Jazzy. "He couldn't charge me. I gave him 5k (N5,000) sha" — @DONJAZZYMOHITS
For what? Well, that's what generous Jazzy did. At least that's what he said.
Most of Don Jazzy's followers know him to be generous doling out as much as N20,000 worth of call credit in a day, sometimes, on Twitter. He's also known to I've surprise call to followers on their birthdays and wishing them fun on their special days on Twitter.