Showing of cleavage a times is part of the job of a model…Adennyke Hip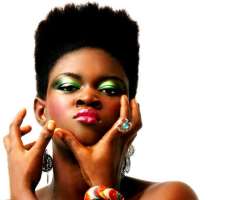 Showing of cleavage a times is part of the job of a model…Adennyke Hip
Adenike Adegbite better known as Adennyke Hip is one of the fast rising model in the fashion and modeling industry; this diva who believes her unique selling point is her charming face that is fit to go for any bill-board advert and runway. This undergraduate of Mass Communication from Lagos State University also has good flair for rap music as she eyes the likes of MI, Laurel-Hill, Missy Elliot, Mode9 as role models. In this chat with MUTIAT ALLI, she leads us into her world of modeling, what she enjoys most in the job and other sundry issues.
What is your journey into the Modeling and Entertainment like?
I love anything creative and artistic. Movies, music, painting and drawing, photography, hair dressing, fashion designing, just name it. I am a very artistic person. People walkup to me and ask, are you into entertainment? I started music from a singing group in secondary school; it had me- Morgan, Tunde- Napsy, Michael and Ismail- Columbia. We were all influenced by a big brother in my hood back then in Anibaba, Niyi also known as Xcaper then the church. I knew I will be in entertainment right from my childhood. friends asked me to change class so many times in secondary school because I was doing science. I later changed to Arts that is why I am studying Mass comm.
Which influenced your decision to model, your look or height?
I believe its both. People walk up to me and ask that question severally; are you a model? Me going into modeling was influenced by another brother in my hood at Anibaba, Debo. He believes I have everything it takes to make something out of modeling so he introduced me to someone who knows someone that knows the owner of an agency that was how I started. The agency didn't turn out to be what I expect though but it ignited a passion in me. I went for one of the castings they called me for few years ago and someone said I fit to be a World-class model and with proper training, I will be. That is just what I want to be.
As a Model with good look and height, what would you say is your selling point?
My unique selling point as a model is my face. Because with every new hairstyle, I never look the same! And I think that is fabulous. People walk up to me asking if am related to one person or the other. Some think am Hausa, others say Edo or Igbo but am Yoruba. I like that.
What are some of the jobs you have done so far?
Not much. Few runway and makeup jobs.
Which do you prefer, billboard or runway jobs?
Runway and fashion Photography.
How many people have you worked with?
For photography, Kelechi Amadi-Obi, Lai Makanjuola, Mike Ofori gyasi (he is the youngest Pro photographer Nigeria has as of today, they need to watch out for this guy), Di-act studio. I have worked with make-up artists such as Lise Eniola Balogun, Shola, Belles signature, Kekewa make-over and so many other people I don't know and designers like Modela, Steve ray, Monalisa etc.
I hope to work with many more great people out there that I know and haven't heard of yet. And for my trainings, Mmodels, that was my last agency really tried for me and all models I have come across at different castings and worked with.
What are those moments that whenever you re-call them, you feel on top of the world?
They are when I create a style for myself whether with my cloths or hair and people like it. They call me crazy girl both in school and at home because I do my things differently, my hair is never the way everyone else is and people love it. I was at a casting for a runway show lately and was picked by the organizers not because my walk was perfect but because of my look, the hair I was wearing and that was not the first time. It has really endeared a lot of people to me, they'd be like, we just love your attitude and I thank God for the inspiration. It shows this is what am supposed to be doing.
Doing all these, were your parent in total support?
If it does not affect my education, they won't question. It wasn't easy when I was younger but they knew I know what I am doing, so no qualms.
With the kind of work you do how you handle guys.
It is expected that you get admired either for the right or wrong reasons, it now depends on you. I don't smile when nothing is funny; I guess you understand what that means. It is a reflection that I am a no nonsense person. If your admiration is genuine, I appreciate it and if it is not. I put such people in their place.
What is your definition for fashion?
Fashion to me is being in trend, being in vogue, keeping up with the world, dressing wise. I believe in style because it is personal. Fashion is having all the designer stuffs and wearing them the way they said you should. But style is adding your personal touch to everything you wear; my wear is not only talking about cloth, am also talking about hair and other aspect. From head to toe.
Part of your body you love most
Every part of me, I love. From my hair to toe nails because I get complements about different parts of my body everyday. If not about my hair, it is my lips, or my legs or my face.
How many Your kind of man?
I love a man who is God-fearing and sincere. Possess a great sense of humor, must be ambitious and pragmatic. He must be sensitive and responsible.
Some people believe that models are loners. What is your take on that?
That is not possible. Models are the most sociable people I know. To be highly successful as a model, you need to network and how do you network? Social networking avenues like clubs or parties, SN sites, anywhere and everywhere. Those models we call "Super" got their breakthrough jobs not from their agencies really but through networking. Just like I got this interview.
Does one have be e to be skinny to be a model?
Not at all. Just have the right look and the right attitude.
As a run-way model, when a job demands that you show your cleavage, will you honour that?
It depends on how much of flesh is involved. If it is too much, then I might not. But it is no crime or sin for those who do it; it is part of the job.
What turns you off in people?
I hate people who pretend to be what the are not or people who say what they can't do.
There is believe that models get to sleep with their boss, before they are allowed to go for casting, how true is this?
I heard such things but never experience it.
What are your aspirations as a model?
I intend to be pace setter like Oluchi, Tinuola Tinu, Alec Wek, Naomi Campbell and Kate Moss. Contribute my own quota to the industry like Tyra Banks is doing with next American Top Model.
Who inspires you?
God and all models but professionals and amateurs that I have ever watched on television, seen and work with.