Annie Macaulay - Tuface and I Never Did Any Secret Wedding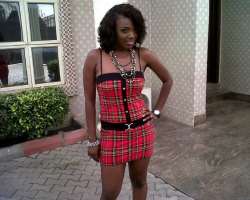 She ventured into the movie industry not too long ago and from the look of things; she is already making a statement in the industry. Annie Macaulay, one of the women who had kids for Africa's hip hop singer Tuface Idibia is a Computer Science graduate of the Lagos State University. Speaking with MURPHY FADAIRO on various issues such as her career, relationship with Tuface Idibia, being a single mother and other sundry issues, the pretty mother spoke at lenghth. Excerpts.
Q.You are one of Tuface's baby mamas; do you think you are lucky to be part of the lucky ladies who bore children for the hip hop star?
A.I cannot categorically say if I am or not lucky to have had a baby for Tuface Idibia. All I know is that I am happy that I am lucky to have a beautiful baby in this world and she is Isabella. She turned two last December and I tell you it was a wonderful time. Her dad was also around to make the day a loving one; not all dads most especially for a guy like Tuface find time for this but he was still here for the party and with his daughter. All I can say is that I have a baby for one of the best daddies in the world.
Q.So you are saying the relationship between you and Tuface is perfectly okay just for the sake of your daughter and nothing more.
A.He is a wonderful and loving dad to his kids and mine is not an exception. We have a fantastic relationship; we are happy parents.
Q.Is it true that you are the favourite of the many women in Tuface's life and that you guys actually contacted a secret wedding last year?
A.Where did you hear that (laughs in between). I don't know ooo. I am not married to Tuface or any other man, I am a single hardworking mother and my only joy is that I am proud to have my baby; Isabella is my world.
Q.If you are not why is there no love lost among the three of you I mean yourself, Pero Adeniyi and Sumbo Ajaba?
A.I don't have any problem with any of Tuface's women; we are all cool with one another. I am cool with all of them and I love my baby's brothers and sister. It is all love.
Q.But this is not what is been speculated out there. What about the confrontation you had with Pero Adeniyi sometime last year at the after party of the Tuface's live in concert and another confrontation that happened at Airport hotel?
A.All these accusations are the past and happened a long time ago; I don't want to say anything about it again. And please don't ask me anything concerning this again; let's moves to another question.
Q.Why; do you have something to hide? You need to clear your name.
A.I don't have anything to hide; I am innocent. OK I said i don't want us to talk about this.
Q.Okay then tell the world who the real Annie Macaulay is and what is it that the public do not know about you?
A.Well as you know my name is Annie Macaulay, am from Akwa-Ibom state from Ifiki local government. The only girl of a family of four studied Computer Science at the Lagos State University LASU. I did Theatre Arts at UNILAG. I have a fantastic beautiful lady Isabella and a full time Actress. It is what I have always wanted to do and i am working on several other projects coming out soon.
Q.Talking about your acting career; when did you actually debut in Nollywood professionally and how rewarding has it been financially? How rich are you.
A.I have always acted all my life; while in school I have done a couple of productions but now that i am done with my studies I will say professionally it is 2008. 2010 is one of my best years and I know it will only get better by the day. In the money aspect now, o boy it hasn't really paid off oo but I thank God that I am comfortable.
Q.So how soon is marriage coming in, as you can see that seem to be the new trend in the entertainment industry now looking at the number of celebrities that have wedded of late?
A.For now I don't think am ready for marriage. I want to focus on my career and build the brand Annie Macaulay so that I can make more money. Right now what I am concerned about is my baby and my career. There is no man in my life right now; he would come when God says he will. It's never too late. I don't have to follow the trend.
Q.Have you ever been sexually harassed?
A.A capital No is the answer. Never been and doubt if I will ever be because I don't walk in that direction. I know what I want and believe in myself. One other thing that must be considered is the way you present yourself. If you dress provocatively and expect not to be sexually harassed then you are wrong. The way you dress has a lot to do about this. Moreover it has become a menace to our society. It is everywhere in the banking, telecoms, insurance, entertainment and what have you.
Q.And what is this story about Lesbianism cabals in Nollywood; are you aware of this?
A.I don't know anything about that; wouldn't know if such a thing exist because I have never experience it and don't if I ever will. I am straight and have never believed in such things.
Q.Do you see yourself as an A-list actress?
A.I don't know what you mean by an A-list actress or what have you. All I can say is that I am an actress and I do my work as professionally as possible. So far my producers or directors have never been disappointed.
Q.What about mentors in the industry?
A.Well I respect the elders in the industry. I am not too much of a mentor person but no doubt there are legends in the industry I hold in high esteem. I wouldn't want to mention names.
Q.You look very pretty even after a kid; can you tell us your beauty routine?
A.Well I will say that I do a lot of exercise and workout at the gym. I watch what I eat; I do a lot of fruits as you may know it helps nourishes the body. Apart from all these I don't any other special thing I do to keep fit. I eat well, exercise and don't want to be on the fat side. That is why you see that I have lost so much weight. I am very happy about the way I look now and am so glad that you like it.
Q.Your baby Isabella is still very young and considering the fact that you are a single mother; how do you combine having to raise a baby and the rigours of acting which requires travelling all the time?
A.Remember that she is over two year old now. It was not easy at first because I had to take her everywhere I go but right now she is of age now and has started school. The Nanny is always there for her while I don't abuse her motherly privileges too. I am always with her no matter what and my Mother is still very much around and available to take care of her too. She couldn't have been in better hands. So i have time for my career and can spend weeks, months in location if I have to just the job to be done. If you look you will see that i have lose a lot of weight, it's all because of having to be there for my baby and at the same time do my job as an actress. God have been my pillar and strength.
Q.Give us an insight into some of the movies that you have featured in and some that you are presently working on?
A.I have done some that I can't start counting now. And I tell you in the next couple of weeks you will be seeing more of me on the screen now ever than before. Just watch out for Annie Macaulay.
Q.I saw this advert on TV about a show which you are planning; what is it all about?
A.It is just the other artistic side of Annie that my fans will be seeing. It will be coming out soon. Just like you have seen it is called Unwind with Annie Macaulay and the advert is everywhere. We are already shooting and in just a matter of weeks you will start seeing it run on TV station across the country. That is all can say for now.
Q.What is this misconception that people have about you and when you hear all these stories about you that are not true, how do you react?
A.People think that I am a snub; it is what i have been trying to be with over the years. All I will say is that they should get to know me and am sure they will have a change of heart. It is never good to judge a book by its cover. I am easy going person, they will see. And about bad stories, before I used to be very down when I read this and that not true about me but now I have developed a thick skin to it. They don't move me as I have realized that it is one of the prices you have to pay for being in the limelight.
Q.What does it take to make a head way in this industry; it is not as easy as it seem I suppose?
A.I would say if you have got the talent, believe in yourself and go for your goal. You will get there.