$76million (N11.6Billion) BASA Fund Trapped In CBN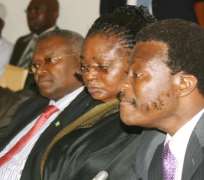 ABUJA, Feb 01, (THEWILL) - Officials of Federal Ministry of Aviation today disclosed that the $76 million (11.6billion) Bilateral Air Service Agreement (BASA) fund meant for the provision of infrastructures at the nation's airports is trapped in the coffers of Central Bank of Nigeria (CBN).
The officials made the disclosure when they defended their 2011 budget before the Senate Committee on Aviation.
Ann Etta, Permanent Secretary of Federal Ministry of Aviation and Harold Dumuren, Director-General of Nigerian Civil Aviation Authority (NCAA) who are signatories to the account led the officials to the defence hearing.
Dumuren in particular told the Committee chaired by Senator Sylvester Anyanwu that none of the airline operators have so far expressed interest in accessing the fund.
"We have $76 million in that account with Central Bank of Nigeria and nobody has touched it, the money is intact," he said.
Speaking earlier on the activities of the ministry, Ann Etta, also disclosed that the ministry and its agencies including Federal Airport Authority of Nigeria (FAAN), Nigerian College of Aviation Technology (NCAT) were able to access the sum of N14, 826,719,995.56 out of its allocation of N45.997 billion in the 2010 Appropriation.
However, she gave insight into the projects already executed by the Ministry to include the installation of 10 3D Rapiscan full body scanners at Murtala Mohammed International Airport (MMA), Lagos; Nnamdi Azikwe International Airport, Abuja; Port Harcourt and Kano Airport as well as 22 walk-through metal detectors and 14 baggage scanning machines installed at various airports including the Presidential wings.
On non-payment of compensation to families of the crash victims of the three aircrafts namely, Sosoliso, ADC and Bellview, the NCAA boss noted that various litigations and multiple claims caused the delay in the payment of the funds by the insurance companies.
Nonetheless, Demuren was not forthcoming when asked about the state of internally generated revenue (IGR) from various agencies. He pleaded with the committee, saying the amount generated will be made available to the committee as well as details on the letter written by the management of Jesuit International College, Abuja on compensation.
On his part, Frank Aisegbogun, FAAN managing Director disclosed that the agency has procured 2,500KVA generators to replace the existing ones at MMA and Abuja airports in the bid to improve power generation at the airports, just as he lamented over the state of infrastructure at the 20 other airports.
He explained that only two of the 22 existing airports being managed and administered by the agency are self-sustaining while the remaining 20 are in poor state and funded by the revenue generated from the two functional airports.
Chairman of the Committee at the end told the officials that his committee would work collaboratively to ensure that Nigerian airports are made safe and effective adding that the major challenge is to rebuild the infrastructure and operating provisions in the aviation industry.