THE PERFECT CHURCH: WILL WALE ADENUGA, RAMSEY NOUAH AND FUNKE AKINDELE RE-IGNITE CINEMA SUCCESS?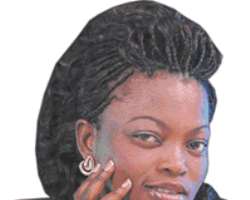 Funke Akindele
In 1984, Wale Adenuga shot his first feature film, Papa Ajasco, with Peter Fatomilola, and it was a huge success. In 2009, Ramsey Noauh played the lead role in Figurine, and the movie set box office record until Ije came. In 2008, Funke Akindele's movie, Jenifa, set an all time record in Nollywood as the highest selling movie.
Now, the three record breakers have teamed up together to deliver another movie, The Perfect Church, to cinemas across Nigeria and Ghana on Friday, February 29, 2011. Wale Adenuga is producing the flick while Ramsey Tokunbor Nouah is playing the role of Pastor Benson with an almost impeccable reputation.
Funke Akindele plays the role of Sis. Angela, the choir leader, while veteran actor, Olu Jacobs, plays the role of vision-seeing Bishop Williams; Ngozi Ezeonu is the elder Mrs. Ojo with a secret that will diminish her elderly reputation and that of her husband, Mr. Ojo-Hakeem Rahman.
With this star-studded clip, popularity and reputation, many are asking if the coming together of these three 'movie giants' can guarantee a cinema success. 'I am sure the movie will do well commercial-wise, even though money was not our objective. We wanted to shot a movie with strong message and high cinematic standard.
We did everything right and with the right cast, the cinema audience will embrace it,' one of the trio said.
In order not to leave anything to chance, the movie will be opening in all cinemas across Nigeria and Ghana simultaneously, that would be the first time a movie would be opening same time across West African countries.
The Perfect Church is the story of a church with perfect reputation and holy people with unholy secret. Pastor Benson (Ramsey) presides over the church; Sis Angela (Funke) leads the choir, while Mr and Mrs. Ojo (Hakeem and Ngozi) are the elders. There lives are perfect until Bishop Williams (Olu Jacobs) comes to deliver a confusing vision. All hell was let loose and lives and reputation are sacrificed.