MY WIFE HAS ALL I WANT IN A WOMAN - FEMI ADEBAYO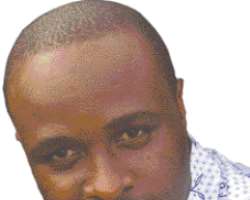 Femi Adebayo
If you are an ardent Yoruba movie fan, Femi Adebayo shouldn't be strange to you , but for those of you who don't watch Nollywood movies, Femi Adebayo is the son of Adebayo Salami popularly known as Oga Bello. The lawyer and actor shares with Sunday Sun in this interview, how he came to lime light, a glimpse into his formative years as the son of a renowned actor, his marriage and host of other things.
What have you been up to at present?
At present, I'm working on a movie and it would hit the market soon. It's a comedy titled Jelili . We did a preview earlier in the month and the turnout was quite impressive.
In the past two years, you've featured regularly in most Yoruba films .What's responsible for this sudden shoot-up in your career?
I quite agree that I have been very busy, but all the same, I give GOD all the glory for that. To the best of my knowledge, some producers just realized that I'm talented . They realised that despite my background, I can play any role in any movie or comedy. Before now, I was only playing the lover boy role but I guess they just realised how versatile I can be.
Could it be due to your father's influence in the industry ?
Well, being Oga Bello's son is a plus and there's no doubt about that, but having that plus without substance amounts to zero. Regarding my success, I would say it's God Almighty . The Oga Bello factor is secondary . Since 1996, my role as Owoblow actually brought me to limelight. It wasn't Oga Bello's influence, because I went to Tade Ogidan's audition and Ogidan didn't know he's my father. It was after I got the role that he got to know and he was like, 'so you are Oga Bello's son, I'm not surprised. But really, I won't rule out my father's influence and I thank him so much for giving us a good name.
Are you saying your father was not aware that you went for the Owoblow's audition ?
Initially , he wasn't aware , because I was still in school.
If he knew about it , would he have supported you?
He wasn't against it , but he wanted us to be focussed in school and he made sure that our education was a priority. If he wanted to force me, he could have made sure I read Theatre Arts but he allowed us to do whatever we loved doing and he always said that theatre arts should be a secondary thing .
So what will happen to Law?
I'm still a Lawyer. The most difficult aspect of law is when you are still in school and passing through the Nigerian Law School. The moment you're called to the bar , you're a bonafide lawyer and if you wish to drop your wig and gown and pick them up later they would always be there. For now, because I saw an opportunity in the entertainment industry, I decided to seize it. Honestly, I didn't abandon law totally; it's only the litigation aspect of it that I don't do . I still do the property aspect. I have a number of clients. I still practice law to an extent.
Is acting now a family thing, because I'm aware your Dad and your siblings are acting and even your mum is a marketer too?
It's probably a coincidence but I believe that very soon the Adebayo Salami family would be a household name in the entertainment industry. Really, my mum has been a marketer for about twelve years now . My dad has always been an actor, director and producer. Some of my bothers are actors, producers, writers, production managers, and what have you. To God be the glory for the fact that our family is recognised in the industry. It's God's doing.
What was your childhood like in a polygamous family?
Wow! I would say that my dad is one of the luckiest polygamists I have ever known because our family is unique . There's so much love between us and that supersedes all other things. The wives love themselves so much , but my dad insists that none of us should have two wives.
So what does Femi Adebayo think about this ?
I agree totally. I'm satisfied with one wife , but I also agree that sometimes destiny could play a fast one on me. However, honestly I would want to remain a monogamist.
Despite the fact that you're Muslim?
Yes, despite the fact that I am a Muslim.
Last year, it was all town that you had problems with your wife . Can you shed more light on that?
It's so unfortunate that people don't verify what they read. There are bound to be issues between husband and wife which usually can be settled amicably but as at the time this rumour was circulating, we had no problems. My wife is hale and hearty in my house and she is taking care of our kids . When you are rising and you are in the lime light, the press will write something about you and make some money without even verifying it.
I must admit that City People published a false story about my wife, myself and some other people. For some time now, they have been writing all these things and I have been keeping quite but it actually gets to me. Eventually, I had to write them and ask why they wrote such a story because it puts my reputation in jeopardy. They wrote a rejoinder saying they were sorry that they thought this and that. How could they think and not verify?
There was an instance they said your wife was caught cheating and there was another instance they said Funke Akindele caused a rift between the two of you. How true is all these?
Honestly , if you have been following these stories you would discover they're contradictory. I have always made it known to my fans that there was nothing like that. Infact, at a point I was forced to bring my wife to tell them that we had no problems and she did.
Sincerely, instead of all these pulling my career down it has been pushing it up . I appreciate my fans , because they have been with me all through these. Honestly, the last story really got to me and I'm not very comfortable with their rejoinder because it was featured inside the magazine and not on the cover like they did in publishing the falsehood. I would be taking that up. You see, there is nothing wrong in asking for my own side of the story before going to press.
What's your relationship with Funke Akindele?
I have answered this same question many times and I will keep answering it if need be. It's very straight and simple. Funke Akindele is a colleague and we work together and probably because she is a lawyer too we get on so well. Maybe it's because we worked together in Taiwo-Taiwo which was a blockbuster. Many people really loved the movie because we played our roles very well. The rumours started after Taiwo-Taiwo .I have really been linked up with so many actresses, like Laide Bakare, Kehinde Salami and even Fathia Balogun. I just think the moment we play husband and wife the rumour mill begins to bubble.
It's also believed that Funke also influenced your blossoming career, didn't she?
No, it's funny really, because she featured in so many movies that I didn't act in.
It all depends on the story line. If the story line says this actor should be there then you go for him, okay? If you want me to recommend somebody that can play a particular role better , I could recommend her and not insist .But if she actually believes in me and says Femi Adebayo can play the role better, that doesn't mean that she would insist on it. She doesn't believe that I must be featured in any movie before she accepts a script.
How have you been able to strike a balance as a father, husband and your career?
Well, I thank God for my wife, because she understands my job . I always find time to spend with my family. During any short holiday I take my family overseas . I make such opportunities worthwhile.
I understand that you both were dating at the University of llorin ?
What attracted you to your wife?
We were dating in school then. She's very beautiful and because I am not a very handsome guy , I felt I should go for a very beautiful lady like her so that our kids will be beautiful like her too. She is also very decent and religious too. She has everything I ever wanted in a lady and I thank God she agreed to marry me.
You know the normal lines now. I like you and I want to be your friend and so on? You know she also told me, she liked me and my movies but I remember she told me she is a devout Muslim and that she doesn't even shake guys. After I told her I wanted to be close to her, I started showering her with gifts and that was how it began.
I swept her off her feet.
Was she your first love?
No o! But I'm her first love.
How do you handle your female fans?
Without any iota of doubt , I love them the most. It's because they watch more movies than men. They sell the movies to their husbands. There's no doubt that you may have some crazy fans but to God be the glory with the help of my father's experience , I have been able to handle them well. Like he would say, you can be friendly to any extent, but you must be highly disciplined.
Have you ever had any crazy experience with a crazy fan?
Yes. I have had so many but I will give you the funny instances. I was in an eatery with my wife placing our orders when a female fan walked in and she didn't even notice my wife , buts she gave me a very tight hug. She kissed me too and said I love you and I said thank you and she was like can I get close to you? Can I have your number?
Then I introduced her to my wife and she just said congratulations and left. My wife actually understands and you know because she loves Michael Jackson so much, she would say that whenever she sees Michael she would hug him. So, I usually make a reference to that, but she would also ask me jokingly, so are you now Michael Jackson and we would just laugh it off. The other one was quite crazier and I would call that attempted rape.
On that day, I was just being generous. I picked-up some youth corps members at Ibadan , because I felt there was a time I was also in their shoes and I asked if they were going to the coppers lodge. When we got there, they told me to say hi to my fans . I was in one of the girls' room and suddenly all six of them began touching me all over my body and I was like please chill. So, I said okay, why don't you girls just dress-up and let me take you out. Then , I just went outside pretending to wait for them and I just drove off.
Are you thinking of acting English movies?
There's no special procedure or skill required for English movies especially as a producer .I have not produced an English movie , because they're not viable any longer. When you get to the market you find out that they watch more of Yoruba movies that English ones. For instance , you will find out people watch more of Yoruba movies on DSTV and Hitv. Aside that , I just finished shooting an English movie and it's titled Ladies Man and there are about three or two others I have done . I don't see any big deal about featuring in any English movie. Of course the English language is universally accepted than Yoruba but I appreciate our cultural values. I can read and write English, but it's a borrowed culture so most of the things you see in these movies is just glamour.
If we say English movies celebrate glamour, why is it that most Yoruba movies are about witchcraft, jazz and all that. Is that the only part of our culture we celebrate?
You should say some and not most if you want to be objective . I don't agree.
Okay if you don't agree, why is it that in Yoruba movies , it's always the babalawo, the ifa priest, the church or mosque that provide solutions to problems? Why can't you guys think outside the box?
You're a Yoruba lady and the first thing in your life I'm sure is Christ. So, if I want to convince others I will have to come with Christ. Do you agree? So you will believe straightaway. That's not applicable to whites. They might not give much thought to the bible and still will live their lives fully . So our culture works that way. If you have seen my movie Alakorun, I intentionally waved all that. I solved the issue there with the Yoga system.
Were those names you mentioned in the movie real, because I said I was going to google them?
Go and goggle them, but they are not real names .That is just the writer's craft to convince you. So I try to run away from all that. For instance in Iroro funfun, there was nothing like pastor or herbalist. Yoruba stories are deep , because they go into the culture, so you can't run away from them totally because your audience believes so much in culture. You like Alakorun, because you are educated, but what about my fans that are not so educated?
Most of the time, you producers overstretch scenes and place adverts in your movies. For instance you watch four CDs and you realise that the movie has not ended. Comment on that please.
We can't throw out adverts , because that is how you get to know about the latest movies. I agree that we sometimes over do it. It's neither the writers fault nor the producers'. It's the marketers fault, because we don't see it when it is dubbed .
Jelili is coming out on Jan 31st and we know they must have placed a lot of adverts in it. It's business, so we can't blame them so much for that. For the over stretched scenes, what you enjoy in a movie is not what others enjoy in a movie. Some enjoy those funny slangs and those stupid things which you , a lettered person, might not enjoy. We are only trying to satisfy everybody .Really, it has never happened in any of my movies . At least I have produced about five movies and the latest one is in the pipeline ,but I have never overstretched my movies.
Is it true that you are one of the highest paid actors in the Yoruba genre?
Well, I have heard that over and over again , but I don't know how much other actors are paid so I can't say if I'm among the highest paid or not. To the extent that many producers are saying hiring Femi Adebayo is big project, it's all about being a brand and packaging myself well.
What are your challenges as a celebrity?
The biggest challenge is my privacy. Sometimes, I just want to walk into a buka and eat but I can't do that. Sometimes, I want to hang-out with friends but I can't. I would also love to take a bus but I can't.
There was a time I was writing a script and I needed to know what it was like in a public bus , so I had to get some plain-clothes police officers to go with me. Also I love to go to the market with my wife and haggle with the meat seller but I have to wait in a tinted car for her. So, I miss all these things but I guess it is the price I have to pay for fame.