We Are Changing Broadcasting in Nigeria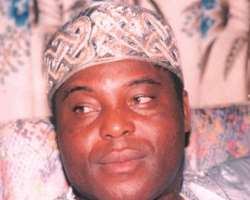 Still basking in the euphoria of the success of its Initial Public Offer, Chief Raymond Aleogho Dokpesi, Chairman DAAR Communications, recently spoke to some journalists in Abuja on his next plan for the outfit.
Q: Why did you decide to take DAAR Communications to the Stock Exchange and
what specific areas will you apply the offer proceeds to?
A: We went to the Stock Exchange with the belief that ordinary Nigerians have faith and confidence in DAAR Communications. The measure of our acceptance and appreciation of the sacrifices we have made on their behalf was the positive response, as the offer for subscription and for sale were 100 per cent subscribed. Actually, it was about 103 per cent, but in order not to run into the issue of oversubscription, we had to do some juggling around to fall within limit. There were multiple applications that had to be eliminated, so as not to be in a difficult position. The public offer result is now out. The offer proceeds will be applied very strictly and very decently–one to the ational network expansion programme that we are embarking upon for both radio and television as the second National network in Nigeria. Mr President granted us approval to operate the second National network in January this year. We are also going to be coming up with multi-channel pay television transmission, which we hope will be taking off from Abuja here. We are also looking at upgrading the facilities at each of our television stations across the country from analogue broadcasting to full digital platform. This is not only in terms of the studio facilities like the cameras, switches and so on, but the entire broadcasting platform. That will be for all our stations across the country. We're also looking at the issue of building a film village in Lagos, in order to enhance our capacity for film production. The film village will be available for our own use and the use of others. Though we have not received the offer proceeds yet, we have already made a lot of efforts in this direction with what we already have on ground. So, when the offer proceeds come, it will go further in enhancing our efforts.
Q: When will the multi-channel subscription television take off?
A: On our multi-channel pay television, I can tell you that we are looking at starting test transmission on the1st of August this year. We will do test-run for the whole of August and then we will start full commercial broadcasting on the 1st of September. The good thing is that every item that we required is already on ground here. We are starting with 40 channels. For the first time in the whole of Africa, we are going to be transmitting on high definition, on MPEG4, though it's going to be quite challenging. Recently somebody came from CNBC Africa and he was flexing muscles that he has the best in the whole of Africa, that he is the most equipped. But when I took him round our new facilities, he accepted that we have superior equipment and much stronger. But I will have to give it to him that he started first. We have had to even stop work on one of the studios we are building to even break down everything we have done hitherto in order to do the foundation more strongly. We detected the fact that the people that were doing the building went only one metre instead of 1.3 metres into the foundation and where they are supposed to use 20mm rods and so on they used 16, 18, and so on. I just said, let's not take any chances because the studio itself will be about nine metres high. Otherwise, every other structure is nearing completion.
Q: Are you going to employ more people?
A: We need to get more hands, we need to train, we need to expose our people to new technology. But new technology all over the world is not about increasing manpower. It is the direct opposite. There is going to be a lot of reduction in manpower. But the casuality may not be so high because we are building other stations. We are expanding from our current level of eight to 24 stations. So, there are about 16 new stations that should be coming up between now and October. The terrestrial transmitters for the radio and television stations are scattered all over our premises. The buildings are also coming up. So, when they finish building them, the redeployment of staff will start. The truth of the matter is that the younger ones will have to be given opportunity. There is already a problem of transition from the old way of doing things to the modern way. And it is easier to bend a fish that is still fresh than the one that is already dried. So, it's the younger ones that we will be placing more emphasis on. I must be sincere with you that after going through the facilities in Lagos, I am determined to assist the Group Managing Director in retiring a number of very senior people in order to allow the younger ones that are capable of meeting the challenge of their contemporaries in other parts of the world have a chance. People have a way of thinking, but things have changed totally. In the master control room, where we used to have about 12 people working, it's only one person doing that now. In programme injection where you used to need about eight programmers, you only need two now as a result of new technology. And the natural human reaction is to say when this thing comes in: 'it's likely I am going to lose my job'. So, it's either they stall the growth or start destroying the equipment. I went to Lagos some days ago and came back to Abuja . But Ladi Lawal remained in Lagos because he needed to review their processes and prepare the ground to start moving the equipment so that as the engineers are finishing installing the digital the studios here, they can move into Lagos. But believe me sincerely, they vandalised the studios overnight on the premise that we are better off with the old studio. Abuja is 100 per cent digital while Lagos is about 60 per cent on digital platform, so there is the need to completely move it to digital. My initial vision is that Lagos, Abuja and Port Harcourt should be feeding the digital content. We are running out to the United States, Europe, and Asia to Far East, up to Korea, to China. We are transmitting to all of them now on W5. We are transmitting across the whole of Africa. So, the ways we do things have to change. We must have the right attitude. One of the main challenges the Nigerian broadcasting industry is going to have in transmitting from analogue to digital is the manpower. I think we are starting a little bit too late in the training and exposure of our engineers to digital facilities. Our engineers who are graduating don't have the opportunity of being introduced to modern facilities when they are on campus and when they come out, they come into analogue facilities. There is no proper digital environment from which they can gain proper experience. And we don't have a facility which can serve as a laboratory for them to gain experience. So, that's a major challenge that we need to look into. I think by and large, we have to tackle it by having some expatriates and let our people, especially the younger ones learn on the job. The people that are going to be engaged in digital broadcasting are not going to be numerous.