Why should I spend N400k on abortion in London when I can easily do same here for N10k? –Iyabo Ojo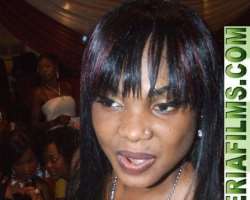 Iyabo Ojo, an actress and a producer, in this interview with Ada Onyema, speaks on her career and the controversies surrounding her
How did you come into the world of make belief?
Ever since I was growing up, I'd always had this passion for showbiz, but I actually didn't know which way to go. After leaving secondary school, I met Bimbola Akintola in 1997. She taught me how to cry and do other things in movies. After several auditions, she introduced me to Keppy Ekpeyong. Then they were having an audition for a movie titled Satanic and I was supposed to play a minor role, but luckily for me, the lady that was to play the lead role didn't give them what they wanted and they gave me the script. That was how I got my first lead role.
Can you remember your first fee in the movie?
I was paid N5,000 for Satanic in 1998.
So, N5,000 was all it took to keep you in the industry?
To me, it wasn't about the money, it was about the passion for the job. I was even ready to pay for that role, just to get it.
You were ready to pay?
I was ready to pay because I had so much passion and I just wanted to act.
But the fame?
You see, my days are different from other days. Acting is not the only business I do. I've tried modelling, singing, drama; so it is the passion.
There is a general conception parents have about those in Nollywood. What was it in your case?
I come from a free family. My family allows you to do anything you feel will make you happy. Whatever it is, as long as it is going to make you happy, you have my family's support.
Which of the films brought you to the limelight and why?
Two films did because they had different impact on the lives of my fans. Oga was touching and powerful and Ife Odale was another part of me. The Oga played the emotional part of me, while Ife Odale played the brutal, wild and aggressive part of me. I got to the limelight with the two movies because as some people were talking about Oga, others were talking about Ife Odale.
And the highest payment?
You can never say because the higher you go in the industry, the higher your pay. Sometimes, you get paid well, sometimes you don't. I can't even remember the number of movies I've acted in. I've acted in more than 300 movies, but the more you grow in the industry, the more your pocket grows. It is all about packaging; that determines what you get.
What's your family background like?
I'm from a family of five with two other brothers, but my father is late now. I'm from Itoko in Abeokuta. I grew up with my aunty. I've been separated for eight years now.
Why is Iyabo Ojo being surrounded by a lot of controversies?
As I said, I don't care about what anybody says or does. I don't live my life to satisfy anybody. I'm not going to pretend to be what I'm not just because I want to please anybody. If I'm in a relationship and I'm not happy, I'm going to walk out of it because I'm not living my life for you.
So you think living your life your way is why people talk about you?
Yes. Most of us live pretentous lives. We always want to have a perfect image of everything, but we're not perfect. That is why Iyabo Ojo will always be talked about. If I draw my eyelashes up there, they will say Iyabo Ojo is too wild. If I have tattoo on my body, they talk about it. Just look around, am I the only lady having tattoo? People don't like change. Look at the Yoruba movie industry, there are lots of young educated, talented girls coming into the industry. They turned the place around, they brought change into it and that is the problem. Our mode of dressing changed. As a Yoruba actress, there is a way they expect you to tie your buba up to the neck and when you come with curvy, sexy clothes, they say 'No, this is not our own, it can't be accepted.'
Doesn't it get to you?
It depends on what I hear; I'm human and I've blood in my veins. I've heard thousands of stories and gossips. There was a time I used to get mad. I don't care (again). I've come to differentiate between it and my job. It is where you people make your money, this is where I make my money. I can't say that bad things have been written about me, I've to end my life. That person who wrote it, is his life better than mine?
How about the rumour that you are dating Muka Ray and you two are planning to get married?
Well, that rumour has been there for a very long time. I'm 10 years gone in the Yoruba industry and we're not yet married. When this rumour started, he was married with one child and now he is still married to that same woman with four kids and I'm staying with my two kids.
Were you dating?
I never dated him. If I had dated him, eight, nine years ago, I should be married to him because we still work together.
How about the rumour that you travelled abroad to carry out an abortion?
That is one question I would like to ask: when I can easily get into any of my hospitals here, will I buy a ticket of N100,000 and pay over £500 to £600? So, you are telling me that in order to have an abortion, I've to go to London and spend over N400,000 when I can easily do the same thing here myself for just N10,000 or N20,000? I don't have a British passport. I think we have good doctors here who can do the abortion for you without you feeling it. For me to have two kids, I think I should be able to know how to protect myself against such occurrence again; I don't think I want to make a third mistake.
Are you a lesbian as some people allege?
I reject it. It is a demonic act; I hate it; I detest it. I hate them; I'm sorry if anybody is one. If my daughter should be a lesbian, I will disown her.
How come you are associated with it?
I don't know. It is part of the rumours.
But have you been approached by one?
Yes, I've but not in the industry. I did couple of lesbian films. I'm an actress, I should be able to play any role. After that film, I got calls from women; they were just buying me recharge cards, sending me nice messages like 'I can do what a man can do for you' and all that. When I found out she was a lesbian, I cut her off. Because I played a lesbian role does not mean I'm one. If a guy should break my heart one million times, I will still prefer doing it with a guy.
But we also hear there is such practice in Nollywood.
Lesbianism and homosexualism are not in Nollywood, they are in Nigeria as a country. They live here with us. When you go to nite clubs, corporate and political sectors, they are there. In Nollywood, it is not even up to one per cent to what we have in Nigeria.
Some people allege that you are also dating Pasuma and Osupa.
Anyway, you know the good is that the people I date they don't even know them. Pasuma and I are friends and will always be friends. I've never dated Pasuma; I can't date Pasuma and won't date Pasuma. It is not possible. I don't even like dating musicians. I don't believe in dating people in the same industry with me. I can't date any musician; they should forget it.
What is it between you and Lizzy Anjorin?
I'm not going to talk about it because it is not an issue to be discussed.
Is it true you are fighting over a man?
I don't care what anybody want to say. That is one rumour I don't want to talk about.
Why?
It is annoying because there is nothing to talk about. Why would I talk about somebody I don't have any business with. Because she acts movies does not mean I know her. It is not an issue. Anything they want to speculate, let them go ahead.
You told her not to talk to you?
Yes, I said that to her.
Did she take it lightly with you?
If she did, there won't be rumours all over. I can't be friends with everybody. I personally did not want a friendship or relationship with her but she wanted it. It was never a man's issue, but it was 'greet me and don't greet me' issue. I just didn't want her friendship. I didn't like her manner of approach and was ready to keep my distance. She took it wrongly and went about peddling rumours. I'll never fight for a man with my colleague. If I found out that my colleague is dating my man, I will leave him gracefully because he does not deserve me.
If given an opportunity to change anything about yourself, what would that be?
I'll like to change my nature. I care so much about people and at the end of the day, I get back-stabbed and it hurts. I also would like to deal with my emotional part. I've been a victim of circumstances in love so many times. I wish I could be as hard as I look.
How's life as a single mother?
It has not been easy, but I thank God I can provide for them.
And their father?
He is there and comes around to see them.
Supposing he comes back?
No, it can't happen. We're two different people. So, it can't work.
You have another man in your life now?
Yes. We've been dating for a year now.
Any marriage plans?
Initially, I used to say no but now, if he is the one, why not? If he is not, and the right guy comes, why not? I've to know the man inside out; I'm not ready to gamble with marriage again.
What inspired the tattoos on your body?
I just loved them and decided to have some on my body. After my marriage crashed, I didn't want to sit down and be heartbroken. I'm not going to allow my life go down the drain because my marriage didn't work. In that process, I wanted to look crazy, sexy and I just did it. I just have three, one on my arm, chest and back.