THE LEGACY OF NIGERIA'S CHIDI NWOSU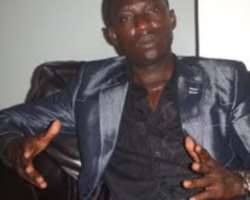 MURDERED HUMAN RIGHTS ACTIVIST, CHIDI NWOSU.
The infectious, broad smile of activist Chidi Nwosu belied his serious and determined mission: to serve as an incorruptible force against the corruption so common in contemporary Nigerian political life. His brutal assassination on December 29, 2010, still unsolved and uninvestigated by the Nigerian authorities, marks a significant and scary escalation of violence in a country heading quickly towards contentious elections.
Nwosu was founder and president of the Human Rights, Justice and Peace Foundation, based in Abia state in south-eastern Nigeria and affiliated with the secular pacifist War Resisters International. Though equally comfortable working with regional and national government or religious leaders and with grassroots workers and youth, Chidi's focus was on building a broad movement through which people could give voice to their needs. He declared that the international community should recognize "nonviolent mass action as a basic human right," believing that rebellion was a necessary and fundamental component of democracy and peace.
The HRJPF issued educational papers, circulated petitions, brought lawsuits against leading businessmen and officials, and held seminars which focused on various aspects of current economic and political concerns. They campaigned for accountability of the National Police Force (NPF), including a radical restructuring which would decentralize the federal agency—making effective and accountable neighborhood policing a possibility. They also played a leading role in the efforts to include Abia and Imo states into the federal amnesty package which hopes to integrate former militants into future peace processes.
Chidi and the Foundation struggled against privatization of key rubber-producing facilities, winning a decisive victory in 2010 when Nwosu himself was named General Manager of the Abia Rubber Company. This was a surprising and controversial turn-around after years of criticism of the state-run Company, understandable only by his proclamations in the short months before his death. His approach, for major changes in managerial and administrative practices, was designed to shift the benefits of local industry in the direction of the people living and working on the resource-rich land. The HRPJF understood that poverty, and people's inability to participate in agricultural decisions about the land upon which they worked, was a continuing root cause of violence. Nwosu's general approach towards government and corporate operations can best be summarized by the title of one of his last-penned pamphlets: "It is time for total cleansing."
One of the most pressing recent campaigns which Nwosu was leading work around involved the rampant increase of kidnappings, taking place throughout southern Nigeria. These economically-motivated acts have turned the region into an armed camp of gang warfare, where existing corruption and criminal elements have now been able to make kidnapping the most lucrative form of commerce in the southern states.
A public, one-day roundtable, held in Umuahia on September 3, 2010, brought leaders from diverse legal, academic, and ethnic backgrounds into dialogue under the auspices of the HRJPF. Though the conference was an impressive show of unity and progress, the findings issued by the HRJPF following the event gives evidence to their continued pressure for change. "Following the constitutional incapacitation of the various state governors in security issues," Nwosu proclaimed, "corrupt police personnel took advantage of the situation by conniving with criminal elements in the southeast to unleash mayhem on innocent people." The HRJPF promised to re-double their efforts to hold local police accountable for their actions and to pressure the federal government for a newly structured policing system. This is no small task, as an August 17, 2010 Human Rights Watch special report suggested regarding corruption and the NPF: "Everyone's in on the game."
There can also be little doubt that Nwosu's torture and murder—with assailants entering his house, locking his wife and five-year-old daughter in the bathroom, shooting him in the temple, and dragging his bloodied body from one room to the next—was intended as a deterrent to anti-corruption campaigning in the months leading up to Nigeria's April elections. These will be the first since the death of President Yar'Adua, who himself came to power in 2007 under less than fair and credible conditions. Without a secure and confident voting population, there is little chance that Nigeria will emerge from its militarized, neo-colonial predicament, a fact that may not be troubling news for the many multinationals who continue to profit from the chaos in one of Africa's richest countries. The task at hand—in the words of Nigeria's Good Governance Group CEO Salihu Lukman—is for community organizations, civil society groups, trade unions, faith-based groups, and others to be "mobilized to begin to develop mandate strategies in order to ensure that incidences of ballot box snatching and rigging are minimized." The possibilities for such mobilization seem dim, however, especially in the wake of increasing violence and murder of nonviolent campaigners.
The legacy of Comrade Chidi Nwosu, however, is that each of us—even if it is just a small number of committed people—must take responsibility for a better tomorrow. In his last interview held in the USA, where he visited this author just three months before his death to discuss plans for a Pan African WRI conference to be held in 2014, he noted that "most revolutions were never led by the multitude, but by the few." He was clear and optimistic that the pacifist revolution to which he dedicated his life would, amongst other things, repair the decades-long strife in his home country which separates people based upon ethnic, religious, and regional lines. "If Nigeria is restructured with true federalism," he told friend and Republic Report journalist Carlisle Umunnah, "these agitations [which cause violence on the local level] will die a natural death." Reiterating the position that WRI and it's members will not support any type of war, international or civil, and will fight nonviolently against all the causes of war, Nwosu noted: "We know where war leads—to suffering and destruction, to rape and organized crime, to betrayal of values and to new structures of domination."
As the people of Nigeria—of Chidi's home town of Abam, Aro-Chukwu Local Government in Abia, and elsewhere—recover from the loss of an ardent human rights activist, it is up to all of us to redouble our efforts for a future of justice and peace. Like the state killing of nonviolent campaigner Ken Saro-Wiwa during the military regime of Sani Abacha in 1995, Nigerians have now lost another peaceful protester. Like the deaths of Federal Minister of Justice Bola Ige, Campaign for Democracy co-founder and Civil Liberties Organization CEO Chimi Ubani, and hundreds of supporters of self determination for the Biafran peoples, Nigerians now have another recent (post 1999) unsolved murder mystery based clearly on political grounds.
Nigerians living outside the country—such as Umunnah, himself a refugee of violence (having fled the country in 1994, after being attacked as one of the leaders of the National Association of Nigerian Students), and a newly-formed Nigerians in Diaspora for Chidi Nwosu—have been collecting signatures to press the federal and local governments to bring Nwosu's murderers to justice. The War Resisters International has issued a global call for investigation, and support for Nigeria's grassroots peace and justice movements. All those in favor of human rights and democracy must understand that, even in sad and scary moments, we have more power than we know. Now is a time for action, so that the passing of Comrade Chidi will not have been in vain.
Matt Meyer is a founding convener of the War Resisters International Africa Working Group, and a New York-based educator. This article is based, in part, on his own friendship and associations with the late Chidi Nwosu, and on the writings of OSF Africa policy analyst Sarah Pray.
Disclaimer:

"The views/contents expressed in this article are the sole responsibility of the author(s) and do not necessarily reflect those of The Nigerian Voice. The Nigerian Voice will not be responsible or liable for any inaccurate or incorrect statements contained in this article."
Articles by thewillnigeria.com