ODI COMMUNITY FAULTS CLAIMS OF MISCREANTS REGISTERING IN COMMUNITY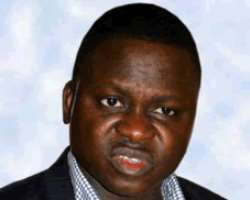 The Odi community has punctured the claims that non-natives of Bayelsa State are being imported into the community to participate in the ongoing voters' registration exercise.
The Timi Alaibe Campaign Organisation, the Labour Party (LP) and the Save Nigeria Group (SNG) had raised the alarm over those they called 'miscreants,' who had been paid to register in selected Bayelsa communities, including Odi, with the aim of disrupting the exercise and pave way for the rigging of the forthcoming elections.
However, the Amananaowei of the Odi community, King Apere Shine, had said the reports were not true. Speaking in his palace, Apere said it was the community that resolved to mobilise its natives in and outside Bayelsa to come home and register.
According to him, there was no way the community would allow non-natives to register, adding that certain individuals who were afraid of the mass mobilisation of natives of the community for the exercise were raising the alarm because it threatened their political ambitions. He stated that non-natives, residing in the community could not be denied the opportunity to register and vote in the elections.
The Chairman of the Universal Basic Education Board, Mr. Rhodesia Whyte, supporting Apere and said the electoral act gave opportunity to all Nigerians to register anywhere they reside. His words: 'Odi is so populated by the Odians themselves and others, including Igbos as well as other tribes living and doing business in the community. Of course, all these people are legal residents of the area allowed to participate in the voters' registration. There is nothing like mercenaries as reported.'
Also speaking the president of Odi youths, Prince Agura, said a monitoring system had been deployed in the community to monitor progress at all the registration centres. He disclosed that prominent sons of the community had provided logistic support to transport people of the community to come home and register.
'Vehicles have been provided to transport our sons and daughters from various locations to return home and register. This is a collective decision to make those of voting age play a role in the forthcoming general election. There was no record of mercenaries coming to register in Odi for the purpose of influencing the votes in the elections,' he said.