AZUH ARINZE'S BOOK PRESENTATION HOLDS TODAY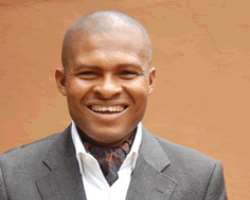 Azuh
Today, in fact, this morning, it will surely be the constellation of stars, celebrities and dignitaries when Tested And Trusted Success Secrets Of The Rich And Famous, the new book by Azuh Arinze, Group Editor, Encomium Weekly/Magazines, will be unveiled to the public, at the Nigerian Institute of International Affairs, Kofo Abayomi Street, Victoria Island, Lagos.
The book, which draws substantially from the author's field experience as a journalist features over 70 success stories and nuggets.
According to the cerebral author, every page opens with the interviewee's success quote and a short biography. This is followed by the interview page, entitled: Additional Success Nuggets, which is the book's engine room. It also engages the author's subjects and presents unedited, their inspiring stories in their various fields of endeavour.
'I'm very proud and happy to say that this is a book for everybody: young and old, male and female, boys and girls. And its ultimate aim is to open the doors of success to everyone who comes across it.'
This is the book's mission and the author equally shared the code of success with readers in his introductory note. In Azuh's words, hard work, focus, divine intervention and luck were some of the necessary ingredients needed to excel.   
The public presentation, which promises to bring together the crème de la crème of the society, the media and the corporate world, will begin at 11am. Expected dignitaries include: Mazi Sam Ohuabunwa, Chairman of the occasion and President/CEO, Neimeth International Pharmaceuticals PLC; Book Reviewer, Professor Fidelis Oditah, Queen's Counsel and Senior Advocate of Nigeria; Book Presenter, Dr. Ausbeth Ajagu, Executive Chairman, Betcy Group; Special Guest of Honour, Dr. Muiz Banire, Lagos State Commissioner for the Environment; Royal Father of the Day, HRM Oba Adedokun Abolarin, the Orangun of Oke-Ila and Chief Host, Dr. Bisi Olatilo, veteran broadcaster and Chairman, Biscon Communications. Others are Senior Fellows of the Day: Kunle Bakare, Mayor Akinpelu and Seye Kehinde, publishers of Encomium Weekly, Global Excellence and City People respectively. Comedian, Julius Agwu, will anchor it.