MEGA BUCKS FOR THE FINE ACTRESS: AY COMEDIAN AND HIS DREAM ROMANCE WITH GENEVIEVE NNAJI0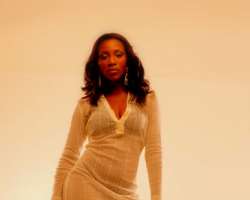 For eight years running, Genevieve Nnaji, the stylish Nollywood actress has remained in the league of the most famous and valuable personalities ever produced by the Nigerian movie industry.
More so, Genevieve remain one of the most talked about and one of the most eligible single ladies in Nigeria. Everyone want a piece of the actress, even the big stars want her in their work too and they are ready to pay.
Trust the ' omo ibo' she knows how to make money. Ayo Makun the popular comedian known as AY shot a creative to promote his upcoming show on 24 April 2011 (Easter Sunday). Ay is so excited about the work that they have started showing it on TV
Ay was seen going into a hotel room with Genevieve, he was so excited that he wanted to put Genevieve on the bed almost immediately but Genny told him to relaxed that she wanted to go and shower. Making a seductive moves with a dress that was revealing a good part of her boobs, Genevieve told Ay that she would give him his heart desire. Apparently happy, Ay let Genny go to the bathroom and the camera showed him pulling off his clothes in excitement. It was all a dream as AY was shown waking up on the bed. He searched frantically for Genevieve but she was not there. few seconds later, he heard a knock, thinking it was Genevieve, he opened and saw the room attendant. He almost cut the guy to pieces with his teeth!lol
Sources told us that Genevieve was paid some good money for the work. Just like what she did with D'Banj, she is also working with AY comedian to pull public attention to his work using another dimension.D'banj, we gathered, also paid Genevieve good money for the video of 'You don make me fall in love"
Genny careless about all the hullabaloo of romance with D'banj and all that stuff. she is a businesswoman. At least if she misses the big endorsement and mega bucks that Glo Mobile gave to some Nollywood stars, she can make do with entertainers who want her attention in their work.
Another source close to the Imo State born actress told us last night that Genevieve has a management company.
"Genevieve is not the type that does things for free. She must have been paid but I can tell you how much"