MASADE, CSR-IN-ACTION BOSS, SAYS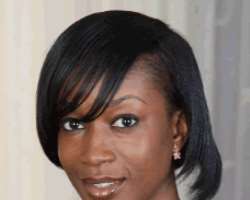 •Masade
She had a personality one would remember for a very long time and the confidence to go with it ,although she did not win the first series of Apprentice Africa,we can remember her solemn promise that she was going to make more money than the winner of that competition, when she was evicted. So, has she ?Bekeme Masade simply laughs good, naturedly and describes Isaac (the winner) as a very good friend of hers and would rather not discuss finances.
The gorgeous mother of one has since moved on to far greater pursuits,the Masters degree holder in International Human Resource Management and Employment Relations from Queen Mary University of London is the founder and initiator of CSR-in-Action (CiA). The first non-governmental, non-profit, interactive network for corporate social responsibility reporting in Nigeria ,with a clear vision to promote CSR in Nigeria to world class standards by being the one-stop,fit for purpose supportive partner of CSR stakeholders.No simple feat at all for this young woman. Daily Sun recently spoke to this budding amazon as she elucidates her intending goals for her organization:
Tell us incisively about your organization. Excerpts:
CSR-in-Action.org is a registered non-profit organisation (NGO) whose major aim is to promote the awareness and advancement of social responsibility. It is a membership platform broadly aimed at the three tiers of entities - governments, businesses and nonprofits. It is a holistic network through which discerning members come together to work towards redefining the CSR terrain in Nigeria through collaborative strategies with each other and other stakeholders in order to attain unprecedented levels of corporate governance, workplace ethics and sustainable philanthropy.
We aim to achieve these through CSR Laboratories, Business to Business Working Groups and Dialogue Sessions, to name but a few tools at our disposal. In carrying out these exercises, we will closely partner our members and international affiliates.
Is it only CSR you do in your organization?
No, it is not . We also aim to promote individual social responsibility; that is, remind the average citizen that it is not just the government or profitable organisations that are responsible for our society. If we, as individuals, do not play our role in making things work out for our great nation, then we have no right to complain when things do not work out the way we believe they should. We have a platform for individuals to become volunteers; we provide a database for social reports and materials of all kinds; and relevant organisations are welcome to put up relevant material that will benefit all in order to negate duplication of efforts.
We are concerned with the concept of social and moral development as a whole and the unification of Nigeria as a country. At the end of the day, we hope to foster unity on all fronts through our various projects.
How has life been after your stint as a participant in the Apprentice?
My life is a blessing from God. The Apprentice gave me networking leverage which I have been able to put to good use. Aside from CSR-in-Action.org, I have a successful Publicity and Copywriting firm called RedBee Ltd.
Did your experience at the show help shape your life, positively or otherwise?
My experience on the Apprentice Africa directly impacts upon my current establishments; so, I will say that it positively impacted me.
Following my experience on the show's projects, I was able to identify my strengths and pursue my dreams as an entrepreneur.
Is CSR properly executed in Nigeria?
CSR is not where it should be. It is currently about one-off philanthropy and not about a holistic and long term approach. My policy is to teach a man to fish rather than give him fish. Our governments, organisations and even nonprofits need to concern themselves with empowering the people rather than enslaving them to a mindset of beggarly reliance.
Many CSR corporations in Nigeria currently do not embrace the triple bottom line philosophy of business which takes into consideration people, planet and profit. This concept does not rate a company on profitability alone but on good governance, whereby a company's vision is to create an enabling environment for social, economic and environmental development with more emphasis placed on their stakeholders rather than shareholders. At the end of the day, a smart entity will realise that their business stability is reliant on stakeholders and not shareholders who are likely to be more driven my immediate gains.
Having said that, I will acknowledge that some pioneering indigenous companies are making stronger commitments towards good practices in the workplace, society and environment. If you compare CSR today with what it was just a couple of years ago, you would find that there has been some progress made, if only in the increment of awareness of the term and ideology in the minds of the average citizen. It is indeed a step in the right direction.
Challenges and progress
Our challenge has been trying to get across to relevant stakeholders. CSR information is scattered in little pockets all over the nation and trying to pool everything together with the limited number of resources at our disposal is a huge challenge. All of our staff currently carry heavy workloads; and this is really trying. Fortunately, everyone believes in the vision so this has kept us positive.
Whereas, we do not believe that CSR ought to be legislated, we do believe that there should be some sort of regulation of activities as our market is not yet as elitist as some of the first world countries. We would like to work with the SEC to develop guidelines to aid regulation of social enterprise in Nigeria; much like South Africa where all companies listed on the Johannesburg Stock Exchange (JSE) are required to produce an integrated report in place of an annual financial report and sustainability report.
On the positive aspect, we have had 12 new members in the past couple of months; which we gleaned just by sending out our premier newsletter. Our project has garnered international recognition and relevant individuals and organisations have made contact with us.
We are members of the NESG, where we serve on the Governance and Institution's Policy Commission, and of the UN Global Compact. We are also in positive talks with CSR Europe on the matter of an affiliation. We also have seasoned CSR professionals from within and without partnering with us with regard to CSR strategy for interested organisations.
In the coming months, by popular request from our NGOs, we will host a roundtable for relevant non-profits, as well as a dialogue session for all CSR stakeholders, to name just a few of our upcoming activities.
CSR-in-Action.org recently organised a free Christmas party for indigent kids at the Muri Okunola Park which was sponsored by companies and individuals, including Coke, Swatch, and Oando. Forefront entertainers, Naeto C and Djinee, made themselves available to complete the fairytale affair for the kids.
What led you to take up this particular initiative, is it because you were a product of a CSR initiative?
As I said earlier, yes, it is directly related; even though I have always had the humanitarian DNA in me. My mother, Mrs Josephine Masade, may her soul rest in peace, was a great philanthropist who devoted her life to helping everyone around her; she would give you her last dime before thinking about where to get it back from.
As a publicist and copywriter, I had had the opportunity to closely watch the trend of social enterprise in the media. My interest in CSR was piqued as a result of the Apprentice Africa being a CSR initiative of BankPHB.