SUNNY ADE BECOMES 'BORN AGAIN' CHRISTIAN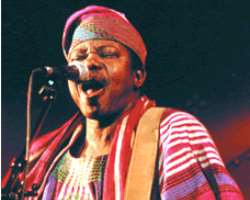 •Sunny Ade
Popular Juju musician, King Sunny Ade, recently gave his life to Jesus Christ during a church service at the Redeemed Christian Church of God (RCCG), Yaba, Lagos. Sunny Ade dedicated himself to Christ during an altar call by the RCCG's General Overseer, Pastor Enoch Adeboye.
The News Agency of Nigeria (NAN) reports that the Juju music maestro was among 30 worshippers at the service who rushed to the altar to be prayed for by the general overseer. When Adeboye asked that the persons who answered the call should confess their sins, Sunny Ade was the first to kneel down.
During the thanksgiving, Sunny Ade expressed gratitude to God for his mercies and for making him see the day.
'I have nothing to say than to come and thank my God for what he has been doing for me and my family,'' he said.
In his characteristic style, Sunny Ade rendered a song in Yoruba with members of his band: 'If not for God, I would have been gone and buried. I thank you God for my life.'
Earlier in his message, Adeboye had told the congregation that anyone who had not given his life to Christ should not rejoice and praise God because such a person was hell-bound.
'Stop treating God as a beggar because all that you have, he gave to you. Serve God this year with all your heart. Give Him quality offerings.
'Offer yourself to God first before you offer to him any other thing. If you are here but have not given your life to Jesus Christ, do so now,'' he said.
Adeboye recalled how as a boy he had done some naughty things but God had kept him to date to preach the gospel.
'When I looked at the days I strayed and the things I did when I was in the university, but how God saved me, you will understand why we should continue to thank Jesus,'' he said.
He, therefore, urged the worshippers to be grateful to God for his mercies.