BLATTER MUST GO, SAYS QATAR FOOTBALL CHIEF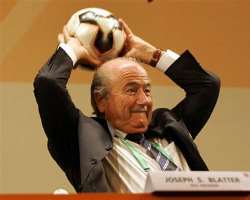 Sepp Blatter has been at FIFA for too long and needs to be replaced as president of football's governing body, Asian Football Confederation President Mohamed bin Hammam said on Monday
Less than two months after helping Qatar surprisingly land the 2022 World Cup following a scandal filled voting process, Bin Hammam said the FIFA president's longevity in office has contributed to the perception that the organization is corrupt.
Blatter
'Everybody is going to accuse us today as corrupted people because maybe people see Mr. Blatter has stayed a long time in FIFA,' Bin Hammam said in a one-on-one interview with the AP. 'Thirty-five years in one organization is quite long time. No matter how clean you are, honest or how correct you are, still people will attack you. You are going to be defenseless.
That is why I believe change is the best thing for the organization.'
The 74_year_old Blatter-who joined FIFA in 1975 as technical director, became secretary general in 1981 and president in 1998-is up for re_election for a fourth four_year term as FIFA president in June, and so far no one is running against him. Although Bin Hammam has said that he wants to someday replace Blatter, he declined to say whether he would challenge the Swiss incumbent this year.
'I did not make up my mind yet,' Bin Hammam said. 'I would rather wait and see.'