IBB FUMBLED IN CREATING DELTA STATE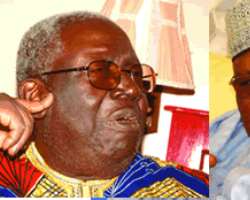 • Omoruyi & • Babangida
Former Director-General of the defunct Centre for Democratic Studies (CDS), Prof. Omo Omoruyi, has reflected on the Delta State governorship re-run and the pattern of voting in the election and said the outcome has confirmed the mistake made by former military President, General Ibrahim Babangida, in the manner the state was created.
He told Daily Sun that the former military president allowed personal consideration to outweigh what would have amounted to a three-state arrangement in the present Delta State: 'He overreacted. Maybe, at that time, we shouldn't have allowed personal consideration to overweigh what we were doing about creation of states.'
Omoruyi alluded to the Ogboru-Orkar coup as a factor which influenced Babangida to create Delta State in the manner he did. He argued that the Urhobo's Anioma and Ijaw, Isoko and Itsekiri of Delta State deserved separate states of their own. Excerpts:
You have been complaining about the use of certain political terms.
What exactly are these terms?
There are two areas of importance that I want to correct. One, this thing called Option A4. There is nothing called that. I remember I was in Vienna, Austria when a German political scientist confronted me with the idea, what is the Option A4 that Nigerians talk about? Is there anything like that? That he had looked at that term in Encyclopedia of Social Sciences, he had never come across that.
What is it? Is it a Nigerian term?
So, I said there is nothing so called. What happened was that after 1992, Prof. Humphrey Nwosu, NEC Chair, was asked to produce certain contrivances that could be used for us to throw up candidates. Nwosu produced eight contrivances. A1, A2, A3, A4, you go on until A8. Babangida sent these contrivances to me to assist him with the one that we would use that would take into account this thing we called interplay of political forces that would produce candidates without rancour. That is how we came about picking A4. It could have been A1, it could have been A2, it could have been A8.
We chose number 4. That number 4 is the one where candidates would now emerge from their various local governments, wards to the way up. That would avoid all these zoning, turn by turn and all that kind of thing. So, A4 was number 4 out of eight contrivances. It has nothing to do with the system of voting. It was only concerned with the system of nomination where wards and so on would now serve as the basis of throwing up candidates.
But people took that one to mean queuing. Queuing is a voting system which was used before where voters had to queue behind their candidates which really is not an issue. Option A4 is a nomination contrivance, it outweighs contrivances and it has nothing to do with the system of voting.
I was hearing from people during the Edo State Action Congress of Nigeria (ACN) party primaries, saying we are using Option A4. I said my goodness, I thought I corrected this thing before but it never worked. If you look at my book, The Tale of June 12, I corrected that, a voting contrivance and a nomination contrivance but Nigerians don't read. If they read, they don't even follow anything.
A friend called me from the US that what is 'one man, one vote'? There is nothing so called. What you find is 'one person, one vote' which is in the Universal Declaration of Human Rights or the International Convention of Political and Social Rights. What that means is that 'one person one vote' which is the Fourth Amendment in the US Constitution. If you begin to talk about 'one man, one vote', you are simply saying women don't count and women fought for this franchise over the years and gained it.
Why don't you recognize it?
I also cited the Anti-Discrimination Decree which says you should not discriminate against women and so on and so forth. I am a human rights political scientist. Sometimes, I get worried that we are not keeping abreast of this kind of thing. Even Vice-President Namadi Sambo, he is always talking about 'one man, one vote'. I said common, you have a wife there. Isn't your wife a voter? And the President, one man, one vote, one youth, one vote. I said God, for goodness sake, when can we ever correct ourselves and keep abreast of this doctrine that it is one person, one vote.
Mistake over the creation of Delta State
When I saw the result and the politics of Delta, I look back and I said Babangida made a mistake. He allowed sentiment to work when we were creating states. I say we because 99 per cent of what came about the state creation, I drafted it for him, whether you call it Delta, Anioma and Edo, you name it, Gongola and so on and so forth. I didn't say I created states, I worked with him. One issue in which I knew the strong protests which led to what we now call Delta today. Maybe, in retrospect, we should have done it differently. Maybe, if I recall, what he thought about in the end in 1993 before he left office, he knew that certain things should have been done differently.
Urhobo and related people deserved a state of their own. There's no question about that.
Is that what you call the core Delta?
Whether they call it core, they deserved something of their own. And they have not forgotten. They haven't forgiven Babangida and I remember coming here in 2004 consulting for him, that is still very much there, that he abandoned them. He overreacted. Maybe, at that time we shouldn't have allowed personal consideration to overweigh what we were doing about creation of states.
The Igbo also deserved a state of their own - Anioma. There is nothing which said that what they came forward with - they wanted Asaba as their capital but that we would link Onitsha Obah, Udorji area, Emeka Anyaoku's territory on the other side of River Niger and from Okpannam should have been one state. Nothing said that it was too small.
Then of course, we should have created room for the Itsekiri to be part of Edo State - Eduwa State. Whether you like it or not, the Itsekiri felt they would run into problem with the Urhobo. I still knew that, he knew that. The Olu of Warri met him. Did he believe? He believed their fears and those fears were still there. Just before he left office and he called me once and said you can see now, because at that time there was some crises in Warri in 1993. Many people killed in the market and he said maybe, maybe, in retrospect something should have been done to protect the Itsekiri. We abandoned what was left there. What I call the Three I's- the Isoko, the Ijaw and the Itsekiri were abandoned.
If you recall, the political adviser to Governor Ambrose Alli, the late Mr. Nelson Ubi, canvassed for what he called Coast State. People thought he was crazy.
He wasn't. It's built on what to do for the three I's - the Ijaw, the Isoko and the Itsekiri. Are you telling me that those matters are resolved today? They are not.
Are we saying that there is a certain number of populations that should consist a state? No. Nebraska in America is a very small state. Miami is a very small state, yet it's state compared with California, New York, Michigan and so on. We had opportunity to make it right. We had opportunity to say, look, there is no sanctity of number with respect to state. There is nothing called sanctity of geographical area with respect to how it should be or should not be. What is important is that create states to meet the needs of the people who live there. We did not. Can we do it today? We cannot because of the way we are going.
The Three I's in Delta should be protected - the Ijaw, the Isoko and the Itsekiri. But under the arrangement we have today there called Delta, there is no provision for them.
You referred to the pattern of voting in the governorship re-run in Delta. What did you observe?
It became very clear that the Urhobo are still fighting for this core Delta thing. They don't still see their future in the present Delta. The Anioma are very careful. Maybe it would be their turn if they do this or do that. We can see the way the thing is going. The Three I's are confused.
A state consists of five principles. It must have a geographical boundary, people, political entity, economic and communication and transportation.
If you take the fifth, communication and transportation, there is nothing linking the Delta. It is better linked with the three I's together there and maybe, with the Urhobo.
In terms of geographical boundaries, it is difficult for you to talk about what is the border or what are the boundaries of Delta today. There is nothing which links somebody in Asaba in terms of people, with somebody in Bunity, with somebody in Koko and same we are the same people. It is not there. It's different from Edo. Edo is contiguous and the people can see themselves that we are the same people.
In fairness to the late Chief Anthony Enahoro who came about with Edo kpa makhin (All Edos are one). You cannot say so in Delta that all Deltans are one. They are not one. Maybe, Babangida allowed a personal consideration to outweigh what would have amounted to a three-state arrangement in Delta. It doesn't matter how big it is. I just cited the case of Nebraska and Wyomy.
When you say IBB allowed personal consideration, what do you mean?
I mean Ogboru/Orkar coup at that time. He is a human being. There is blood running in his vein. He didn't see it the way Ogboru behaved at that time.