ANPP HAS UNDERDEVELOPED YOBE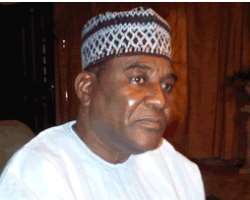 Tuesday, January 25, 2011
Senator Usman Albishir,  former chieftain of the All Nigerian Peoples Party [ANPP], is the gubernatorial candidate of the Peoples' Democratic Party [PDP], for the 2011 general election. Albishir, in this interview describes the ANPP-led government in the state as a colossal failure and justifies why the PDP would be  a better alternative.
How were you able  to pick the party ticket, despite the fact that your closest rival, Maina Waziri had been in PDP before you and has always been aspiring to govern Yobe?
Well, all of us were given equal opportunity; I did my best and God in His infinite mercy gave me  the victory. The delegates endorsed me in a free, fair and transparent primary. That's all.
The election is just few months away and because of the disaffection the result generated, what are you doing to reach out to your opponents, so that you can confront the ANPP as a united camp?
After the primary when the results was announced and I emerged as the party candidate, my opponents agreed with the verdict and promised to cooperate with me, because the party is one family. I want to believe them, they are men of their words. We have to cooperate with one another to wrestle power from ANPP.
You don't think they could do a recant  and undermine you?
I believe them, they are all party men. I don't think they would like PDP to lose at the general election.
Your biggest challenge is the general election; the incumbent Governor, Ibrahim Geidam is somebody you know well. How are you going to upstage a sitting governor?
Fortunately, I was in ANPP before and I know their campaign style and I will counter them. I will make sure that we reach every nooks and crannies of the state, despite the fact that I am an household name in Yobe.
The truth is that Yobeans are tired of the present government and they want a change. In the last 12 years, ANPP has nothing to show They want to try the PDP government. So, I think we can make the difference and I am sure they will vote for me. I know it isn't going to be easy to defeat an incumbent, but we can make it by the grace of God.
You were at Eagles Square, where President Jonathan emerged as the party presidential flag bearer; how would you assess the outcome of the convention generally?
The voting was transparent, the exercise was free and fair, even delegates from Yobe voted for Jonathan. The voting pattern cuts across the geo-political zones of the country and I believe that PDP would form government at the center. It is just few states in the North that didn't vote for Mr. President. I believe he is going to win and PDP would form the central government after the general election.
If you look at the results from certain states in the North, even Yobe, don't you think the North might not vote PDP at the presidential election?
Well, you see, primaries is a closed circuit thing, the general election there are divergent views, so many factors coming to play, but the result of the convention has showed what you should expect at the general election; the North would still vote PDP.
What gives you that confidence?
The truth is that people love the party, PDP is big enough and everybody likes to be in PDP, the biggest party in Nigeria and Africa. We have shock absorbers. After the 2011 presidential election, the Federal Government would still be PDP.
The president in his acceptance speech was elated that, despite the agitation over zoning, the delegates still voted overwhelmingly for him; that his candidacy would foster national unity. Do you see it in that light?
Yes, I agree with him. Remember, Abiola was from south but won votes from all over the country. I think we should avoid issues that divide us and see ourselves as Nigerians.  If you have the leadership qualities and Nigerians have identified you, it doesn't matter the part of the country where you come from.  It doesn't matter, whether you are Hausa, Ibo or Yoruba, or Ijaw. I think we are coming to that in the near future.
So, we should all see ourselves as Nigerians, after all it isn't my fault that I was born in Yobe, I could have been born in Enugu. If you go to a place like Kano for instance, there are so many people who aren't  from that ancient city and have been resident there for years  and they claim Kano as  their state. Of course, they know no other place than Kano. A Yoruba man was made a commissioner in Kano.
You have been working so hard to become governor of Yobe; what are the things you want to do if elected; what value do you want to add to governance, as against what the present governor has done?
You see, nothing is working in Yobe, even  Damaturu doesn't look like a state capital. There is no pipe borne water in the state capital. It is very, very sad.
So, there a lot of things we want to do. We want to create the enabling environment for the economic development of the state, people go to bed very early in Yobe State. We need a conducive environment for business to thrive. We need to provide social amenities for our people, give them qualitative health services unlike what we have now, where doctors use candles to work in the night at our general hospitals.
We want to engage our young ones who are unemployed. We have a blue print on some of the things we want to do: on agriculture, poverty alleviation, security.  These are some of the things we want to do, to bring the state at par with its peers.  The place is backward. Nothing is working. Yobe is in a terrible situation; you need to visit and see things for yourself, before you can appreciate what I am talking about.
You are known to be a shrewd business man; now, you are going into government.
How do you intend to manage the two?
Well, I think I have competent hands who supervise my business  and I want to offer myself for the development of my state. The level of poverty in Yobe, I think we are second to none in this country. I think we are the most backward. If you look at the results of NECO and WAEC last year, we put up a bad performance. If we can continue like this, in the next  ten years, where are we going to get the personnel that will work in the state?
What I mean, is: there is this perception that an average  Nigerian business man doesn't want to delegate the responsibility of managing his business; how are you going to do it, that the serious  business of public service would not suffer?
Look, even when I was in the Senate, my business was doing well; they are being handled by competent people, I don't have to be there always I only attend board meetings . Last year I wasn't in this country for five months and nothing stopped. So,  I delegate responsibility.
You have to learn to trust people, even  most of the people in government now delegate duties, you can't  directly supervise everything. You have to delegate for you to get results,  that's why you have commissioners  and permanent secretaries; that's how the system works. If you don't delegate, the system would collapse, because everything revolves around you. That's why in some states once the governors travels out, everybody  goes to sleep until he comes back.
That's  not how to operate; it is very unprofessional. That's why stealing goes on in public service, but if you give them the responsibilities, they know that they are  going  to be held accountable  for whatever  lapses in the system. But the moment you deprive them of their responsibilities,  they will sabotage the system.
You are seen as a god father in Yobe politics;  you were believed to have played a major role in ensuring victory for former Governor Bukar Ibrahim and some senators and members of House of Representatives; now, you want to  be  governor.
How are you going to overcome your former status in Yobe politics?
You see,  I wasn't  a god father; I was only instrumental by the grace of God to the successes or emergence of the governors  and they were always in charge. They do what they like and the best I could do was to advise; if they take to the advise, fine, but if they don't, good luck, but between me and my God I made efforts to advise them. That  was my role.
Now, coming to my ambition, I didn't go in myself to look for these people. Some Yobeans, led by some  members of the state House of Assembly came to me to convince me  to contest.
I  didn't want to take to the offer because I preferred  to get someone to do it, I want to do my business and be able to move freely, because I know what it takes to be a governor. You have to devote all your time  to address the problems of the state. But now, it seems that  there is the pressing need for change in the state and they want me to come in. So, I bought the form and I have decided to take the plunge.
When Bukar was governor, I never try to dictate to him, because I knew my limit, the best I could do, I advised. But now, the electorate would decide my fate. Today, in Yobe there is growing discontent, there is nothing on ground.
It is unfortunate that ANPP has really underdeveloped Yobe State.
If you look at the last 12 years or so, and what the state had collected from the Federation Account and when you come to the state, there is nothing to showcase.
So, my mission is to bring a change. In my businesses, I don't do what I like, I allow the management and the board to decide. If their argument is superior, I submit.
That's the way I am going to run government. Nobody can say he is indispensable, or has the solution to every problem. You just have to take advice. You cannot run a one-man show in government; you must make it collective, carry others along. That's what I am going to do, so that whatever I am going to do, I am going to seek for input from everybody, even those in the ministries.
So, if the majority, says, 'yes', I also say, yes, go ahead so that whatever we do, everybody is carried along. The best government is the one that listens.