ANAMBRA STATE LACKS WHAT DRIVES PRIVATE SECTOR - ONUEKWUSI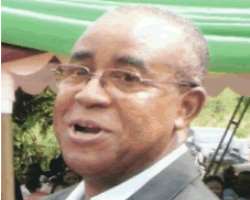 Onuekwusi
Anambra State, fondly called the light of the nation, is considered as one of the privileged states in Nigeria on account of its abundant human capital, high level industrialization and a considerable high per capita income.
But Dr. Ndi Onuekwusi, Managing Director/Chief executive Officer, Ambra Investicorp Trust Limited and the founding President, League of Anambra Professionals (LAP) is not happy that the state still lags behind in infrastructure. In his drive to bring the state in line with other developed states, he collected people of like minds and formed the LAP. The LAP provided the needed platform through which the indigenes discussed issues on how to reclaim the eroding glory of the state.
The League of Anambra Professionals has for the purpose of developing the state, created a business platform, called Ambra Investicorp Trust Limited, a vehicle that would become the arrowhead for economic development of the state. Ambra Investicorp Trust Limited is expected to pull funds together for the purposes of on lending to Anambra indigenes to set up businesses that will transform the state to a rich, modern, free and safe society. Onuekwusi, who is the chief executive officer of the week spoke to Daily Sun on the objectives of Ambra and how it will achieve them Excerpts.
How we will achieve our goals.
Ambra can achieve this in the way it has been planned. For example, in my definition of Ambra, I said it is a development fund. So the first thing is to accept that a development fund can be used to set up organized private sector businesses which will be profitable businesses, create employment. Remember that the way you change demographic distortion (Bringing people back home) is not by preaching to them because if there is nothing for them to do, they will not go home. This is especially now that the place is less secure; people will not like going home. People go to where it is attractive for them to go. What Ambra is going to do to make our environment attractive is what has been done everywhere that has suffered degeneration in order to revive the place.
It means that we have to do massive investment that enjoys the economy of scale and therefore leverage on all those aspects of big business, employ quality people, create a new society by creating a new demography.
It is then that our people can begin to have adequate control of their government. The people of Lagos state have adequate influence in their government because they are here. Even without performing in politics, the fact that they are here is enough influence on their government.
But if the people at home remain the weakest element in the society, generally speaking and few quality people, I mean they are very few percentage. Everybody agrees that 80 per cent of Anambra people are outside Anambra state. Assuming that all of us are in Anambra state working hard and earning the way we are earning outside Anambra state which is possible in the next ten years, then no government can be irresponsible, no government can be irresponsive, no government can be insensitive, no government can deny the people their due right.
The Lagos State government works well because the force of demography of the people who live in Lagos makes the government to work well. It is not by magic. Those people we call action governors in Lagos have done nothing outside being governor of Lagos that has shown them to be extra action people.
2009 Ambra Private Placement
We recorded modest success given the environment we came out of. If Anambra had gone to private placement in 2006, by now we would have been jumping by leaps and bounds. This is because everybody knows that investing in shares suffered significant emotional set back in 2007, 2008, and our timing of the private placement was unfortunate but inevitable because we have to start. Anytime is good enough to start.
So our success is modest and I am glad that even without modest success we have gone from talk to action. We have our first project which is Nkwelle Ezunaka farm which government has handed over to us in form of purchasing. We are purchasing 70 per cent of the Nkwelle Ezunaka farm which would be recapitalised to the tune of N600 million and made the biggest farm in Eastern Nigeria, the process has started, and we have an acting manager who is doing the preliminary things that need to be done.
The new board will be constituted very soon and the general manager and chief executive of the farm will be appointed. They will drive the development of the farm. It is my hope that very soon the farm will be producing and the products of the farm will be in the market and every Anambra man will no longer be talking about the farm but about the second and the third projects which we believe will be starting later this year also, once Anambra people keep responding positively.
Percentage of modest achievement
Since the professionals involved in the Private Placement are still collating the materials, we cannot give accurate performance figures. But the point is that it is successful and therefore we are able to start. Everybody who has contributed, who has paid to the offer have been communicated to, and we don't want to publish it because we are still a private company. When we become publicly quoted we start dressing naked in the public, giving facts and figures about our financials. This is the culture of business. However, everybody who has contributed has a right to come to the office and see the book of the company. The company just had its Annual General Meeting recently where it declared the success open. It is not proper to announce such things prior to shareholders' meeting. The board has to authorize it.
Dying Anambra and Onitsha being among fastest developing cities
When you look at things that are put out by United Nations agencies, you must be properly equipped to deal with them. The fact is that Nigeria is a poor country no matter what International Monetary Fund (IMF) says. Nigeria is a very, very poor country. You know that it is a relative thing when you measure growth. Assuming that somebody who used to have N10 million falls into the level of having N500 and at the time he was falling from N10 million to N500, the statistics will show that there is either a recession or depression in which case he is not growing.
That is negative growth. By the time he is at N500 and the next year he makes N600 they will say he made 20 per cent growth and therefore is the fastest growing person in the world. So if you are in the gutter and you just shake body small, you have a high rate of increase in growth. That is what dealing with statistics that are year-on-year statistics really means. It may or may not make sense at times. If you want to look at the quality of development of any society, you look at per capita indices. That is for each person in that country, what does it amount to, not year-on-year difference between total Gross Domestic Product (GDP). And then you look at other indices of child mortality, maternal mortality, performance in quality of education in the society and unemployment.
If you go to Anambra State, the graduate unemployment level is about 95 per cent. Our graduates who came out of schools ten years ago are still unemployed. Their classmates in Lagos state are managers who are married, having families with at least three cars, one for the oga, one for the madam and one as spare. They are leaving in flats in Surulere and have three children. In our place, these people are still unmarried. They are still eating from their mother's pot. Whatever statistics you see in a newspaper, you may not always deal with unless you understand it properly.
Coming to Onitsha which is UNIDO and UN Habitat combined assessment, yes Onitsha is a bustling city but Onitsha is a poor city. Onitsha in terms of population expansion, of course, you know the Anambra population by the Nigerian census is grossly understated. So when Oyibo people come and make a statement, if they compare with the national census figure, then we see growth that is phenomenal. But even that growth may be negative if you look at it in real terms because people may have ran away from the place. This is because you are not comparing apple and apple. You are comparing apple and orange.
The Nigerian Census is orange; the UNIDO demographic assessment is apple because the Nigerian census is false. When you have high density population in decertified areas in swamps of the delta and things like that and the place where you should have high density population, their population is under estimated. However, I am not going into the politics of census of Nigeria. We are merely discussing Anambra State.
The critical truth which everybody that calls himself 'onye' Anambra including the government is aware of is that Onitsha is a big city. Accepted whether it is stated by UNIDO, UN or Obosi man. So whenever you go to Onitsha, go to Obosi, Nkpor or Ogidi, you see it. In these areas, you see the growth of human population. But what is the school certificate leaver; the person who has just left school; what employment does he get there.
The graduate, (post Youths Corps) what employment does he get in that environment. Is it riding Okada, or going back to trade or is he employed in an office and paid N10, 000 per month which is below the poverty level as defined by the World Bank. So it depends on what people are comparing. Forget the statistics; let's go back to the reality. The reality is that we need to rebuild our homeland to make it productive, to make it competitive. To make it be like sane societies like Singapore, like Dubai. And we can do it, I keep saying it.
Support of the State government
Every Anambra man must be grateful to Governor Peter Obi because he has always realized it and has stabilsed the politics of Anambra State. It was not like this six years ago. Now that he has stablised the politics, it is the turn of economic development. The question is, what is the root to this economic development? The root to this economic development is for our people to understand that development is the core goal of every institution, whether is a human being, a family, a company, a town or a state like Anambra.
The most important thing apart from serving God is development.
Once you focus on development, you get every thing right; you get your politics right, you get your human relationship right, you get your social values right; you get your personal financial management right because at the personal level you must have to save and invest. You must have time value for your money, you must work hard; at company level, you must produce quality products in order to compete and produce them at good enough price or a cost in order to sell at a competitive price.
At societal level, that is the state, government must collaborate with the private sector in order to keep growing to employing people. It is when we grow our state from the present population of may be six million to 20 million and you have an employment rate of about 94 per cent of quality employment and good pay, then the tax that would come from it will make the government to be able to provide high quality education, quality health care. It is a symbiotic way of life that government supports private sector to grow to develop and private sector pulls part for government to keep running services that the people need. So there is no doubt at all that we must do what we are doing now as Anambra people. And in doing it politics is not important in doing it.
Let me make it clear that societies are developed without democracy. Dubai is not a democracy, China is not a democracy but they are developing. They are human right issues in doing that development but that is not the core factor. The core factor in development is not human rights. America developed with African slaves. Europe developed through slaves. So we must be critical in understanding development science. Development requires that we obey God's injunctions. Increase and multiply and conquer the earth. Conquer the earth means develop; increase and multiply means have more children.
But for you to increase and multiply you must provide employment for these children you are going to have. That is quality employment. So all the times, unemployment is the system of measuring development. And if you go to a place and measure graduate unemployment at ninety-something per cent it means we are not developing. The same thin in Nigeria.
Nigeria being poor despite avalanche of human and natural resources.
The poverty of a country is irresponsibility and failure of governance. The poverty of an individual is personal failure. Now for every poor country, the rich countries are not necessarily those who are endowed by with material resources; oil, gold, diamond and whatever. The rich countries are those who have converted their human resources to a high productive index. So it is the quality of productivity for example, Japan has nothing when you talk of material resources. But high population is a very strong contributing factor to development. But if that population is not utilized, it is a waste and actually a burden on development because they are consuming without producing. So Nigeria is very poor by all factors of development.
Even the oil which we have, we don't know how much of it we drill everyday. The white people just give us what they want after drilling. Officially, government herself, don't know how much oil we really drill. And it has been a problem for many years. It is the most shameful problem we have. So for a country that cannot do its railway line in 2010, the country is more than poor because it cannot do things that Russia did and other countries did in 120 and 150 years ago.
For getting Chinese to do our rail line at this time in history when Chinese are building bungalows means that we are not only poor, we are irresponsible. Nigeria is poor and irresponsible. The problem of Nigeria is that it has put partisan politics as its core goal whereas every country that has developed from creation till today are countries which have put development as their core goal and then modify their politics to be politics for development. Unfortunately this is as easy as it sounds; it is a difficult thing to achieve because politics is very exciting so many people are dragged into it without truly recognizing that the most critical thing that politics is not important on its own.
Politics is not an end on its own. It is a means to an end. And in a normal case, that end is development. But where politics becomes the end as in Nigeria, societies fail because what you have in politics are entitlements, quota, blackmail, lies, thuggery and all these you cannot measure. The things you can measure is development like I said; you save and invest. It is productivity, it is high value for money, it is love of your society and neighbourhood and human relationship. It is integrity. In politics there is no integrity every where in the world. But in Nigeria because it is a primitive society things are more crude so people can even kill for politics because it is the end.
But throughout the world and throughout development, countries that have got it right are those who have pursued development and then later made their politics to suit the cost of development they are pursuing. For example China does not have democracy, Dubai doesn't have democracy. When America started, only a small percentage of the people voted. About five percent of the people were in the electoral colleges that voted. And these were all white people because the slaves were not seen then as human beings. When Europe started developing, they have monarchy.
They were under kings. People did not vote because there was no democracy. In Isreal, the politics is not important. It doesn't matter which party is in power. All the parties come together and govern. So any country that wants to develop has to subdue partisan politics by force or by consensus. At the beginning of this development and may be 50 years down the line, they may have gotten the culture of development and then build in. so the solution to the Nigerian problem as is already being debated is that we either have a bloody revolution or we have a peaceful devolution or Nigeria will suffer significant trauma that no body can predict the time it will end.
After Nkwelle Ezunaka farms what other projects
As soon as this stablises, since it is going to give us our learning curve, moving from planning to execution, to proper operation, we hope to go into rice farming in Oba Ofemmili, because the people have given indication to support us eventhough we are yet to respond. Of course, the Omor, Igbakwu rice (the River Basin) is another area we are showing interest. Then we have computer assembly programme plus a software project which we are already negotiating.
We also intend to set up a computer village for our people so that our youths will learn the use of computer and become computer literate. This is to enable our young people write programme and compete in the modern world of information technology. We may start it in less sophisticated wares they do overseas but with times we perfect it. Then of course you know there is chalk in Anambra state which can be used to do marble. That is one of the projects we are starting soon.
We are also looking at major hotel projects. This is because as we bring people to come into development area we must provide quality hospitality. So these are where we are looking at in the next three years though things could change.