My Boyfriend Will Practically Suffer If I Have One Now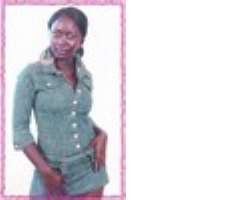 Amanda Ebeye who played Eva the lead character in Fidelis Duka's Images-a family soap opera, is now resentful about the way she acted her role. "If it was now that I have gained some experience in acting, I would not have dumbly followed all that the director said." She lamented. "Imagine telling us to sit in one place for a long time while we interpret our roles. If it was now, I could have added my own creativity and experience." As though the soap still had a sour taste in her mouth, she poured out her disgust, "I regret the way I acted in Images."
Amanda, one of the fast rising actresses came into limelight with Images. She has since featured in Royal Messenger, Eldorado, Weeping Tiger and Senseless all by Fidelis Duker. She has also been in Super Story, Extended Family and Soul Sisters among others.
The graduate of international relations said she was a model before venturing into acting. "I started up as a model, I still model anyway. From there, I started going for auditioning. That was how I met Fidelis Duker and got to play a role in his movie."
The beautiful and vivacious actress confessed that though she loves acting, it has not been easy. "When I started I felt intimidated by the popular stars. Sometimes I'd need to go for an audition but there would be no money. I had to struggle, but because of God's mercy, things are getting better."
Despite the hurdles, the world of make believe has been rewarding for Amanda. "Acting is what I've always wanted to do; it has taught me a lot of lessons and made me appreciated by people. It has given me the avenue to work with some of the great movie names. Like when I did Senseless, I worked with Bimbo Akintola, Femi Branch, Ngozi Ezeonu and others. It was a star-studded thing and I enjoyed it because they accepted me. I played most of my scenes with Bimbo Akintola and I really enjoyed working with her because she was accommodating. I just looked at her, admired her and learnt a lot of things from her. I wasn't intimidated because we worked together."
Ask her how much she's worth now and she flares up in defense: "It's not all about the money, if you are in the movies because of the money then go find something else. It's the passion that drives me, not the money." Just how much the said passion can drive her in interpreting a role. Can she act nude? "No!" came the vehement answer, "I might kiss but I can't act nude, my family would be dismayed." So, if she can't go as far as acting nude, what then is her selling point? "I'm a very confident person and I'm also intelligent. I know how to interpret roles easily."
Being beautiful no doubt must also be an advantage.
"Yes," she affirms. "The look is important but I think I also have the talent." Her looks and talents must also be attracting lot of admirers in the industry. This she did not deny: "Every woman should have admirers, if you don't, then you should go check yourself in the mirror, there must be something wrong."
How does she handle her male admirers? "I cope the way I'm supposed to cope as a girl. When men approach me and say, 'oh, you are a beautiful girl,' I tell them thank you, it's a compliment and every morning it keeps me smiling."
Talking about beauty and assets, a newspaper once quoted her stating that her lips make men go crazy. Amanda however debunked this, saying that the so-called reporter quoted her out of context. "He kept asking me what I liked most about my body. At a point I told him my lips and there, he went and wrote a different thing."
About her love life, she willingly agreed to the news making the rounds that she has no boy friend. "It's true I have no boyfriend. I don't have time right now because I go from one location to the other. If I have a boyfriend now, the guy will practically suffer, but when I'm ready I'll have one. What I have in the industry are godfathers, brothers and friends, nothing serious."
The issue of godfathers in movie industry is no doubt questionable considering the talk about marketers sleeping with actresses. So the question many are wondering is; what type of godfather and actress relationship does she mean? Is the relationship the type marketers allegedly have with actresses these days?
"No, it's the normal godfather, someone you look up to kind."
When asked how long she'll wait for her ideal guy, she said as long as she's ready and went on to describe her ideal guy as romantic, charming, caring, not domineering, god fearing"
On the issue of sexual harassment, she looked puzzled and her reply was a stumbling bewilderment. "Sexual harassment? Why would I be harassed? I have never been sexually harassed. I don't know... it is something people talk about but I have not experienced it. Nobody has ever told me that 'if you don't sleep with me, I won't give you a role'. It is how you present yourself that determines how you will be treated." The mere mention of her future aspiration led her into chattering in happiness; "I would love to touch lives with my movie, be someone people look at and say, 'yes she knows what she's doing.' I want to get to that point where the sky is my starting point. Not just in the movies but also in TV I love Oprah and I want to be like her. I want to be able to touch people like she has.
"Talking about the real Amanda is the same person you are seeing. This is how I talk, this is how I joke, there is nothing different except perhaps I'm different from the roles I act. I'm reserved, I like sitting at home and watching TV."