COSON MOVES AGAINST WAZOBIA, COOL FM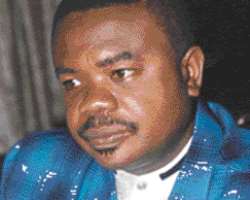 Okoroji
Copyright Society of Nigeria (COSON) has requested the Federal Government of Nigeria to revoke the licenses of two popular radio stations, Cool FM and Wazobia FM. In a letter written to President Goodluck Jonathan, COSON argued that the two radio stations are violating the nation's broadcast code and the copyright law which doesn't allow two radio stations in the same building.
'Owners of Cool FM and Wazobia FM, who make a fortune annually in advertising revenue, have shown clearly that despite the provisions of the law, they have no intention of obtaining authorization or license to play any musical work .In other words, Cool FM and Wazobia FM are above the law', COSON stated in a press release made available to SBN.
Adding his voice to the argument, Chief Tony Okoroji, the Chairman of COSON while speaking to newsmen at the boardroom of COSON at Ikeja recently said agencies and firms who support Nigerian acts shouldn't deal with the two radio stations.
He said, 'We wish to notify corporate Nigeria that of the huge amount of money paid by them to these stations, a small fraction of which is meant to be used to ensure that the owners of the works broadcast on the stations are paid, not one kobo is spent by the owners of Cool FM and Wazobia FM to properly acquire the rights to the music they broadcast daily.
We shall therefore consider any advertising agency or organization still advertising on Cool FM and Wazobia FM as an enemy of Nigeria's creative talents bent on aiding and abetting infringement of the rights of Nigerian artistes'.
The Chairman also explained that COSON, had on many occasions written letters to Cool FM and Wazobia FM, inviting them for discussions, as they do with others over works of art they broadcast.