Tricia Nwaubani I decided to write before I knew what to write on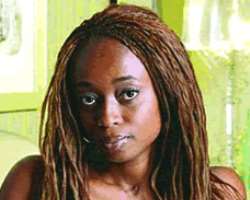 Adaobi
In a crowd, she can't just be anonymous. Perhaps half of it is by design. Her characteristic hairstyle, a spangle of iridescent gold and scarlet on brownish braid, rivets unend. Svelte with a chic flair, her bulging, foxy eyes can easily browbeat. But it is the beat of her creative enterprise that won't abet echoes of triumph.
Tricia Adaobi Nwaubani is Nigeria's latest literary headliner. In 2010, her debut novel, I Don't Come to you by Chance, came with a fancy twist: a tale of Nigerian 419ners coning unsuspecting foreigners, laced with quirky humour. That earned her the exalted Commonwealth Prize for First Book (African Region).
What's the genesis?
As a schoolgirl at the Federal Government Girls' College, Owerri, she wasn't fascinated about walking the primrose path; rather, writing was among her hobbies, and she knew that at some point it was going to play a major part in her life, though she didn't know the exact direction it was going to take.
However, it came sooner than expected. In December, 2006, the scribbling latent in her took a waltz, as she decided to start putting pen to paper for a novel project. She was done in a couple of years, and the rest is hurrah.
'It was exciting winning the Commonwealth Prize,' she carols as the air conditioner in her ritzy suite at Presidential Hotel, Port Harcourt, sings a quiet, ambient hum, 'but winning a prize is not all about writing; there are bigger things that happen to a writer. It is only in Nigeria that a writer wins a prize and thinks he has arrived.' Her eyes seem somewhat glazed with stress from yesterday's coaching.
One of the things that gives her joy is the valorization that comes from nooks and crannies of the world, including outside the literary precincts. Indeed, for you to write a good book and merely vegetate in your clime does a disservice to the writer's ego, which is why Tricia cannot but bask in the afterglow of her global recognition, when the cyberspace is awash with snippets of her offering. Gees!
Tricia is a fast talker. Sometimes her words erupt like the whoosh from a boom box. 'Security agencies, such as the FBI, Interpol, Scotland Yard and others, are researching on the book. The fact that the book is being read outside the realms of literature gladdens me. People who haven't been to my part of the world are referring to my book,' she says with a jaunty coda.
How much does she know about cyber crime? This question is inevitable given the expertise she brought to unfurling the schemes of the underbelly world. She flicks a smile and says: 'I grew up in Umuahia, and there were many 419 kingpins around, in the 1990's, when it was booming. Most of the things I wrote were things that I knew,' she informs. Most of her characters, thus, were dramatizing scenes that she had seen before. Though she asked many questions in the lead up to the book on how scam letters are written and how scam operates, she relied mainly on first-hand experiences.
International prizes, when it comes early in a writer's career, could make or mar a writer because of the wholesale expectations that come with it. Tricia concedes that she came to writing on a fortuitous note, having not studied creative writing or set out to be a writer as a lifelong ambition. So, her recent success won't translate into more sleepless nights working on a tour de force. 'For me, I will write only when I want to write,' she says with a facial tic that drums the candour in the comment. 'I will write the kind of thing I want to write; nobody is going to force me to write anything.'
Reading Chimamanda, for instance, you see a patina of feminist strands in her works. Tricia is not sold to the feminist tract. 'I believe women should have the right to flourish and do whatever they want to so that nobody should hinder another person's rights. But I am not one of those fanatical women,' she echoes the certitude with additional decibels.
She grew up in a family of mostly boys, with only one sister among the siblings, and at no point did her father allow the boys to lord it over them or encourage them to disrespect the boys. That experience shaped her orientation as she grew up. 'So, that [femism] is not an issue to me,' she announces.
A writer, she supposes, 'first of all, tells a story. If it is an issue that is in your mind, fine. But, for me, my novel came before my story. I decided to write a novel before I knew what I was going to write about, and the 419 topic was the first thing that came to be when I was thinking of what to write. If you are a feminist and you want to tell a story from a feminist point of view, you are free; but, as for me, my interest is just to tell a story,' she harps. 'The impression I get when people talk about feminism is when a woman wants to be like a man, and am not interested in that at all.'
Hug the limelight: this is what new female writers like her have come to represent in new Nigerian literature. The precursors to that were, among others, Flora Nwapa, Buchi Emecheta, Zainab Alkali, Ifeoma Okoye, Akachi Adimora-Ezeigbo and Promise Ogochukwu Okekwe. The Chimamanda era came with Chika Unigwe, Sefi Atta, Nedi Okoroafor, Unoma Azuah, Lola Soneyin and other pretenders. It is now happening with an awesome rapidity.
Tricia is a perky character and she talks heartedly about that. 'It is obvious that women are the ones gaining more prominence nowadays. It is possible that the men are very busy with so many things bothering them, especially in this part of the world.'
It is a bit surprising that she hasn't yet relocated to the West after his Commonwealth triumph, as has been the cases with most writers with similar international acclaim. Tricia is the home girl, and is simply okay with that. She explains: 'Most of them were already outside the country before they got their prizes; but, for me, it doesn't matter where I live. I am proud that I won my prize while living in the country; that is the only way I can inspire others to do the same thing. I don't think in the future I will move out of the country.'
You will be shocked that Tricia isn't a voracious reader. Though she has heard about many great books by other Nigerian writers, she can't just bring herself to read them. Why? 'It has to do with time and interest, and some of these books don't appeal to me. 'I read mostly non-fiction, and if I want to read fiction, I will want to read something that I like. In that sense, I won't say I was influenced by any Nigerian writer when I set out.'
She is a journalist with The Next newspaper and she still finds time to do her scribbling. 'I guess it is natural for a journalist to be a writer,' she intones, 'but, then, I don't even accept I am a journalist,' she laughs, 'because I do more of editing than reporting.'
What are her aspirations? She smiles indulgently. 'I want to explore new territories. My book is different; I am the only one in the world who has written about 419 in a novel,' she adds jauntily. Don't be surprised, too, if she owns a publishing house in future, because it is a dream she nurses pleasantly, to not only publish herself but other writers who need help. 'At some point in my life, I will like to decide what happens in my country; not just to sit down and write,' she ups the ante, which is indicative of a political aspiration.
With many things on her mind, Tricia defies your girl-next-door archetype. 'All of us can be successful if we want,' she says with professed latitude.