IRREPRESSIBLE NADAL GIVES YOUNG AMERICAN 'BAPTISM OF FIRE'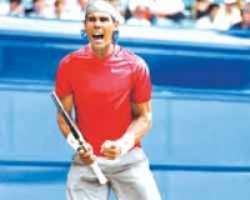 …As fellow countryman Verdasco comes back from the 'dead'
WORLD number one and top seeded Rafael Nadal of Spain yesterday on the Rod Laver Arena, handed down a 'baptism of fire' to a young up and coming American prodigy, dishing out a 6-2, 6-1, 6-1 spanking to march menacingly to the third round of the on-going Australian Open.
While much of the talking point around the grounds of the Melbourne Park and beyond centred on two incredible matches - Argentina's David Nalbandian and 'homeboy' Lleyton Hewitt; Roger Federer and Gilles Simon on the next day, plus American Venus Williams's eye - arresting dress sense, Nadal was neither in the mood for immediate memories of sensational matches involving others, nor did he care what anybody wore.
Instead, he spent one hour and 42 minutes in dismantling any prospect the young and ambitious American Ryan Sweeting could have nursed before their second round match.
Nadal, who was leading Marcos Daniel 6-0, 5-0 in the first round before the Brazilian retired hurt, was actually pushed harder yesterday by Sweeting. But the outcome was still as much a formality as the Spaniard's first round victory in which he had lost no game.
He (Nadal) will next face young Australian Bernard Tomic in the third round. The 18 year-old Tomic stunned 31st seeded Feliciano Lopez of Spain 7-6(7-4), 7-6(7-3), 6-3 on Hisense Arena, and the whole of Australia is excited at the prospect of welcoming their very own youngster into the big time.
Indeed the Nadal - Tomic third round match is the match-up Australians had been hoping for, and so is guaranteed a prime-time billing predictably on the number one showpiece Stadium Court, the Rod Laver Arena on Saturday night. And Nadal is not pretending to be oblivious of the huge expectations on the slim shoulders of an 18 year-old, who just could have an answer to the troubling question on the lips of tennis - mad Australians.
Despite wildly cheering the herculean efforts of two times Grand Slam champion Lleyton Hewitt, now 29, after the epoch-making first round extravaganza in which their man gamely went down fighting, Australians may well be asking the battling Hewitt, 'are you he that cometh, or look we for another?'
For sure, Australian tennis has seen better days, days of yore when the likes of Rod Laver, Roy Emerson, Ken Rosewall, Tony Roche, John Newcombe, John Alexander, Patrick Rafter, Margaret Court, Evonne Goolagong, Wendy Turnbull etc ruled the tennis world for decades, winning one Grand Slam title after another, including numerous Davis Cup and FED Cup (for the women) titles.
Sadly, nowadays, Grand Slam titles are hard to come by, for Australian with the last two Grand Slam titles won by Hewitt, at the 2001 US Open and the 2002 Wimbledon, after which no Australian, male or female has come near a Slam title. As illustrious as Hewitt's career has been, having also held the world number one ranking in the early 2000's, he has not won his 'home slam.'
In fact, the last Australian to win the title was John Alexander in 1976. Patrick Rafter was just as successful as Hewitt, but in spite of winning the US Open title back-to-back in 1977 and 1978, he too did not win his 'home slam.'
This barren run for Australians, particularly in their home Down Under may be why Aussies would be justified if in fact they had begun to ask the seemingly Biblical question of their up-and-coming star, 18 year-old Bernard Tomic, who surprisingly is not in any way intimidated by the status and quality of the man he is up against on Saturday.
You would think that an 18 year-old, however naturally gifted, would feel the pressure, not only for now suddenly carrying the hopes of an entire Australian Continent after the first round exit of Hewitt, but the arduous task of facing the all-conquering Nadal, who has not lost a Grand Slam match since his semi-final loss at last year's Australian Open.
Not a chance. At least before the match, he is not showing signs of being overawed by the occasion. Hear him: 'I can't believe that I'm playing him (Nadal). What an opportunity it is to play him, in a third round match as well. It's a dream come true. I've got nothing to lose.'
Facing Nadal is a dream come true? Be serious. There are many in this trade who consider their lot of facing Nadal a nightmare. And they are legion.
Well, let's listen to Tomic, who continues, 'I'm hitting the ball great. My confidence is up there, especially after two matches… I'm not going to go and win this match if I go out there and play not to lose. I've got to play to win and I believe I can… I'll just have a go. I don't think he'll like my game. I think the way I mix it up, he's not going to like. But who knows?'
These are not the words of a player who is in fear of even a conqueror who is trying to become the first man since Rod Laver in 1969 to hold all the four Grand Slam titles at once.
Nadal himself is not unaware of his young third round opponent though: 'He's very young but he has the potential to be in the top positions in the future… I will have to play well if I want to win,' Nadal said of Tomic.
Nadal, who told reporters he would warm up for the Tomic match with a trip to the local aquarium, felt there were a couple of minor things to work on from his victory over Sweeting.
'I think I played a solid match. A few mistakes with the backhand, that's all,' the world number one said. 'My serve improved a lot compared to the first match. I think I served pretty well today… Maybe I have to play a bit more aggressively, more inside the court, but in general, I am happy.'
Nadal's first two matches without a doubt suggest he remains the man to beat, especially with his number one foe, the second seeded defending champion Federer displaying an uncharacteristic vulnerability in his hard-fought second round win against Gilles Simon of France.
Nadal's fellow compatriot, Fernando Verdasco needed to fight back from the 'dead' also yesterday when he battled back from losing the first two sets to finally overcome Serbia's Janko Tipsarevic 2-6, 4-6, 6-4, 7-6(7-0), 6-0 to advance into the third round.
In women's play, third seeded 27 year-old Kim Clijsters, the only other woman to win a Grand Slam title after becoming a mother (the other is Australia's Evonne Goolagong), defeated the 62nd ranked 22 year-old Suarez Navaro of Spain 6-1, 6-3 to advance.
Frenchman Michael Llodra was the latest seed to fall early on day four of the tournament, losing 7-6(7-3) 6-3, 7-6(7-4) to the unseeded Milos Raonic of Canada. But tenth seeded Mikhail Youzhny of Russia defeated Blaz Kavcic 6-3, 6-1, 5-7, 4-6, 6-1 in yet another marathon match, while 13th seeded Jo-Wilfried Tsonga of France, and Croatia's 15th seeded Marin Cilic did not lost a set against Italy's Andreas Seppi and Santiago Giraldo respectively.
The tournament continues.