I'm a sucker for good looking ladies — Mike Ezuruonye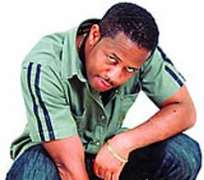 No doubt, Mike Ezuruonye has one of the most accelerated rise to stardom. His entry into the movie industry was just by sheer coincidence, so to speak.
According to this handsome dude, he was on a sort of career break when he ran into Ruke Amata, an old friend of his who talked him into joining Nollywood.
Today, Mike stands to be one of Nigeria's hottest Nollywood star with several movies to his credits. In this chat with Vanguard, Mike shares his experience on a particular embarrassing encounter he had with a woman for playing a particular role in a movie.
On his love life he says, 'I'm a sucker for good looking women'. Enjoy: How is life? Life is good, we thank God.
What are you working on currently in terms of movies? There are so many but of course you know that there's a break which has been on for about two months, but from next week we'll start releasing movies again.
I still have some works unreleased. By the way, how did you get into the movie industry? That was via my stage coach whom I have not seen in a long time. His name is Ruke Amata.
I was buying fuel somewhere in Maryland when he saw me and convinced me to come join Nollywood and here I am today. The shipping company I was working with was leaving for Tanzania and was somehow on break when I ran into Ruke.
Then it was like a vocational thing for me to act. I did not really take it serious. I was on a career break and was having fun not knowing that God had plans for me to be here. Was 'Burning Desire' your first movie? No it wasn't. Funny enough, my first professional acting experience was a series but it has not seen the light of day till date.
It was supposed to be 'Ultimate Hero' from the stables of Zeb Ejiro and it was sponsored by Nigerian Breweries- Gulder to be precise.. I don't know what went wrong but I've not seen a single episode. Which was the movie that brought you into lime-light? Broken marriage, Critical Decision and then Burning Desire.. How have you been finding the industry?
It has been good. The industry is one that is growing and if you are a visionary that knows where he is going and if you have set a target for yourself, you just have to grow with the industry.
It comes with its ups and downs but the good thing is that it comes with enough good will. Movies are the most positive exports from Nigeria. As we speak right now our clientele have gone beyond Nigeria, beyond Africa, into the Caribbeans and into black America.
I have black Americans who will stop me on the streets in the U.S and say 'hey, you are doing a good job. I know you for real, the African Michael?' So one feels proud that we are actually ascending and getting somewhere.
But still there is still a lot to be done technically, with regards to some spheres and circles in the industry. This is the only place in the world where you'll call up somebody and under one week, the person delivers yet the person hasn't seen your scripts before. So when it comes to artistry, yes, we are good; but technically I think we need to really upgrade.
You seem to have a very good command of grammar, what did you study in school? Accounting. Every good path is not always smooth. Can you share some of the rough paths you've travelled in life?
As a growing child, I always had it smooth but the roughest time I had in my life was when I lost my father in 1990.
We had to face proper reality as some amenities were withdrawn from us. So it was really tough adjusting. In the industry too, the bottle necks were too much because with my former job, I was used to sitting down and doing my job.
Also, when I was an upcoming artiste, a lot of my older colleagues were not very comfortable with me. Sometimes during rehearsals, they will not rehearse properly with me and when it's time for action, you see the real them coming out.
I was always prepared for them so they never caught me unawares. But there are still some who I respect till tomorrow because they gave me that encouragement. I can remember RMD, Olu Jacobs and Justus Esiri. Who is this special woman in your life right now? She is special and I want her to stay that way.
I do not want her name in the press but she is special How soon are you going to the altar? It could be soon, I don't know but at our special time. Who is your kind of girl? I like real people. I don't like somebody who will be all out to absolutely impress me.
I don't like fake people. I like true people that when I look at you, I can see your inside. I like a woman who, devoid of anything is also God fearing, though sometimes we sin but you have to always understand that we are nothing in the eyes of God who made us. So we have to put that as a basic principle. And of course I'm a sucker for a woman who dresses good and carries herself very well. So this special girl fits in well into all of these qualities?
I would say she has the ABCs of my description of womanhood. Is she in the industry? No. Fate has its course and she is just not in the industry.
I don't discriminate against anyone having something to do with somebody in his industry but it just did not happen my way. I am sure she watches your movies. Yes, she watches some of them.
So how does she feels when she sees you smooching or kissing a girl on set Some, when she watches and starts feeling funny, she just takes a deep breath. And I tell her 'honey, it's just a movie'. She understands it is just the job and she knows who I am.
She knows the kisses I give her is different from what she sees in the movies. Being a good-looking and fast-growing movie star, you must have a lot of fans especially female lusting after you.
How do you handle them? I take it that I am being appreciated for my work and what I do and I see myself in this light. I am just like the regular guy you see on the streets, the only difference is that I am on television. I know when and where to draw the line and say 'this is going over board'.
Definitely if a smile is thrown at me, of course I will reciprocate and a handshake is not bad at all because these are the people who keep you in demand so, you owe them that. You have to give them that goodwill back and if someone is being too persistent, you'll find a way around it and make her understand you are not out for what she wants.
Have you experienced any embarrassing moment before for playing a role? There was this Igbo film titled 'Moment of Truth' where I played an illiterate marketer. I was so obsessed with some girl I was helping in school.
Chioma Chukwuka was the girl and I was really nasty in that film. Now there was this day I was driving and an old lady double crossed me. I came down from the car to know what was wrong. I was still asking 'what is going on here' and the next thing I knew, the lady came out from her car and slapped me hard on my face.
I was so shocked. I could not say anything. This was an old woman, even older than my mom. As if the slap was not enough, she started shouting at me 'You are stupid. You are mad. You are crazy' I looked left and right to be sure it wasn't a set up. I moved back a little because I could not understand what was happening.
Two million and one things were running through my mind at the same time. She just kept on ranting: 'How can you treat Chioma Chukwuka like that? Who taught you that as element of marriage?' I was speechless. Then I understood and I was like, 'oh my God this is all because of a film'. By the time she was yelling again, some okada riders packed and asked what happened.
On hearing the woman mention Chioma Chukwuka, they knew it was about a film and started laughing. Today, that woman is one of my biggest fan. She forced me to lunch that day and when I refused she just got into my car and threw her car keys to her grand daughter and said, 'anywhere you are going, you will go but we must go for lunch together'.
We went for lunch that day and today, we are very close. She calls and pray for me most of the time. If you can change anything in the Nigerian entertainment industry, what will it be? I will lay more emphasis on sound. We need to improve on that. If we put our movies on the big screen with this format, you will see a big lapse.
We also have to put the proper structure in place where royalties are being paid for works of artistes. What advice do you have for young upcoming ones? Get your education first. Don't come because you think there is money.
Have love for the arts; have love for what you want to do and then the money, fame and goodwill will come.