D'banj, Sheyman's feud deepens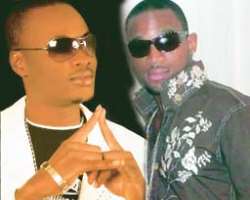 D'banj may be loved by many, but one man is not happy with him. Ademoye Oluseyi, a musician popularly known as Sheyman, has scores to settle with D'banj.
Laying bare his grievances with the Koko Master to Life and Beat recently, Abeokuta-based Sheyman said D'banj featured in his track, Tangogo two years ago, "when he was not yet as known as he is today." Sheyman is angry that D'banj has now refused to feature in the video of Tangogo.
He said, "Now that he thinks he is a star, D'banj does not want to appear in the video. The way he is going about it is very wrong. It is like a slap on my face."
Sheyman added that the Why Me crooner had also insisted that his name should not even appear on the CD jacket.
"What could his explanation be? I am not happy about the way he went about the whole thing. He went as far as calling the guy that was doing my CD jacket that he should not put his name on it. He should have called me instead. I don't know what he meant by that."
Sheyman said he felt bad about the incident, "But right now, I am keeping my game tight. We should just try to help one another in this industry. That is all I am saying."
Life and Beat tried reaching D'banj to get his side of the story but we learnt he was in the US.
We got through to his manager, Sunday Are, who said, "Who is this Sheyman please? I don't know him. It may be that this guy begged D'banj to feature in his works and he helped him out. For God's sake, that should not cause any wahala. If I tell you that I don't know this artiste, you should understand what I mean."
According to Are, D'banj is under a management company, and he is required to tell his company before he does any collabo with anybody in the first place.
He said, "In this instance, we are not aware of it and probably that is why he does not want his name on the jacket. He shouldn't do something that is not up to the standard he is known for. If he does,it is people like you that will write that D'banj has done something that is substandard.
"If D'banj says he does not want his name on the CD jacket, so be it. He knows the implication and that might have been the reason he didn't want his name on the CD jacket. I don't see why this should be an issue."