.......'Micro skirt is a no go area for me' ----Essence)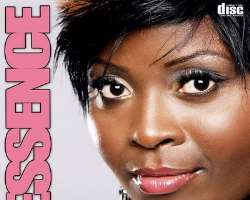 OKORO Uwale (a.k.a Essence) started singing at a very tender age, but went professional at 18. The Itsekiri, Delta State-native attended Federal Government College, Port Harcourt, Rivers State, from where she moved to Delta State University (DELSU), Abraka, to study Theatre Arts. After secondary school education, Essence joined her Church choir. Before she released her debut album, she had backed up artistes such as Kingsley Ike, Paul Play Dairo, Kenny St Brown and others. Upon graduation in 2004, she launched into the market with 'Truly Essence', which has hit songs such as 'Like Dat' and 'African Prince', a remix of Tuface's 'African Queen'. She recently released her sophomore album titled, 'Essential'. The dark Kalangol singer tells DANIEL ANAZIA what fashion means to her.
WHAT is your view of fashion?
It is an individual's personality, carriage and creativity. It's not all about what you wear, but your ability to combine the right colours and materials together to make you comfortable.
Your style
My style is unique, because it suits my body and sensibility. Also, I love to appear real and natural.
Favourite colour
I'm in love with classic black. It's quite agreeable to my complexion.
Favourite designers
I can't really place any for now, because there are a lot of creative designers.
Favourite fashion piece
My black bootleg pants, it's slimming and subtly sexy.
Most expensive fashion piece
That I wouldn't know because I get a lot of gifts. I only buy the basics.
How often do you change your wardrobe?
I don't really change, I rather add until they choke, then I give them out.
What would you not be caught wearing?
Absolutely, a micro-skirt.
Favourite signature scent
I'm a perfume freak, but no favourites. I get bored easily, but right now, I'm rocking with 'Heat' by Beyonce.
Body grooming and secret of beauty
I do the three Ss like everyone else (shower, s**t and shave). I also exfoliate my face.
Favourite food
Give me classic rice in whatever form and variety.
Turn on
I love real people.
Turn off
I dislike snotty-nosed, fakes, who stick up behind people.
Choice travel/holiday destination
Take me anywhere outside the hustle and bustle of Lagos.
What would like to change I Nigeria if given the opportunity?
The epileptic power supply. I hate darkness and it is worrisome, after the day's work you get home there is no power
What would you consider as fashion & style faux?
Fashion faux for me would be someone over-killing an accessory. For example, bedazzling all 10 fingers. Na wah ooooo!
What do you consider sexy in men and women?
For a man, it is his communication skills. If he speaks bad grammar ... noooo. But for a woman, it's her attitude. If she is nasty, forget it.
What is on your shopping list for the month?
I don't do lists. I get things as I go along, Sh?kena!