Monday,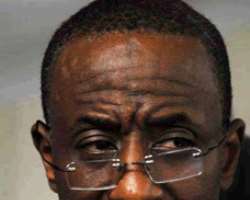 Sanusi
In a terse policy statement on November 29, 2010, the Central Bank of Nigeria (CBN), took another decisive step towards strengthening the bond of relationship that should exist between banks and their customers.
The initiative in which the apex bank had originally set December 31, 2010 deadline for banks to update customers' records was part of the ongoing financial reform agenda aimed at cleaning up the rot in the Nigerian banking sector.
CBN Governor, Mallam Sanusi Lamido, unarguably the architect of the reform process may have been fired on by the discovery in August 2009, when he first opened the can of worms in the Nigerian financial market that most high profile debtors to the rescued banks had no fixed addresses while other details that could aid recovery of loans granted them by the banks were non-existent.
It was, for instance, observed that most of the accounts being updated were opened as far back as the 1970s and 1980s, when there were no GSM phones and information technology facilities that are often taken for granted in other nations of the world. Thousands of account holders have changed their jobs, while many have either died or traveled out of the country on permanent residency abroad or in pursuit of other economic objectives.
Over the same period too, so much has happened in terms of societal and infrastructural developments to warrant an update that will capture basic statistics that would enhance better customer service delivery in the nation's banking industry. Outside of factors bordering on advances in information technology infrastructure, other issues that seem to justify the current account update is the fact that occupation mobility as well as rural urban drift remain a significant phenomenon in the country.
Outside of factors bordering on advances in information technology, other issues that seem to justify the current account update is the fact that occupation mobility as well as rural urban drift remains a significant phenomenon in the country. It was believed that in the absence of an efficient data bank and credit registry scheme, the current account update may be one of the best steps for tracking various categories of bank customers across the country.
While it will enable banks and the CBN to ascertain the actual number of active bank accounts, cut off some administrative changes for the banks, many also believe it would go a long way to addressing the menace of dormant accounts, as well as flag accounts used for global terror financing networks and advance fee fraud. The understanding in some quarters was that this account update should be supported by all Nigerians, especially now that the global community is devoting enormous resources to fighting terror financing and cybercrimes in various countries of the world.
Taking the views canvassed by some of the nation's anti graft agencies into consideration, it becomes imperative to believe that one key objective of the exercise may be the desire to check the excesses of some account holders who use their bank accounts for criminal ventures. The argument was that the update could give security agencies an ample opportunity to unveil such customers and possibly arrest and prosecute them in collaboration with banks in line with the objectives of the present financial sector reforms which seek to clean the entire industry of the rot that has remained a festering sore over the years.
It is in the light of the foregoing that some observers have argued that the current account update provides a good platform for the nation's security agencies to make further revelations into the world of financial crimes. But achieving these lofty goals, some have argued would require the collaboration of CBN and other agencies of government as well as the support of operators of the banking industry to forestall any backlash against the banking community.
However, while briefing the nation's banking community on discoveries made during the August 14, 2009 intervention in banks, CBN Governor, Mallam Sanusi Lamido, had bemoaned the fact that the absence of basic information about borrowers indebted to various banks was a clear indication that banks will continue to encounter difficulties tracing such customers in cases of default, particularly when collaterals pledged for loans could not be perfected promptly, stressing that this would, eventually compound risks associated with the loans.
Though CBN's interest in KYC came to the front burner more than three years ago, the latest effort is seen as a step in the right direction particularly as it seeks to curb the excesses of some fraudulent customers. As at Friday, December 31, 2010, when scores of customers besieged various bank branches across the country to beat CBN's initial deadline, some customers who spoke to Daily Sun however complained that the enlightenment and publicity programme for the KYC exercise was inadequate considering the geographic spread and configuration of bank customers across the country.
Their argument basically was that most account holders were unable to get the information on time due to the limited scope of publicity considering that most banks chose to relay the information through emails to customers where internet access is still very low.
For instance, some customers had complained that the time was so short for them to respond to the directive while a number claimed ignorant of the exercise until they heard from their neighbours. While some customers said that they only got to know about it through text messages from their banks only on Thursday evening, others said that they merely came to the banks to withdraw money for the New Year when they got wind of what was happening.
Another plausible reason for customers' initial reluctance was the barrage of scam emails that were being sent to customers mail boxes prior to the CBN directive by criminal elements seeking to hack into customers' bank account. Most customers had seen the CBN directive as part of the email scam being sent to them for several months, especially as official response to such mails did not seem to make much impression on customers.
It was on the basis of this snag that some had called on the CBN to allow a little extension to enable customers in rural areas opportunity to also participate in the programme too and to convey the seriousness it attaches to the matter.
However, as expected, succor finally came the way of most customers early in the New Year after the uncertainties created by the CBN deadline, as they were given up to the end of January to do so.
The apex bank explained in a statement by its head of corporate communication, Mallam Mohammed Abdullahi, that the extension became necessary after a review of the progress and response of the banking public. To this effect, all financial institutions are to ensure compliance with the revised deadline and to suspend operations of all accounts not updated by holders from February 1. It had also restated its commitment to apply sanctions on institutions and customers that fail to comply within the new time frame.
The CBN equally reminded customers that the exercise was part of the Customer Due Diligence (CDD), which involves Know Your Customer (KYC), compliance requirement which is accepted worldwide as a tool for the fight against money laundering and terrorism financing, and was therefore intended at protecting customers' interest in a banking relationship.
For banks, it was a hectic time controlling the surging crowd as some of their staff were engaged in the collection of completed forms and issuing of new ones. The haphazard way those forms were being submitted gave the impressing that the exercise may be muddled up.
It would be recalled that the CBN Deputy Governor in charge of Financial System Stability, Dr Kingsley Moghalu, in handing down the warning threatened that CBN would wield the Anti-Money Laundering/Combating of Financing Terrorism Regulation (AML/CFT) 2009 and the Money Laundering (prohibition) Act (MLPA) against the defaulters of the order.
According to him, MLPA requires financial institutions, among other things would need to identify and verify the identities of their customers; render statutory returns to various regulatory bodies including the CBN and the Nigerian Intelligence Unit (NFIU). He noted that banks can comply fully with the requirements only when they are able to obtain and verify adequate, credible and accurate KYC information from their customers. This he observed has become critical considering some serious challenges most financial institutions have been facing over the years in obtaining the necessary KYC information from their customers as required by regulators.
'The challenges are two-fold; first, existing KYC information already obtained over the years from customers is out of date and/or inaccurate; second, customers are reluctant to supply the requested information primarily because they are not aware of its importance. They erroneously feel that the request for information is only a prelude to filling transaction reports against them to the regulatory authorities' he said.
So, in order to assist the financial institutions obtain the required KYC information, the CBN, Economic and Financial Crimes Commission/Nigerian Financial Institution Unit (NFIU) and UNODC decided to partner on awareness-creation campaign to enlighten Nigerians on the importance of providing KYC information.
The campaign which was done in form of adverts and jingles was aired and published from December 1 to December 31, 2010, which many felt was too short for customers to updated their accounts records in all the banks. He warned that failure to comply with the directive would mean that customers may be barred from operating such accounts until compliance was extracted
The CBN boss's insistence on the propriety of the KYC information to financial institutions and their customers was said to be in the best interest of the banking community. According to him: 'It is only when financial institutions know their customers well that they can vouch that they are not linked to money laundering, terrorism financing and other financial crimes.
Moreover, he argued, when financial institutions know their customers well through appropriate due diligence measures, they would be able to assert with utmost certainty their achievements and type of businesses they are engaged in,' he stated. Also speaking on the imperative of the exercise, Chairman of Economic and Financial Crimes Commission (EFCC), Mrs Farida Waziri, who was represented by Mrs Olufunke Adetayo, observed that EFCC was ready to arrest depositors with fraudulent accounts which may be revealed in the course of the current update.
Her threat confirms Dr Moghalu's warning on November 29, 2010 that the apex would descend heavily on banks that flout its KYC principle, including invoking the Anti- Money Laundering/ Combating of Financial Terrorism Regulation of 2009 on them. Under the emerging dispensation, a typical account update form for individuals contained such information as: the current address of account holders, his next of kin and current addresses which must be authenticated by valid identity card.
But the key requirements for corporate account holders, include a photocopy of certificate of incorporation, copy of form CO7 and CO2 (particulars of directors), copy of utility bill used within the last three months, copies of certified Memorandum and Articles of Association, copy of directors utility bill and copy of directors' passport. The CBN explained that its effort in enforcing the Know Your Customer policy was part of its crusade against money laundering as contained in the amended prudential guidelines.
While addressing reporters in Abuja at the flag off of the Know Your Customers campaign, Dr Moghalu, dismissed claims that the decision to force owners of bank accounts to update their personal or corporate information with their banks was politically motivated. His words: 'Before embarking on the nationwide campaign, the CBN, evaluated the Anti-Money Laundering/Combating of Financing Terrorism regulation (AML/CFT), 2009, and the Money Laundering (Prohibition) Act (MLPA), 2004, requiring financial institutions to among other considerations identify and verify the identities of their customers and render statutory returns to various regulatory bodies, such as the CBN and the Nigerian Financial Intelligence Unit (NFIU).'
These requirements, according to him can only be complied with fully by the financial institutions, if they are able to obtain and verify adequate, credible and accurate KYC information from their customers.
A major consideration he argued was that existing information obtained from customers over the years was now out-of-date and/or inaccurate under the current dispensation. But his position was that customers who are reluctant to supply the requested information are either ignorant or unaware of its importance.
In order to assist financial institutions obtain the requisite KYC information, the CBN, EFCC/NFIU and the United Nations Office on Drugs and Crimes (UNODC), have decided to partner with the apex bank to launch a robust awareness creation campaign across the country to enlighten the public on the importance of providing basic personal account information. Despite this development, some customers still complained that the CBN did not create sufficient awareness. They argued that the campaign should have come with sufficient advertisements and jingles that ought to have been aired in electronic media and published in the print media over a period of one month, beginning from November to December 31, 2010.
At the end of this period, customers would have no reason to decline volunteering the required information, failing which they will justifiably be barred from operating such accounts until they comply.
Today, what happens to millions of customers that could not meet up with the update? A reliable source in one of the first generation banks, who spoke on condition of anonymity, said there is no course for alarm as customers could still be allowed to provide the required information before carrying out further transaction.
'It is only when financial institutions know their customers well that they determine that their customers are not linked to money laundering, terrorist financing and other financial crimes', a stakeholder stated.
Commenting on the account update in a telephone interview with Daily Sun last week, Director General of NACCIMA, Mr John Isemede, said the account update exercise being implemented by the CBN would impact positively on both the banking industry and the Nigerian economy as a whole.
According to him, the policy has singled out Mallam Sanusi Lamido as the only Nigerian seriously committed to fighting crime and corruption in the economy.
He said: 'I did my National Youth Service Corps with UBA Plc over 20 years ago, and most of the information that I used in opening my bank account with the bank have since changed.
'Since then too, my addresses have changed several times, my incomes have changed, and my age has also changed. For instance, I have worked in Unilever, Dangote Group Plc and Promasidor Nigeria Limited, among others organisations and all these movements show that my addresses and other personal data have changed over the years.
'If I took a mortgage loan when I was with Unilever and fail to inform my bankers that I am now the Director General of NACCIMA, how will they be able to collect their laon back in a country where there is no functional credit bureau. 'So, I am in support of the initiative to reflect the recent changes in all my current transactions. Perhaps what may have remained constant is my name.'
Isemede explained that the account update was necessary at this time of banking reform considering that Nigeria is a country where many people do not like speaking the truth about themselves, stressing, for instance, that rather than tell their real age, most Nigerians will tell you they are 'adults' in the space provided for one's age. The NACCIMA boss stated that photographs used by a young man to obtain an international passport may no longer be acceptable after many years as the face of the applicant would be subject to changes due to age and other developments.
He contended that it was against this background that NACCIMA was throwing its weight behind the CBN in its current effort to enforce the account update scheme to stem the incidence of unprofessional business practices by some account holders. On his part, a legal practitioner and former president of the Chartered Institute of Bankers of Nigeria, Mazi Okechukwu Unegbu, admitted that the exercise was good not only for the nation's banking industry and economy, but will bring Nigeria in tandem with what obtains across the world. According to him, if the project is successfully implemented, it would go a long to helping the authorities fight financial crime and money laundering and terror financing.
Unegbu further pointed out that statistics and other critical information generated will equally be invaluable for national planning which is necessary for economic development. With regard to the readiness of commercial banks to conclude the exercise within the period allowed by the CBN, the former CIBN boss contended that with the robust ICT base of the industry, the tendency was that they would be able to comply as directed by the apex bank. However, one area he appeared not too satisfied with operators in the banking industry was the unserious ness with which some of them have approached the initiative.
According to him, CBN had given that directive long ago, but most of the banks took it for granted even when they knew it was in the interest of the industry. Not withstanding, the ex-bank chief argued that if banks used their robust ICT facility to advantage, they will be able to cover all customers across the country. He explained that the current exercise will help banks provide required information needed by credit bureaux, which will in turn be used to prepare credit reports on customers preparatory to loan grant.
According to the Managing Director/Chief Executive Officer of CRC Credit Bureau, Mr Tunde Popoola, 'banks don't give loans to people they do not know. They give loans to people who they can vouch for. When you bring money to the bank, it takes it but when it comes to giving you loans, it is a different ball game. There must be a data base that will help banks to understand their customers to be sure they are into very credible businesses.
These lenders need to embrace the culture of information sharing and the quality of full disclosure. They should take KYC very seriously, improve on Information Technology data capture of customer information, and embrace robust risk management practices and process.'
In recent months, he explained, CBN has increased efforts to enforce banks' compliance with KYC and has even sanctioned some banks for non compliance, stressing that barring or denying customers the opportunity to operate their bank accounts at the expiration of the period could be the only option open to the authorities to achieve compliance for now. He argued that banks which seem to have had enough battering from CBN are now racing against time to escape further sanctions.
All things being equal, by January 31, 2011, banks may be compelled to stop customers who fail to supply the relevant information from operating their accounts, which most observers believe will afford the authorities an opportunity to further appraise the situation and calibrate the initiative to see where adjustments can be made. But the question many are yet to come to terms with on the exercise is whether banks legally have the right to close customers account based on the reasons adduced and even if they do, what would be the opportunity cost to them at a time winning patronage in the industry is no longer an easy deal.
A customer, Musa Zainab narrated her experience: 'They asked me if I changed my address. I said no. So they said I should go. If you said yes, they would ask for a copy of your electricity bill. They also asked for a copy of the driver's licence or the national ID card.'
An executive of one of the banks in Port Harcourt told Daily Sun that customer education remained critical for the success of any policy that the apex bank wants to implement, warning that any attempt to force banks to implement policies that will impair the unwritten confidentiality law binding banks with their customers would be counterproductive.
According to him, events of the last two years of banking reform have proven that banks can no longer pick customers on the road. For this reason, the customers need a lot more pampering if any bank wishes to retain their loyalty and patronage in Nigeria's highly competitive banking world.
Meanwhile, as part of efforts to make the current exercise more reliable, CBN and the various commercial banks may have started considering the inclusion of customers' biometric specimen to existing mode of identification for major transactions including granting of credit to customers.
The measure was considered as part of the safety nets which could stem the tide of problem lending and other transactions in the banking industry.
Though customers' photograph is currently in use as a form of identification by banks for most transactions with clients, the planned inclusion of fingerprints many argued would help minimize the phenomenal size of loan loss provisioning by banks in the years ahead as it will facilitate recovery processes and make them less cumbersome.
Daily Sun gathered that the increasing emphasis on biometric specimen followed observation by financial market regulators that conventional list of customer history, phone numbers, customers' business address, nature of business, employers and photographs among others, may have not failed in assisting banks stem the tide of rising stock of bad loans in the market place.
For instance, a recent CBN report noted that the bulk of an estimated N1.5trillion private and public sector indebtedness to the financial sector as at the end of 2009 may have been extended to borrowers without due process, thus, making recovery more difficult.
Observers believe that the inclusion of fingerprints of creditors by banks will assist them monitor their loan repayment behaviour, particularly in a Nigerian economy that lacks relevant financial data.
Speaking in an interview with Daily Sun, a former bank executive, Mr Peter Okereafor commended the account update, stressing it would help eradicate fraudulent activities and close up thousands of dormant accounts in various banks.
He explained that there are lots of accounts that even banks cannot trace their rightful owners.
Okereafor, then contended that such dormant accounts should be closed down and their balances put in suspense accounts, stressing that such a step would save banks the problems that could arise when somebody comes up to lay claims to such accounts.
The former banker however commended CBN governor, Sanusi Lamido for the initiative which seeks to bring in more professionalism into the industry, adding that he had hoped that Sanusi was governor between 1999 and 2005 as he would have corrected the anomalies of the 2005 consolidation exercise embarked upon by his predecessor.
On his part, Managing Director of Credit Registry Services Bureau Plc, Mr Taiwo Ayedun noted that adding biometric specimen to the list of requirements would enhance banks ability to track all financial transactions within the financial market and boost growth of credit to key sectors of the economy.
He stated that it will also reduce to the barest minimum, the incidence of non repayment of loans.
Ayedum said that a biometric scheme will ensure that borrowers will have no hiding place when loans are given to them.
While emphasizing the need for more education on the part of customers and the banking community, he added that 'When Nigerians become aware that banks can find them, they will behave better as borrowers.' If adopted, the system will like an electronic passport monitor and track all financial transactions of customers in any of the 23 banks in the country. Ayedun argued that the initiative will go a long way towards minimizing the propensity of borrowers to decline paying back loans when they fall due. On why the scheme has not yet gained the level of acceptance expected of it, the Credit Registry Services boss stated that Nigerian banks are skeptical that the idea may not fly with their key customers if applied on a large scale.
It was perhaps against this background that he expressed fears that some banks have been reluctant supplying information that should have assisted credit bureaus build up a strong data base which will be useful for all stakeholders in the industry. Commenting on how the account update would help real sector access to credit, Ayedun noted that when confidence and trust is built in the industry, banks will be more willing to accede to the sector's credit request which will be helpful to the nation's economic growth.
He argued that the dwindling flow of credit to manufacturers was basically the product of basic customer information that should facilitate decision making by lending institutions, stressing that credit information was the most effective tool to empower Nigerian business community in the current dispensation.
According to him, it is only when a bank knows a customer well that it can be at ease to finance his businesses.
While dispelling the notion that banks are only interested in short term transactions, the CR Services boss, noted that Nigerian banks will always support and do business with entrepreneurs, whom they are convinced will be able to pay back their credit facility at maturity and the only way this can be done was through an effective KYC scheme.
According to him, the adoption of credit registry services where banks can freely exchange credit information on borrowers would go a long way to boosting the flow of credit to the real sector.
He contended that a recent study on the relationship between banks and their customers shows that over 90 per cent of credit denials by banks was due to lack of knowledge of the customer's businesses by the financial institutions.
While admitting that credit information service was new in the country, the CR Services boss whose firm boasts of currently having data on over 3million Nigerians since inception, stated there are a whole lot of businesses that can be serviced through the adoption and the application of credit information services by banks and their customers. Activities that can use credit information to enhance their performance he contended include mortgage banking and other investment related activities in the capital market.
Ayedun said for instance, that mortgage and real estate services can use credit information at the disposal of relevant agencies to screen prospect tenants and mortgage loan applicants thereby saving themselves the embarrassment of dealing with questionable characters who might pose serious threat to them in future. On why the Nigerian banking sector got enmeshed in huge financial crisis due to non repayment of loans taken by customers, Ayedun noted that most of the financial institutions were 'lending blind', an indication that they actually did not know the borrowers to well.
According to him, most of the banks gave loans based on the information the customers supplied without bothering to verify their veracity afterward, while others lent on trust, based on long standing relationship, stressing that banks that do so would only be jeopardizing their assets. To ensure that customer's credit information are more authentic, Ayedun said his organisation was already introducing some biometric data including pictures and fingerprints that will enable banks to track their customer's in case the facility goes bad.
'With this procedure, it will be difficult for borrowers to default when they borrow' He, however, regretted that a number of Nigerian institutions were still hesitant about signing on to the service because of fear that it would be used by competitors against them. He called on banks and other companies to make use of the facilities as it will enable them lend professionally, stressing it was the information that banks give that are being processed and used to assist them manage customer information.