My size, no barrier to dating men Big Ma---Olaoluwa Sumbo Olundagun, a.k.a Big Ma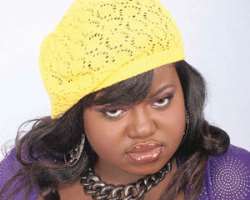 She made her debut into the Nigerian music industry in 2009, when she emerged winner at the maiden edition of the Jay Search' Talent show.
Today Olaoluwa Sumbo Olundagun, a.k.a Big Ma,is rocking and ruling the air waves with her debut single 'Way I Roll'.
She shares her experience with Showtime Celebrity.
Excerpt..
Big Ma
Are you in any way related to Tunde and Wunmi Obe?
Not at all.
But you look so much like Wunmi Obe…
Well, a lot of people say that. Truly we look alike in size but in reality, we're not related
So how did you get into the competition?
I read about the competition on the wall of my Facebook.
And what genre of music is your kind of music?
It's R & B and the first song I recorded. Now, when I heard about the competition, I decided to go for it.
At first, I thought I wouldn't make it because there were really great talents in the contest but at the end of the day, I made the last six finalists. And to the grace of God, the audience who were also the judge selected me as winner. I was surprised but, I was very happy
What was it like being in th contest?
I was nervous all through the contest, but God in his infinite mercies saw me through. I had a mind set when I went in for the competition; either to continue with my career in music, if I should win the contest, or to dump it for something else.
Since you said, you were nervous, how did you win?
Although I was nervous, I guessed some people are at their best when they're nervous. So for me, the nervousness brought out the best in me and I won the contest.
Since becoming a winner, has the organising company fulfilled their part of the bargain?
The deal was between me and Kopycat Entertainment. They have fulfilled their promise to record a single for me, shoot the video, photo shoots and help promote my single. It won't be easy promoting it myself. And they're already fulfilling the promise.
The cash prize of N150 000 was given to me at the end of the competition. Right now, we've recorded the single, shot the video, done the photo shoots and right now, the song is on air.
How has been the acceptance since you came into the industry?
Well, I've been getting positive feedback, people have been calling to say they love my video. I think I'm doing really good as an upcoming artiste.
How many shows have you done since you made your debut?
I have done some but I'm not content yet. The last show I performed was a charity concert organised for kids with the Down Syndrom at Eko Hotels. The crowd really appreciated my performance and it made me happy.
Having won the contest do you plan to stay put in the music industry?
Before the competition, I already wanted to go into music. So, the competition just gave me the leap that I needed. But now that the competition has come and gone, I have a task not only to promote my music, but also, to keep performing on stage because I love the stage. I love seeing people smile. So, I intend to be a musician until I'm no more.
So, when is your album going to drop?
I'm still working on my debut album. Right now I have recorded three tracks and I am still working with some producers to complete the job.
Because I sing R & B and Soul,my album will be a blend of that.
Were you this robust from childhood?
(Laughs. No I wasn't. But I started gaining weight after my secondary school. Fatness actually runs in my family. So I guess, it's normal for me to be robust.
Knowing that you're this robust, how do you hope to cope with you fans?
I really have not got any complaints from my fans. In fact, most of them say they love the way Iam. I don't think about my size because I'm agile.
Anything a slim person can do, I can equally it do better. So, I see my size as an added advantage .
Do you have a boyfriend?
I don't.
Why?
Because I'm busy with my music at the moment.
Does music stop you from having an affair?
I should think so. I will have one when the time is right. I'm concentrating on my music now but if along the line, a boyfriend comes, it will fall in place.
Do guys find it difficult to come close to you because of your size?
Not really.
What if you are not telling the truth and youir boyfriend reads this…?
I don't have a boyfriend for real. For me, I look for a lasting relationship and not because I want to date. I believe I'll have one at the right time.
Do you have a problem getting dates?
No. I don't have any issue having boy friends and it's not as if I haven't dated. But I don't like to jump into any relationship. And it's not because of any heart break. I'm just taking my time.
What year are you in school?
I'm in 200 Level. For now, I'm still joggling both. But along the line, if one takes priority over the other then, I'll have to leave one for the other.
What happens to your music career if you don't get a labe l to sign you on?
Well, I still have God and some people who'll support me in my career. I'm also sure I'll get some shows where I can perform. Then the money will be used to push my music forward, I have to start from somewhere.