I shot my first movie with N60,000-Emem Isong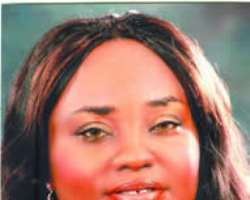 Emem Isong
Emem Isong always wanted to be a movie maker as long as she makes money. She initially worked with a bank but after a while she retraced her steps to her passion and so far she has had no regrets.
Is this what you'd always dreamt of as a child?
I can say so because I have always been fascinated with movies. I knew somehow that I was going to do something that has to do with entertainment.
So, technically, you are living your dream?
I will say so. Just that the cash has not come in yet.
But if you are complaining about money, what will some people that I know say?
I mean the kind of work that we put in, what comes in is not commemorate with it.
But why are you still in the game?
I love it! It makes me happy. I'm not doing this because of money anyway.
But that is what everybody says and someone once told me not to believe people that say they are not doing something because of money.
Well, that is the person's own ideology. I know what I am saying because if it is because of money I would not have left my banking job, which paid me well, to do the work that I am doing. The fact that I am happy doing this makes me happy. I cannot be happy working where I am not happy no matter how much I earn.
Would you say you have made success of the dream then?
It depends on how you define success. I will say I am successful because I am satisfied. It gives me job satisfaction and it pays my bills and I can afford a few luxuries here and there, although I still believe I have a long way to go.
The last time I was at your place, it was the graduation of your students at the Royal Arts Academy. How's that going?
Hmm, we are still growing. We have just started. I felt good being able to graduate our first set of students. I can't say we have come of age; we still have a long way to go but it is a step in the right direction.
You could have left training actors to Theatre Arts departments of universities
People have training centers everywhere. For instance, there is short-term training courses in banking. Would you then ask why they didn't leave it for the business department of the university? There will always be training centers in every sector and I don't see anything wrong in that. And apart from that, Theatre Arts is what it is: an art of theatre. Screen acting is very different from that.
So what you are basically doing is that you are teaching the modern part of theatre arts
Yes, they are two different things. I was in theatre arts and I don't think I can continue in that area because theatre in this country is not well developed.
So what is the next stage for Royal Arts?
We will like to affiliate it to more established schools. This week, I still liaised with a film school outside the country. We are still offering acting and screen writing for now and we'll still go into directing, editing and the others when we are well equipped for that. There is a whole lot that Royal Arts wants to do.
But how are the students responding and how is the public responding to you?
The people that have the privilege and the opportunity to come love it and they keep saying good things about it. We have a lot of enquiries right now but we don't want many students right now because we want people that we can manage until we have a bigger space that accommodate more people.
Do you hope to use some of the students in your productions?
We have already started. Most of the movies that we shot when any of the sessions were on, we used almost all the students. I shot a very big movie with Monalisa Chinda and I think all the students took part in it. In March, by the grace of God, we are doing a film that all the students are going to take part in, in one form or the other.
What is the next phase for Emem Isong?
I would love to do a big budget (film). I would love to do some good films that I can take out of the country, the type that can compete favourably with other projects from our colleagues in the more developed countries.
Let's talk about the story of your beginning in the movie industry
Ah! that's one long story o. It was tough at the beginning, but I was never deterred because it was something I believed in, something I knew would work. I tried sourcing for money at the beginning to make film, it was very difficult and I won't really blame any investor who was not ready to invest in me. I was young.
I didn't have anything to show that I could do it. All I had was my script and belief in myself. I also came from the banking industry and I had a financial background. I had a little experience in sourcing for funding so I was really determined to try. But after a long wait, I looked inwards to family and friends and I raised a very little amount of money, which was around N60,000 and I shot my first movie with that.
It sounds unbelievable but that is what happened. It was more of determination, belief in myself and also I always give kudos to Uncle Tunde Kelani whose works I love and respect. At that time, I really liked his kind of work and I went to his studio and asked for his equipment and he decided to give them to me for virtually nothing because all I deposited was N10,000. He told me that when I was done with the project, I could pay and that was the beginning for me because it was really good.
That left me with N50,000 with which I provided food for the cast and crew, did the auditions, selected the people that I wanted. I didn't really look at the stars at that time because I knew I couldn't afford them so I decided to make my own stars. The only person that was a bit popular at the time was Kate Henshaw. We went to the same school and she'd already gained some form of popularity with one or two films that she had done and we attended the same church at the time. She decided to work with me without collecting money till after the release.
I always remember that time and I always thank God for that time. It was Kate Henshaw and late Francis Agu, who happened to be a friend at a time and he also had some kind of popularity. These were the only two stars. The rest I just auditioned. I just decided to give Stella Damasus the lead role and she did it brilliantly.
That was Breaking Point, and I managed to produce it with my N50,000 and I was very proud of myself when I finished and edited and did everything. On top of that, I still premiered,even when nobody had ever done it before. I had a premiere as far back as 1996, with the money that I didn't have. So it was all about determination, prayer and passion.
How much were you earning in the bank back then and when did you leave?
I left bank around 1993, 1994. Then I worked in a finance house in 1995.
How much were you receiving as at that time?
It was small o but at a time that was what guys were receiving in bank, funny enough, I can't remember. I think it was about N500 which was a lot of money at a time.
Was your salary regular?
Very regular! I was paid by the 26th of every month. So you can imagine leaving the known for the unknown and when I went into the financial industry, I made a little bit of money because that was when we used to have this capital market and all of that where you source for funds and out it. I made a little bit of money there and I was okay, then for me to leave that and plunge into something I wasn't sure of … but I loved it.
So what motivated you to leave the known for the unknown?
Passion. I wanted to do something that will make me happy, banking was really it for me. I just saw it as a means to an end.
But passion does not pay the bills?
If you are persistent about a thing, and you are good and consistent at it, and you do it to the best of your ability, you will certainly pay the bill. I live on film making right now and I am definitely okay.
After Breaking Point, how easy or how hard was the next movie project?
It wasn't so difficult because when I did it and did the premiere, the hall was filled. Everybody was like who is this, where is she coming from? And a couple of marketers took the order. I even partnered with AIT to market the film for me, which gave it a lot of publicity. So, I was able to recover my money and to also pay for the event. I had almost nothing left but I was happy because I had done something and I had something to my name.
Then I went into the market where the marketers were, one of the marketers who had marketed the film because AIT had promoted it said okay you have something in you, let me in into your project, which was A Minute To Midnight. I made a little money from Breaking Point and the marketer, Infinity Merchant, invested and I was able to make movies without having to owe people. Things were pretty difficult until I made Emotional Crack, which was a turning point for me.
What year did you make Emotional Crack?
That was 2000.`
Was that when you teamed up with …?
Yes after I had done a couple of movies on my own; I did like five on my own, with my money and sometimes joined with some marketers money, .. saw one of my works, he actually saw me on the set of a movie, called Silent Tears, that was in 1998 or there about, Silent Tears and Play Boy, then he saw the movie and said he would like to market .
When I finished, I went to see him and he bought the movie outright from me. He said, I like the way you work why don't we work together? So he provided the fund for Emotional Crack,that was when I really I had funds; he believed in me and gave me whatever I want to shoot movie without asking or cutting corners.
That was when?
That was in year 2000. So I did Emotional Crack and it was a huge success,
So after Emotional Crack, how has the journey been this far?
For about six to seven years, we were making movies together. I made huge successful movies for him.Critical Decision, Behind Closed Doors, Games Men Play, Games Women Play. so many I did one of my own personal movies that I shot, that was … To Love, it did well, into it, I had my baby, when I came back, I went solo, with Reloaded which I did with Desmond Elliot and since then, I have been making movies by myself.
But people raised issues when you went to have your baby?
What kind of issues?
Some kind of rumour that you did not want people to know. That you had to scamper abroad because something that you didn't want people to know happened?
I wonder what that was. I didn't even hear that, is that what the people? I didn't know, I was gleefully unaware.I had to take a break. You know why they said so? They said you were doing so well that at the time you went to London, you had no reason to go to London. It was something you wanted to keep away from the eyes of everybody. I wonder what that is. Why didn't they come up with what it was? People just like to talk and hear the sound of their voices. It is their mouth, they can say what they like. I wasn't even in London, you see?
Ehn ehn?
Yep, I just briefly went to London for a meeting that I had to have concerning my business, at the time I was pregnant, I had been to Berlin, Dublin and several countries before I ended up in America.
But you stayed away from the scene?
Yes, I did because what can a pregnant woman do? I couldn't work much and I decided not to. And I came back immediately and for about three months after, while I was .. I did a location spree.
So for how long were you away?
I can't really remember but before I left, even when I was pregnant, I did three jobs with .. in Asaba, almost back to back. I was still working, so I don't know where people heard such silly rumours from and immediately after that, I think I was away for about five months or thereabout. But that was not my first time of travelling.
It was because you stayed away for that long?
I had stayed away for seven months before, after Emotional Crack, I actually produced Private Sin which was my next film from, I had been in London for … and half months and I produced it from there.
Was that when you said you were a bit tired that you wanted to find new direction?
Yes, things weren't, money wasn't coming as I thought, and I just woke up and I wanted to do one or two … and I did it and I left. So taht wasn't the first time that I will take that kind of break, I do and I may still do so again.
Long break again?
Yes, I probably may go and take six months course somewhere or something. I'm thinking about it.
Tell me about growing up and please don't skip how you ended up studying Theatre Arts?
(Chuckles) Growing up, I just grew up like a normal child, I grew up in a close-knit family of three. My parents are civil servants, very strict, I was a sheltered child. My mom is very strict and I am the first child. I wasn't allowed to mix so much, go to school, church and all of that, then I went to Federal Government College, a boarding school in Calabar, and after that, I got admission almost immediately into the university the same year I finished secondary school. I was very happy, because I didn't want to stay at home for too long.
I got in to read Theatre Arts but my parents didn't want me to read Theatre Arts, because at that time, it wasn't a very lucrative course and my mom had bought me a JAMB form and I filled it in school, so they were not there to really supervise. I was supposed to fill in Law as my first choice but Law wasn't any where near what I wanted. I filled in Theatre Arts, which is what I wanted to do, but, and God will forgive me for this because I lied that I filled in Law.
So when the results came up, it was during the holidays, my mom took me to the university to check, and of course she took me to the law faculty and my name was not on the list, my mom was very upset, then I think she didn't scold me, she also gave me a hot slap because she was wondering why I will fill it in a such a way that my name will not be on the list to even say okay you have a low cut off point.
But unfortunately, I told her that instead of you shouting, let's go and check Theatre Arts, she said what do you mean by let's go and check Theatre Arts, why should your name be in Theatre Arts? Was it even there as you rsecond choice, then she said let's go and check; and when we got there, it was number 3 on the list and then she knew that something fishy was going on: your name can not be number three if you didn't put it, so I had to confess, and I told her yes, I filled Theatre Arts.
They were very upset and they threatened not to pay my fees. They were really angry. I had to pray about it and beg them that this is what I wanted. Eventually, my dad said I could do it and voila, I went and I was very happy doing it.
So when people say education is the bane of Nollywood, you that studied Theatre Arts and is practicing in Nollywood, do you agree?
In a way I agree even though Theatre Arts is a bit different but we have some courses on film. In my third year in the university, we studied a whole course on film but it was not very advanced so it's related to what I sturided. I majored in Chreography anyway which is the art of creating dances, it is some =how relatedbut even if you did not study, you can do what you have talent for but you just keep improving yourself in courses that is whjy I am interested in training. I come from a background of academic anyway, … so it is something I've always wanted to do.
Okay, in your opinion what are the principles for success in the entertainment industry?
Lack of training, lack of infrastructure, in our entertainment industry especially, Nollywood, the situation is chaotic right now and we are putting it in place and lack of training. We really need to step up our game and improve especially in the technical area. That is my opinion.
What are the factors that can make one succeed in the entertainment industry especially Nollywood either as an actor or as a producer?
I would say know yourself, know what you can do, know what you are capable of and work on that, don't deceive yourself, like me now I know I can not acting that is why I am not acting. I can write all the scripts in the world but when it comes to acting, I will fail there. So just concentrate on your strong point, your talent and you will succeed and with determination, hard work, diligence, prayer.
People say a lot of producers in Nollywood copy other people's movies , especially the foreign movies and in fairness to those saying this, I have seen movies that were copied and on the other hand, in fairness to you producers too, I have seen a lot of original works from you? What is your position on this?
I would not encourage this kind of thing if it happens, yes it does happen and even in other sectors, I'm sure things like this happen but really, you know that nobody has monopoly of ideas. There are no original ideas if you really want to look at it, almost all the stories are the same, it is just the way you put it. So I just realise that people just like to put down
Nollywood and I wonder why?
I applaud Nollywood and all the people that work in it and try to doing the best they can to try to uphold this industry.
For me, I try as much as possible to make my film original, you can get an idea from a foreign movie then you can do it to suit your own environment and out there, they do the same thing, I can remember a movie, Between Love And Hate that has Martin Lawrence in it, it is very similar to one other movie, I think it is Facial Attraction, I think that is the name of the movie there are so many very similar movies like this in Hollywood and sometimes they do remakes. So why is it that anything that Nollywood does is berated? Why do we hate ourselves so much?
But a lot of people say they criticize Nollywood so that it can get better.
That is the Nigerian syndrome; you can criticize constructively, you don't have to pull it down. So, people think that it is a fad or something in vogue to put down Nollywood. They say I don't watch Nollywood movies but in their homes, they watch African Magic.
Is it true that you only work with your clique?
People like to come up with so many things. Which one is a clique? Is there any actor, especially A' list actor, that I have not worked with? I have worked with practically every actor in the industry. Who is my clique? I particularly work with some more than others maybe because I'm more comfortable with them and by some design it happens like that. If I work with Stephanie for three movies now, they will say she is a member of my clique.
I will probably not work with Stephanie again; sometimes, I will probably choose Uche and work with her for three movies and then I will probably move on to another person. At each point in time, they say I have a clique, so you can't please people. Some of them have become my friends anyway so we do one or two things together every now and then. It may look like that but there is nothing like that, we don't have any clique.
Are you happy?
Of course. Everybody has problems, I have my ups and down. I have my sad moments but generally I'm a happy person.
As a movie person, as a person, as a human being, as a woman, as a film maker and as a CEO what are your high points or your low ones?
When I have successfully done a project and it has been successful, I'm happy. If I'm premiering a movie and it is very successful, that is a high point for me. I've made a lot of films and when I look back at the movies I've made, I'm happy. I think it is the same thing with everyone in any industry. As you progress, you are happy because if you make progress in life at least you know that you are not living in vain.
In order of importance, can you mention five top acting moments that come to mind not necessarily the happiest moment?
When I passed my JAMB, when I graduated, when I got admission to the university I was happy and when I was mobilised to do my NYSC in Lagos, which is what I had wanted in the first place, I was happy. When I made my first movie and when I had my baby were also wonderful moments for me. There are so many happy moments in my life and they are uncountable.
You didn't add when you moved from Surulere to Lekki.
Any time you move from one house to the other, you have to be happy because maybe you move from one place to a better place.
Is Lekki a better place?
It depends on what you want really. It's not about Lekki; it is not about Ikoyi. It is just about moving from one house to another.
Why is everybody moving to Lekki? Almost all the Nollywood stars are now living in Lekki.
Really I didn't know.
What are your top five low moments?
When I'm broke, I'm very down; when I'm looking for money to do a project, like now I'm looking for N30 million to do my next project. When things don't work out the way I planned, when I've made a movie and it flops I will be sad. But generally, one thing or the other will make you sad. That is life for you. Life consists of ups and down. Without them, it won't even be interesting.
Which of the down did you come out from strong and you were so happy that you came out from it stronger and better?
When my heart was broken and I came out of it strong maybe that is one of those sad moments too.
My editor often says when a woman has not got her fingers burnt in the game of love that she has not started. Is there a big deal about heart break that somebody will be happy if one comes out of it strong?
It is as if you are going to die. But everything is all about time. By the time you look back, for like say a couple of months, you will look at yourself and say was that really me? Did I really cried over this … why? And you will laugh at yourself. But really, I just find this life very interesting.
When you mentioned your happy moments and your sad moments, does it not take anything away from you as a woman that you are not living with a man?
I won't answer any personal question.
What is success to you?
It is about achievements; that you have achieved certain things that you set out to do. It is not necessarily about how much money you have; it is accomplishment. When you have accomplished the things that you have set out to do and you are happy about that, to me that is success.
Have you ever failed before?
Several times.
Which one comes to your mind?
I've done a couple of movies that I've not done well. That is failure. But to me, I don't stay down for too long.
Of all your movies which are the top five?
They are: Games Women Play, Games Men Play, Guilty Pleasure and I think Private Sin- that was a movie I made a long time ago, I think that was in 2004.
Tell me about your top five flopped movies?
For me, they might not be my worst movies but they might not have done well in the market. One of them is Untouchable. It didn't do too well. There is another one entitled Enslaved.
It didn't do too well. Another one is entitled Shattered Illusion.s another one that I titled Endless Lie which did not do too well. But to me, the sales for Enslaved is the most surprising because I wrote it with a lot of passion. I don't understand what happened. I think every other one was okay.
I heard from somebody that Bursting Out did not do well.
At what point?
Late last yearThe people that say that, I should say, should go and hug the transformer. Why did I say this? Because Bursting Out has not even been released, so you see bad belle.
Are you sure?
It has not been released here in Nigeria. It has only been released in America and the American marketer has called me to book all my films.
But I'm sure you have had this same story I'm talking about.
I know that for some reasons, which I don't know, there are some people who have just decided to malign me for some reasons which are best known to them. But then, when you get to a new level, you need new enemies. I've not released my movie here and I know I'm going to clean up because it is going to be a good movie. You should have been at the London premiere, that is the biggest premiere that we have had there in terms of my films. We had to quickly arrange the third hall to accommodate people. I've not released the film here. I will be releasing it by the grace of God next month.
Apart from Bursting Out do you have any other movie that is yet to be released?
I have plenty, I have about seven movies.
Can I get their titles?
There is one that is coming out very soon; there is one which is supposed to be single but we have changed it to make it double. We are doing a Valentine premiere, which you will definitely know about in the next couple of weeks.
Who are the major actors?
I actually made that in collaboration with Monalisa Chinda. The top actors include Monalisa Chinda, Desmond Elliot. I also have Timeless Passion, Passionate Heart and Kidnapped. There is another one that is untitled which I'm still editing. All together, I have seven movies that I've not released.
You are more like a movie power house?
I'm more like a movie power house because we have a training school and a distribution network so we have to keep moving for the students to benefit.
Let's talk about the distribution network, how is it doing?
It's not easy I will not lie to you but we are hanging in there. I'm glad I did that because I now know for the first time what the marketers are going through. Distribution is not easy at all. I'm happy about the cinema thing that is happening now because I haven't made a movie for the cinema yet. I'm going to do that by March by the grace of God.
What are the challenges of distribution?
It is tough, especially in Nigeria. The way the market is being handled, the prices are coming down. We are not selling as much as we used to, but again, it depends on the film because when I release Reloaded, I knew I sold very much. Guilty Pleasure sold a whole lot and is still selling. But other movies that I released recently have not been selling well. But it not just that one, there is a movie I released for someone, titled Laid Down, which is not doing well.
Did Rebound do well?
I don't like to say it didn't do well but it is not as it should be.
So is it a government issue, environment issue, producer issue or market issue?
I really did not put a name to it at this point. Piracy has really eaten into the fabric of our society, it is everywhere now.
So as a producer what will you say are the factors that sell a movie and those that demarket a movie?
I really can't say. I would have said publicity, but if you publicize a bad product it can always go so far before buyers would realize that they have been defrauded. But if you tell your story well, you package it well; not necessarily who you use but ensure you use good actors who can interpret their roles well, it will go.
I don't know if you would love to respond to that, I think the headline was how could I have stolen Silent Scandal from Emem Isiong when I wrote it in 1997?
I didn't know what to make of that. I will not dignify that thing. I told you I made a movie called Silent Tears in 1994 or there about, so will I now say Silent Scandal was stolen from my title? No.
Was it the journalist's fault or the interviewee's?
I really don't know and quite frankly, I don't care.
What really went wrong between you and Lilian Dike?
I really don't know what to say. Nothing is wrong. We have begun to work together again. I worked with Femi Jones for years and now I'm not working with Femi Jones anymore. We never produced together. We only shared a distribution company together and I got mine and I've gone to do mine that is all.
But people say it was a woman factor as women don't like to work with each other?
People will always say what they want to say; you've come to my academy haven't you? I'm working with Uche; I've worked with her for long. I'm working with Monalisa. My sister and I are working together. So it not all about that.
Is it true that you are dating one big man?
I don't really pay attention to some of these things. Perhaps people are saying that I don't know.
So who is the man in the picture?
The big boy knows himself, if I'm dating any big boy (laughs). I don't want to talk about my private life. Don't worry very soon you will get to know.
Tell me your top five movies, both the one in cinema and everything.
I have not done any cinema movie. I just tested Guilty Pleasure.
Not just your movie.
I love The Figurine and Anchor Baby, Off Course. My own movie, Bursting Out is lovely. It's not out so people might not be able to know and of course, my friend's film, Through The Glass, I love.
Will you be at AMAA 2011?
I don't know. I may or may not. If I have anything to put in, perhaps I will be.
Did you submit any movie?
No.