Asu Ekiye woos Niger Delta youths with peace concert By AZUH AMATUS Wednesday, January 12, 2011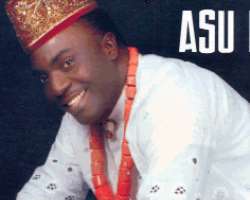 Ekiye
Widely-traveled gospel star, Asu Ekiye, has concluded plans for a weeklong musical tour of the South-South region, aimed at promoting peace and sensitizing Niger-Delta youths against violence, especially during the forthcoming general elections. Starting from Sunday, January, 16, at the Diete Spiff Civil Centre, Port-Harcourt and tagged: Youth Empowerment Concert, it is being powered by the Federal Ministry of Niger Delta.
While shedding more light on the tour in Lagos during a recent chat with us, Ekiye, a trained accountant disclosed that other Niger Delta showbiz stars and their colleagues in the entertainment industry would be part of the concert. They would also train some selected youths in the art of music production and acting.
'We decided to also embark on the training aspect because both the acting and music industries have the potentials to absorb millions of jobless youths. We do not want these idle youths to be engaged by desperate politicians ahead of the coming elections, so we have decided to empower and keep them busy positively', he added.
The laudable initiative, Ekiye further hinted emanated from President Goodluck Ebele Jonathan, whose long quest to empower the youths through the channels of showbiz, establishment of cottage industries and several other schemes culminated in the youth empowerment project/concert.
'This project is in line with the wishes of President Jonathan and we are committed to making it a great success', he posited. Elated Ekiye said that the tour would also feature several indigenous showbiz stars from the Niger-Delta alongside the established ones drawn from around the country.
Meanwhile, the crooner who recently completed work on his latest effort also confirmed that plans were underway for him to do a duet with child star, Benita. The duo's managers recently met in Lagos to commence talks on the proposed collaboration, which is going to be the first between Benita and the gospel icon.
Ben king Iyere, the manager and producer-father of Benita (22), said that the duet would definitely rock the scene as the biggest hit in 2011 because of the dimension of creativity being brought into it.  We gathered authoritatively that they would be storming South Africa, for the scintillating videos in the next couple of months.