NTF CALLS UP 11 PLAYERS FOR GHANA QUALIFIERS, CAMP OPENS WEEKEND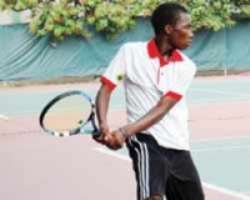 THE Nigeria Tennis Federation (NTF) has invited 11 players to camp in readiness for the West/Central Africa Junior Tennis Championship in Accra, Ghana.
According to national junior coach, Mohammed Ubale, the players were selected based on their recent form and are expected to resume camping this weekend in Ekiti.
At the event, Umaru Balami, Emmanuel Idoko, Mohammed Mohammed, Ann Okoro, Miracle Sunday and Ramota Odeyemi will compete in the U-16 category, while Joseph Imeh, Sylvester Emmanuel, Michael Michael, Sarah Adegoke and Zainab Oladimeji will participate in the U-14 cadre.
Ubale told The Guardian yesterday that the federation decided to camp in Ekiti after the International Tennis Federation (ITF) confirmed that the tourney would be played on hard court contrary to the earlier decision to use clay court.
'We have got confirmation from ITF that hard court will be used in Ghana. So we have decided to camp in Ekiti for the build-up to the championship,' he said. 'The camp will open this weekend and the players will train till their departure on January 23.
'We believe we have picked the best hands and we hope to fine-tune their skills in readiness for the championship holding in Accra.'
According to the coach, the championship serves as platform for final selection of players from the region, which assembles 15 countries in Ghana for the competition. Ghana won the team trophy at the 2010 ITF/CAT West and Central African Junior Championship courtesy of victories by Elisabeth Kapari and Francis Akpese over Nigerians in the girls' and boys' 14 categories.
Kapari beat Sarah Adegoke 6-3, 6-0 while Akpese defeated Emmanuel Idoko 6-0, 6-0. Nigeria came second with Balami winning silver in the boys' 16 and under category. Tunde Segodo of Benin defeated Balami in the final.