Can ICT fast-track tourism in Nigeria?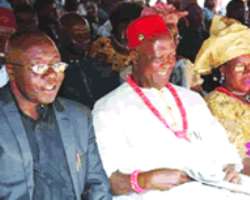 Over the years, the inflow of tourists to the country to participate in the annual Osun Osogbo festival grew to an enviable height. Even with the demise of Susan Wenger, popularly known as Adunni Olorisa, the crowd did not dwindle.
Others like the Gelede, New yam, Eyo, Ojude oba and Fanti have also become tourist attraction to foreigners and residents. These festivals also serve as means to unwind and shrug off stress for many people.
Unlike the tourism sector in developed countries that has been transformed by Information and Communication Technologies (ICT), critics believe that the country is not yet leveraging on ICT.
According to the United Nations Conference on trade and development (UNCTAD), the Internet has dramatically changed the way consumers plan and buy their holidays. It has also affected how tourism providers promote and sell their products and services.
It stressed that the market for tourism relies more on information, saying 'a consumer in Canada wanting to stay in a remote hotel needs up-to-date information about boat connections, activities on offer, and even recommendations from other travellers. The Internet enables the providers of all these types of products and services to interact directly with consumers around the world at a relatively low cost.
'Using ICT to exchange information about products and services enables all actors involved in tourism to be aware of what services are on offer. For example, an entrepreneur can make sure her hotel will be visible to tour operators who are involved in arranging package holidays.
'Developing countries are major tourist destinations. However, a large proportion of the profits from tourism drain out of the world's poorer nations and back to large travel firms, hotel chains, and booking and transportation providers based in developed countries'.
Unfortunately, according to Daily Sun's findings, only the Calabar festival has a functional website while others do not have at all. For big festivals like Eyo festival popularly called 'Adamu Orisa', Osun Osogbo and Ojude Oba, which sometimes have sponsorships from multi-nationals and telecommunication companies are yet to tap into the power of technology to fast-track these festivals or carnivals to the next level.
However, the Executive Secretary of the Cross River State Carnival Commission, Mrs Elenda Osima Dokubo, revealed that her office had been contacted by both tourist organizations and individuals from United States and renowned carnival destinations like Trinidad and Tobago due to the visibility of the Calabar Carnival via the website and its interactive features through social networking sites such as Facebook.
Special Assistant to the state governor on ICT, Mr. Iso Bassey, also noted that the festival website recorded a total of 2.94 million in December 2010. This figure, he said, represents an 8,000 per cent increase over that recorded in November 2010. He noted that 'this year, more than ever before, the website has played a pivotal role in providing access to information and services for the Festival.'
ICT experts also posited that there are numerous benefits to be derived from latching on technology.
One of the experts, Mr. Deepthi Shanker, stressed that ICT is a broad terminology referring to multiple communication technologies which range from simple to complex SMS, digital cameras, internet, wireless (WiFi and WiMAN), VOIP, GPS, GIS, Convergence (data, voice, media), and digital radio.
These technologies, he said, are creating a new global market place, which is more competitive.
'With e-commerce and e business, the market has more opportunities and possibilities than ever before. The ability to reach a global audience, obtain instant market information and conduct electronic business transactions has increased economic efficiency and has opened markets for goods and services from the developing world.
'For instance, e-commerce is expected to benefit economic development in several ways like allowing local business access to global markets, providing new opportunities to export a wider range of goods and services and improving the internal efficiency within the firms'.
Shanker also explained that the application of some key factors in tourism in developing nations would fast track the sector, while listing IT education and training for policy makers, managers and other players in the industry, integration of various sectors like transport and hospitality sector, technical infrastructure needs to be on ground, legal infrastructure and regulation of telecommunication providers.
Others, he said, include skilled people, vision and management, highly subsidised Internet service, legal framework for online advertisement or official endorsement for online marketing, sustenance of ICT culture, maintenance and updating websites, ICT training for all level of workers and establishing electronic linkages between all related sectors.