WHAT IT TAKES TO PRODUCE A MOVIE SOUNDTRACK — CHIMEX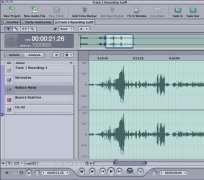 Chimex Alex is respected as the magic hand behind several hit tracks in the Nigeria music industry. Yet you only hear of him without seeing him.
The magic finger who touched the all time hit from Reemy Jes - Obi na som rikpo and the many hit tracks of Gozie Okeke and his wife Oluchi, including Paul Nwokocha and James Arum to mention a few names and also produced several hit movie sound tracks like Millionaires Club, Christ in me and a lot others.
Home Video People met Chimex at Gary studios working on the latest efforts of Rosemary Chukwu and spoke about his mission and especially what it takes to produce a home video sound track.
I started playing the keyboard when I was in J.S.S.3 and was part of the children music group of my church. In fact my father was a Pastor in that church. However, I have always loved music and picked up the flute quite early.
I became the keyboardist of Bible Mission Church, Isolo, Lagos. My interest in music caused me to first join the school of music owned by the church. While I was just about to move up, my father was transferred to Onitsha and all of us moved with him.
It was in Onitsha that I saw how commercial, the so called commercial city of Anambra state was.
The first show
The first show I played in was a Reinhardt Bonnke Crusade at Ogbunike near Onitsha. I had gone to the crusade with the Grace of God church as their keyboardist was not around.
That was how other churches started inviting me to events. However, my first work in the studio was done at New Life studios, one of the oldest studios in Onitsha.
I had met some of the veterans of music in the area. Denis Akwa, Sunny Okpala, Ernest Mensah. Through these men and my interest in the studio and how it works, I was moved to meet already established stars like Luke Ezeji, Oluchi Okeke, Chuks Okpala. As a very inquisitive person, I started learning a few things in the studio on how recording is done.
In no time, I started to programme the drums and direct a few things in the studio. It wasn't long before more people started realising that arranging vocal parts was one of my strongest points. It is still my strong point.
Turning point
I would say the turning point in my carrier was when I went to Goddy Oku's studio in Enugu to record. Before then, every one was talking about digital formats of recording and the news spread that you could find such in Enugu.
Then the artistes started coming and we started making some hits by God's grace. Think of Obi Obidigbo of Ide ji ndum featuring the top hit, Obi na som rikpo, Idighiajonjo, James Arum (Ebube Dike), Chidinma Okafor etc. Also recall artistes like Rosemary Chukwu, Gozie Okeke, Paul Nwokocha, others.
Gospel musician?
A lot of people think I am only a gospel musician, I am a musician who could play any type of music. I have been involved with Emmy Cetus and Charles Blackman. If you listen to such reggae, you would know that I am not only cut for high life music or gospel music.
The only thing is that I give what these people want to hear. If the singer drives me to high life and I deliver and when he drives me somewhere else, I also move. Those who sing what you call Ariaria because such style originated from the small studios off the Ariaria market in Aba, Abia state get that sound. But beyond this, I am a versatile musician.
And they call me versatile. I am good at music and not gospel high life. I think the market wants what those singers have to offer. I still do hip hop, R&B and all the other genre.
Movie sound track
Chimex is not only stuck in the audio segment of the Nigeria music industry. He has created soundtracks for several Nollywood movies including Millionaire's club, Christ in me. Because of this, he was nominated for the Reel Awards at a time.
When they nominated me for the awards, I was shocked. It made me realise the kind of impact one has been able to make in the mean time.
What it takes to make a movie soundtrack
Well, it takes a kind of concentration to record a movie soundtrack in Nigeria. One first of all has to watch the movie thoroughly in order to score the low and high moods of the movie. In that case you have to be very attentive so as to record sensitive points.
Aside from this, you must be good with the musical instruments so as to do justice.
I think Christ in me was challenging enough. I have also read that it is the conductors of orchestras that make sound tracks for movies outside these shores. I have also keenly watched several Hollywood films especially James Bond films.
Pressure
There is pressure but one always tries to reduce it. To whom much is given, much is expected so I keep trying to update myself.
The computer age has made music so easy but it has also made musicianship in Nigeria very shabby. Several people think that the computer does the magic but they do not realise that it is garbage in, garbage out. Youngsters now think it is the computer that does the work.
In answer to your question, I want to say I am not under pressure as I try to update myself because music is my life. I own a studio and must try to experiment on all the sounds that come into my head even at midnight.