TARABA COMMUNITY RESOLVES TO BOYCOTT VOTERS' REGISTRATION EXERCISE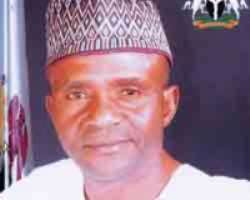 • Alleges Neglect By State, Federal Govts
THE desire of the Independent National Electoral Commission (INEC) to ensure a hitch-free voters' registration exercise may be a mirage as the people of Yangtu community in Taraba State have collectively resolved to boycott the exercise.
The people community which doesn't belong to any local government council in the state, faulted both the state and federal governments for relegating them  to the background in terms of appointments and employment of youths from the area.
Spokesman of the community, Ibrahim Bulus said the community has vowed to boycott all political activities pending when government 'deems it fit to give us a local government or reunite us with our kith and kin in Takum Local Government of Taraba State.'
Flanked by elders of the community, Bulus, who expressed their dismay over the lukewarm attitude of the government, told journalists at a press conference in Jalingo, the state capital: 'There is no need for us to participate in the registration exercise and other political activities because we have no representative at both the House of Assembly and the National Assembly.'
He added: 'After critical review of our collective problem, we,the people of Yangtu Special Development Area have resolved not to take part in the forthcoming voters' registration exercise and other political processes which have been unfolded by INEC.
'Unless government through INEC or SIEC organizes and conducts a referendum for Yangtu communities to decide where they want to belong between Takum and Ussa Local Government Area, the community would continue to avoid political exercises'.
The action, he believes, has become imperative 'because our children have been denied admissions and employment opportunities for the past 12 years now.'
The decision, he added, 'has to be taken because since we don't have any political representation at any level of government, our votes will be irrelevant if we participate in any electoral activity.'
Speaker upon speaker from the community who spoke on the floor of the press conference unveiled the gory predicaments of the people whom they said have being suffering untold hardship in the past 12 years.
'It is clear injustice to our people to be merged with Ussa. The present generation will refuse and the next generation will refuse to be part and parcel of Ussa. They should either give us a local government council or allow us to choose which of the local governments we want to belong, ' Bulus added.
The Guardian gathered that the plight of the people started  12  years ago when the people of Ussa demanded for the creation of Ussa Local Government Area.
The communities concerned were said to have presented their memorandum of demands with a well defined boundary map with the exception of Yangtu which The Guardian learnt deliberately refused to be part of the agitation.