FEMI DUROJAIYE: MY PROJECT 100 WILL MAKE ROOKIES MOVIE STARS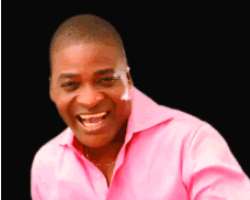 Femi Durojaiye
He hails from Sabongida Ora in Edo State but was born and bred in Surulere, Lagos. That's the reason he calls himself a 'Surulere boy'. A Food Technologist by training, Femi Durojaiye is a household name as he's making waves as an actor, director, producer/presenter and administrator. He opens up to Blockbuster on his career and pet project. Excerpts:
Background
I am from Sabongida Ora in Edo State. But I will rather call myself a 'Surulere Boy' because I was born and bred in Surulere, Lagos. I studied Food Technology in Yaba College of Technology but completed the course at Federal Polytechnic, Bauchi. I am currently an actor, director, TV producer/presenter and administrator. Also, I am the Publicity/Social Secretary of the PTA of Federal Government College, Ijanikin, Lagos.
Coming into acting
As far back as 1987, I felt the need to act because I love the arts. As a student then, I felt I must excel in anything I wanted to do. I decided to join the Mother Africa Theatre Group at Onikan, Lagos. I was trained on stage. Later, I went back to school. In 1988, I came into the home video industry. I took part in Scavengers directed by Andy Amenaechi and since then I have done several English and Yoruba movies including The Players, Dangerous Twins, Tinumi Nimomo, Olufe Okanmi, Game of Death. Frankly speaking, I have done several productions including soap operas and home videos. I did lots of Wale Adenuga's and Amaka Igwe's productions too. I took part in several episodes of Papa Ajasco and Super Story. In fact, I enjoyed my time with Wale Adenuga even as a lecturer in PEFTI. I really had a wonderful experience with him.
Project 100
Project 100 is a new project I am working on this New Year. It's a soap opera, a drama series which is a platform for upcoming talents to live their dreams. I want to create my own style. If you put a monkey on television it becomes popular. If you then put a person in place of the monkey, the person also becomes popular. What the upcoming artistes lack is the platform to showcase their talents. Among the upcoming artistes are people far better than Genevieve, Femi Durojaiye and Ramsey Nouah but because they don't have the opportunity to be before the camera, they are winking in the dark. But Project 100 is going to give them the platform to become stars. The project is beyond acting. The upcoming artistes will also have the opportunity to come behind the camera and learn the business of television and film production. I want to empower those who come to Project 100 so that they will be able to produce their own television contents. People need to be trained to provide content. We are going to do a major drama series which will feature these upcoming acts. Project 100 is the only credible project in this country that is offering a platform for upcoming artistes to become stars. All they need do is to obtain a form for N2000 and get an information folder that contains everything about the project.
Qualities of a good artiste
First, it's discipline. This is followed by hard work. When you have a script please study it very well. Also analyze the script and understand the role you are asked to play. If you have any question, don't hesitate to ask the director. Make sure you are attuned to the character so that it becomes easy for you. Acting is make-believe, therefore, you have to do your home work properly. You must read the script and look into the mirror to see if your expression matches the mood you're acting. An actor must be versatile; he must be able to play all roles. If you play your part very well it will have an impact on the believability by the viewing public.
Challenges
Finance is a major challenge in the industry. Actors are not well paid. There was an actor who when he came into Nollywood rather than earn peanuts refused to be paid at all. He did lots of home videos without being paid a kobo. But he knew what he was doing. He knew once he became popular people will look for him and his pay will rise. And that was exactly what happened. Right now, except you are an established actor, you cannot survive solely on acting. The Yoruba film industry is even worse in terms of remuneration. That's why you have to produce your own films if you want to make big money in the industry.
Good actors, bad scripts
Another major problem of the movie industry is the script. The script is the blueprint of a movie or television drama. Once the script is not right, everything goes wrong. People now want more than what Nollywood can offer. That's why they are turning back to American and Indian films. We don't have good stories any longer. Any production that succeeds, check the script, it's well written. Nigeria has great actors but scripting is bad. When you give me a terrible script on set, I will act it because I need to earn money. But no matter how many times you use Ramsey Nouah's face or Femi Durojaiye's face, a badly written script will remain a badly written script. The only way you can do a movie is to do it right. Wale Adenuga is successful today because he is doing it right. He writes good story and his scripting is tight. I keep saying that it is not the faces that are important, it is the storyline itself. Tunde Kelani rarely uses stars as main characters, yet he has made a name for producing good movies. Once you get the story right, 90 per cent of the problems are solved.
Household name
I am really a veteran in the thespian trade. It's an aggregate of all the works I've done that made me popular. There was this particular episode of Super Story that Nigerians will never forget. It's entitled One Bad Apple. It was a major hit. So, I wouldn't say a particular work made me popular; it's the aggregate of all these hits that made Femi Durojaiye a household name.
Burden of fame
Fame has opened doors for me. Naturally, people trust famous people. They want to go out of their way to help them. However, there is a limit to what you can do as a famous person. For instance, you cannot do anything you like. You can't eat or ease yourself on the streets. People believe you are a role model. Even Nigerians want you to be a saint and remain a saint. These are the burdens of fame. One day, I was coming from my dry cleaners and a drunk driver who drove dangerously was blocked by the bus that was carrying me. I came down from the vehicle and lambasted the culprit. Before I knew it, people had gathered and some ladies that recognized me started accusing me of being unnecessarily angry with the drunk driver. They said as a movie star people should not see me talking angrily in public. Can you imagine that? I was embarrassed. I felt like the ground should open and swallow me. It means that even If I was right, I just can't claim my right.
How I met my wife
My wife, Folake is my childhood sweet heart. I met her in 1980/81 after I left secondary school. Since then we've been together before we eventually got married. I am one of the lucky people that married their sweethearts.
Relationship with female admirers
There are two kinds of female admirers. Those who enjoy and appreciate what you do. They say they love what you are doing and encourage you to keep doing it. Others are those who want to get close and actually want to be part of you. If you are not careful you end up in their bed. So, you have to be alert all the time. I love women. They are wonderful set of people. But God help you if any woman determines to take you to bed. You have to constantly be on your guard especially if you are married so you don't turn your home upside down. No woman would want her husband's attention distracted by young beautiful girls. At the beginning, my wife did not like my association with female fans. She would rake 'why is this one talking to my husband?' My wife never wanted any girl come near me but eventually she got used to it. She knew it's not my making that I get calls from my fans all the time. At times, I received extremely suggestive text messages from women and I show them to my wife. Now, she has accepted that it's all part and parcel of her husband being a popular actor. So now, when I receive those funny calls and text messages she would say 'ah, ah, your people have come again'. She's now used to it.
Embarrassment and regrets
When I got on set of my first Yoruba film, Tinumi Nimomo, the first three sentences that came out of my mouth were English. I had forgotten that it was not an English production. I was really embarrassed. My regret was not starting out early as a producer-cum-director. But then it's never too late. It's better that after so many years as an actor I am now getting behind the camera.