ATIKU ASKS JONATHAN TO EXPLAIN CONDUCT OF AIDE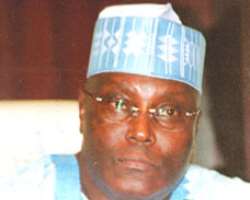 Atiku
The Atiku Abubakar Campaign Organisation has asked President Goodluck Jonathan to explain what the chief of research & strategy of his campaign, Mike Omeri, was doing at the Peoples Democratic Party (PDP) headquarters. It alleged that the president's aide tampered with the list of PDP Special Congresses and National Convention Electoral Panels for the election of national delegates.
The campaign, in a statement in Abuja, yesterday, said that if President Jonathan's oft-repeated assurances of free and fair polls are to be taken seriously, he owes Nigerians an explanation on why a staff of his campaign organisation should be involved in this condemnable act.
It urged the PDP to investigate this despicable act of a principal official of the president's campaign.
The statement said: 'The PDP secretariat has a responsibility to investigate this matter, which is meant to ridicule the avowed commitment of the PDP and the Independent National Electoral Commission (INEC) to conduct a free and fair primaries and general elections respectively.'
The campaign organization said that the least it expects from President Jonathan is to sack Mike Omeri and hand him over to the police and INEC for criminal prosecution.
'His latest effort at tampering with PDP list should be of concern to any well meaning stakeholder of the party and Nigerians in general,' the campaign group added.