BAYELSA, NEW HAVEN FOR FILMMAKERS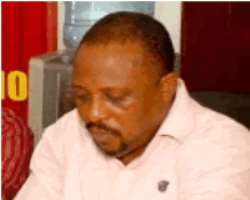 Thompson
Foremost Nollywood filmmaker, Tarila Obrebai Thompson has paid his dues in Nollywood. As a leading act in the nation's motion picture industry, the Bayelsa State born artiste has directed several hit movies in Nollywood, among which are Love Without Language, Back Stab, Power of Love and Against All Odds.
After a long break from the industry that gave him fame and fortune, the action movies director is back, but this time with a scintillating documentary for his State government. In a chat with Daily Sun, Thompson spoke elaborately on his whereabouts, romance with Bayelsa State, the documentary, its premiere, President Goodluck's grant, the state of the industry and many more.
Have abandoned Nollywood for Government works in Bayelsa State?
No, not really, but as a filmmaker my job also entails docu-films otherwise known as documentaries. I would say I have not abandoned Nollywood. I am still very much in the industry. I decided to take on other challenges, which I have not explored. I like to get involved in areas that are not popular and Nollywood was becoming stagnant for my liking and I was looking for something more engaging, which the industry didn't provide at that time for me as a sound and professional filmmaker.
Recent trips abroad?
Most of my trips abroad were just for the refreshment of my knowledge in filmmaking. I wanted to expose myself to other areas of moviemaking and get accustomed to developmental issues like the appreciation of movie premieres and cinema cultures that we are now witnessing in Nollywood. I had workshop trainings on script writing, drama and directing during these trips. I also mixed and interacted with various filmmakers over there. I am not interested in reeling out my credentials; I want my works to speak for me as a professional filmmaker with vast experience.
Let us go back to your background again
I have been in Nollywood since its inception. As a producer most of my titles are household names in the market within and outside our shores. I stopped making films about five years ago in order to delve into other challenging areas. My first movie was Love Without Language, featuring Sandra Achums among others. The other one, Back Stab, was an action movie. This was at a time many people were doing Igbo language movies and epics but I decided to take a big risk by shooting an action film. Some marketers advised us that it won't be well received but the movie went on to become a blockbuster.
Shooting the recent documentary on Bayelsa State?
It took me about six months to shoot the documentary as well as the post-production. I went with a comprehensive crew of professionals on the documentary project. We didn't just want to make use of models. We wanted real pictures of what was happening in Bayelsa State. All these were independent of the Governor's influence. We just delivered the finished product to him. Permit me to say here that the Governor is very amiable and down to earth contrary to public perception of people of such esteemed offices. All the works on the documentary are real life pictures. It is a one hour documentary but we broke it into two parts of 30 minutes each so as to make it more appealing and engaging.
The movie was premiered about a month ago and it is already on air. It has been showing on several local and international stations such as NTA, NTA International and AIT among others. The premiere was hosted by His Excellency, Governor Timipre Sylva. As a strong critic of the media and lover of arts himself, he was impressed at the end of the screening. Anything sub-standard wouldn't be accepted by him. He commented that we did a very good job because the documentary brought to light projects that had been abandoned and others that needed rejuvenation
President Goodluck Jonathan's lifeline of $200m for Nollywood in 2010.
Sincerely, I disagree with the whole idea of the grant. As far as I am concerned, I think the government was ill-advised before that decision was taken. I think it was Ben Bruce's brainchild. I think it is not what Nollywood needs now. What the industry needs now is the protection of works to see how the issue of piracy and regulation can be well addressed. We need structure and the enabling environment first. They should form laws that will empower the police and other law enforcement agencies to arrest pirates. As a matter of fact, the government should explore areas where it can make money from Nollywood.
For instance, advert agencies are making a lot of money from Nollywood. I want to let you know that the Goodluck funds when disbursed will cause chaos in the entertainment industry. I don't want to dabble into the modus operandi of its disbursement so that it doesn't look as if I am interested in grabbing a bite but I am saying the money should not be made available at all. For one, it won't go into the coffers of the right people who need it.
Next blockbuster from my stable
I can't be specific now, but with the recent appreciation of cinema culture in Nollywood now, my work will go through the right processes. I am working on something whose details I am not willing to provide now because there are whole lots of people whose interests are involved. At the right moment, we will provide the details to the world, but expect something huge soon, this 2011.
Bayelsa State and the growth of entertainment
We are hosting AMAA, which we are also using to revive the local movie industry. Thankfully, the Sylva administration has taken the responsibility upon itself and has provided the right infrastructure that will make movie-making more conducive in the state. We have constant power supply and structures. The state at this point is now conducive for filmmaking.
If as a franchise chief host of AMAA, we don't have an enabling environment for filmmaking it won't augur well for the state and the awards. But Governor Timipre Sylva has responded positively by putting structures in place such as good roads, security and constant electricity. Bayelsa is arts friendly and is on its way to becoming a hub for movies and filmmakers.
The Bayelsa film project
The Governor himself is a writer as you all know and we are working on script together. There is also a plan for a film village in Bayelsa. I am personally overseeing the project. We have picked a location and we hope that things will take shape this year. By the time we are through, a new set of professional filmmakers will emerge on the scene because Bayelsa is now the new haven for filmmakers and stars.