UN MAY BEEF UP FORCE IN COTE D' IVOIRE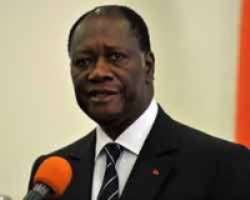 THE United Nations (UN) peacekeepers in Cote d'Ivoire may ask the Security Council to send between 1,000 and 2,000 more troops amid the continuing political crisis in that country.
UN peacekeeping chief in Cote d'Ivoire, Alain Le Roy, told global news organs yesterday that he hoped the troops would be available in a few weeks.
UN peacekeepers have been protecting a hotel in Abidjan-luxury Golf hotel in the Riviera district that is sheltering Alassane Ouattara, the man recognised internationally as the new president.
But the Agence France Presse (AFP) said yesterday that Ouattara has accused rival, Laurent Gbagbo, of recruiting Liberian mercenaries to wage a campaign of murder and rape against his supporters.
'Laurent Gbagbo has blood on his hands,' Ouattara told France's Europe 1 radio in an interview from his besieged hotel headquarters in Abidjan.
'Many Ivoiriens have been killed by the mercenaries and militia of Laurent Gbagbo. We already have more than 200 dead, we have rapes and people injured - more than 1,000 people injured.
'Of course, we have proof. And the UN and all the human rights organisations have noted massacres, murders and have attributed these to mercenaries and militias recruited by Laurent Gbagbo,' Ouattara said in the interview recorded on Wednesday.
Roy told the British Broadcasting Corporation  (BBC) yesterday that the request for more troops would be made in the next few days. He said they were needed because of the force's additional duty of protecting the hotel.
Roy also said the UN was facing more hostility because of what he called false reports on the Gbagbo-controlled media.
A previously-scheduled meeting of West African military chiefs, due to be held in Bamako, Mali, January 17 to 18, will provide them the opportunity to fine-tune their strategy for a possible use of force to kick out Gbagbo, an ECOWAS Commission spokesman said.
Sunny Ugoh told the Pan-African News Agency (PANA) in Bamako yesterday that though the Mali gathering is one of the four statutory meetings by the Committee of Chiefs of Defence Staff yearly, ''the issue (Cote d'Ivoire) will come up.'' He did not give further details.
The defence chiefs met over two days (December 28 to 29, 2010) in Abuja, Nigeria, to work out details of the use of force threatened by ECOWAS leaders at their extra-ordinary summit in the Nigerian capital on December 24 if Gbagbo refuses to quit peacefully.
A delegation sent by the West African leaders to convey the ultimatum to Gbagbo has not made much progress, and has instead become bogged down in negotiations with the man widely believed to have lost the November 28, 2010 presidential runoff to Ouattara.
Meanwhile, the Nigerians in Diaspora Organisation (NIDO) have appealed to ECOWAS and President Dr. Goodluck Jonathan to use peaceful dialogue in resolving the dual presidency crisis.
They said that the Nigerian community in Cote d'Ivoire was already under xenophobic attacks from the Ivoiriens, threatened by fear of military actions by ECOWAS Cease-fire Monitoring Group (ECOMOG) to ouster the incumbent and seat-bent Ivoirien president, Laurent Gbagbo.
Speaking with The Guardian, NIDO Board of Trustees (BOT) Chairman in Cote d' Ivoire, Chief Donald Alexander, said the situation in Cote d'Ivoire was indeed tense and Nigerian population of about three million were in danger.
Alexander explained that the hatred or fear of foreigners and attacks were brewing because of the notion that President Jonathan, the seating president of ECOWAS and the ECOWAS Heads of State have given an ultimatum to Gbagbo to quit or be removed by force.
'Nigerians in Cote d'Ivoire are suffering right now because the average man on the Ivoirien street and the government believe that the issue is already personalised, and it is Nigeria that will bring the force, ' he said.
He added that reports had it that about eight Nigerians had lost their lives already, 'as the Ivoiriens have made it clear that we are no longer welcome in their country because we want to attack them with ECOMONG force.'
Critical of the response of ECOWAS to the Ivoirien impasse, NIDO President, Cote d'Ivoire and Africa, Dr. Babatunde Lee, said that the threat of force by ECOWAS was not only too quick but also harsh.