RWANDA COACH CELEBRATES EAGLETS ABSENCE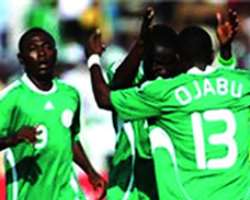 Eaglets
The Rwanda 2011 African U-17 Nations Cup, a competition which Nigeria had dominated in the past will kick off this weekend at the Amahoro stadium, Kigali with the Golden Eaglets conspicuously absent.
While Nigerians are still writhing in the pains of the Golden Eaglets failure to get to Kigali, the hosts are happy Nigeria is not any where near their capital.
Coach of the Junior Wasps, Richard Tardy, who spoke on the chances of his side in the Cadet competition said their chances of ruling the continent on home soil has been brightened with the failure of Nigeria to qualify. Tardy confessed that the Golden Eaglets would have been a difficult side to handle.
The coach who has vowed to make history by leading Rwanda to victory and in the process qualify for their first ever FIFA competition in Mexico 2011 (the U-17 World Cup), said with Nigeria out of the way, the only countries now to dread are the West African duo of defending champions Gambia and Senegal. 'Gambia and Senegal are hot. We will have to be at our best to beat them. My joy however, is that we are battle ready for the competition.
Our outing in the CECAFA junior championship has toughened us and we are ready to face any foe,' he said. The junior Wasps begin their campaign tomorrow against Burkina Faso at the 60,000 capacity Amahoro stadium. They would in their other group games face Egypt and Senegal. The other countries in the competition are Cote d' Ivoire, DR Congo and Mali.
It would be noted that Congo stopped Nigeria during the qualifiers. This is the second consecutive time that Nigeria will not be featuring in the competition. Republic of Benin equally stopped the Eaglets from playing in Africa in 2009.
The Eaglets were part of the 2009 U-17 World Cup courtesy of Nigeria hosting the competition.