TINUBU ENDORSES FASHOLA FOR SECOND TERM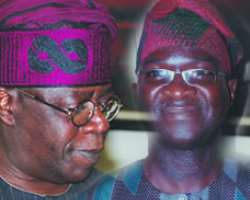 •Tinubu and Fashola
The controversy over who flies the Action Congress of Nigeria (ACN) flags in Lagos in the April general elections was finally laid to rest yesterday as the incumbent Governor, Babatunde Raji Fashola (SAN) was endorsed for a second term in office in the presence of all party supporters and faithful.
Speaking at the stakesholders' meetings held at the ACME, Ogba state secretariat of the party, former governor of Lagos State and the leader of the party, Asiwaju Bola Ahmed Tinubu said the decision to give Fashola the second term ticket was borne out of his laudable performance in office.
His words: 'After a wide consultations at home and abroad, state and national level, and with the power conferred on me as the leader of the party, I hereby endorse Babatunde Raji Fashola for second term in office.'
As a successor, Tinubu disclosed, 'he didn't disappoint me and by my own assessment, he scored 85 per cent,' reasoning that there was no reason a performing player should be substituted on the field of play and so remained the best man and should continue the job of state governor.' Tinubu said the rumour of war between him and the governor, was peddled by his political enemies and detractors who did not mean well for the state.
According to him, those that were peddling the rumour about 'my 'son' (Fashola) were those who did not know how I knew him and what endears him to me,' adding 'they are the agents of destruction, political rodents, enemies and scavengers in the corridors of power that want to continue to loot state funds without working to deliver dividends of democracy. They said I was jealous of his achievements and all sort of things. If you have a son that has surpassed your records you celebrate him. I am the pathfinder. He is the navigator. I am the one that identified the talent,' Tinubu submitted.
Tinubu, who said in the last four years, the governor that had been in power in the state had been very impactful, assured that a brighter and more rewarding future awaits Lagosians in the next four years the governor was expected to be in power in the state. The ACN chieftain charged Lagosians to come out en-masse to participate in the voters' registration exercise billed to commence across the country very soon, saying the people could only elect their desired leaders when they registered to vote.
Responding, an elated Fashola thanked his predecessor, Tinubu, the party's leadership as well as the large crowd that attended the meeting for the opportunity given him to serve a second time, promising that he would not let them down.
According to him, the second term endorsement was a challenge to do more and he, therefore, solicited for more support from all and sundry to cooperate and assist him to succeed, noting that governance is a collective responsibility and not a one-man show.