Marwa Dumps PDP For NTP?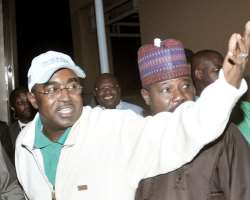 PHOTO: GENERAL MOHAMMED BUBA MARWA.
SAN FRANCISCO, Jan 08, (THEWILL) – Nigeria's former High Commissioner to South Africa and PDP governorship aspirant in Adamawa state, Mohammed Buba Marwa has dumped the People's Democratic Party (PDP), accusing the party of betrayal of trust following the cancellation of the December 28, 2010, ward congresses in his state, by the National headquarters of the party.
Marwa had claimed that his camp won an overwhelming majority in the congresses.
Addressing a press conference in state capital, Yola, on Friday morning, Marwa said the cancellation was to ensure that he does not get the PDP governorship ticket in the state. He said the cancellation was at the instance of the Governor of the state, Murtala Nyanko (PDP), and assured the party of failure in the general election in the state.
Marwa however did not say the party he would be moving his supporters to, but feelers from the state show that he may have settled for the National Transformation Party, (NTP).
His campaign office already has his posters as the NTP's Governorship candidate.