Fame has not affected my personal ife — Halima Abubakar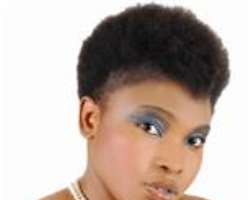 Kogi State-born actress, Halima Abubakar came into Nollywood over 10 years ago as a teenager. Controversially, she hit the limelight through acting nude . The Ado Bayero University, Kano-graduate who had gone through thick and thin in the industry spoke with Bayo Adeoye and Labake Owolabi about her career and love life.
Excerpts:
What plan do you have for your career in 2011?
I want to as much as I can push my career further and relax more.
Lately you have not been coming out in movie like you used to, is this deliberate or what?
No, that means you have not been watching; I have been featuring more now than ever. I have appeared in more than 40 films in the last two years. So, you see what I mean.
You hit the limelight then by posing nude but I read your interview somewhere recently where you said you regret this...
(Cuts in) I can't answer that question. I don't want us to dwell on the past.
But this is what brought you into the limelight. There is no way we could talk about Halimat Abubakar without mentioning that.
No, that's a lie.
Okay, I believe you, tell us, at what point did you choose acting as a career and what really interest you; is it fame, money or what?
I chose acting because of the interest I have in it. I was very young when I came into acting; in my teens. I have developed love for acting since I was very young. I have admiration for people that interpret their roles well and I believed I could do it also. So, I developed love for acting while watching television and programmes. And I haven't regretted my decision so far. In essence, my foray into acting was not informed by fame or money. In fact, there is no money in the industry. So, it is not the money.
But you were too young to know then that there is no money in acting.
Yes, I was even too young to have that strong passion for money, I just wanted to do what I wanted to do. I didn't think of any money or fame, I just developed that strong passion for acting and when the opportunity came I grabbed it. For the fame, there are things I can do to be famous in this country.
Like what?
So many things. There are other things you can do apart from being an actor that can make you famous in this country. It is just the interest that I have.
But right now you are making money, are you fulfilled as an actress at the moment?
Not yet, no matter what you have in life you will always want more, and for us, the showbiz people, we don't make enough money; people are just learning to appreciate us. I know the money will come later. But for now we are just watering the ground and see what happens in the future.
You come from strict Muslim background, were your parents comfortable with your choice of career?
No, they were not in support of it because I was very young, though I came to Lagos to see my aunt, my mother was a bit accommodating, but they didn't allow me to come into Nollywood. I just made up my mind that this is what I am going to do and I will do it no matter what. They didn't know I was an actress until about four years later. I came to Lagos for holiday with my aunt, then, I would do one or two movies and travel back to the North.
But when they knew were they shocked and mad at you?
Of course, they asked me to stop, but I have gone far then. And my love for acting had gone stronger. But I left for a while and came back. But now they have accepted me and everybody is happy.
At what point did they accept you?
Just about four years ago when they were seeing wonderful movies coming out of Nollywood, good characters, my dad never like lots of talks in the movie, so I tried to get scripts in line with the characters he wants. And so far he has not complained.
There are lots of scandals in the Nollywood, how do you intend to keep away from it this time?
Because I have experienced it in the past I know how to comport myself better now. I have had my own share but now it's good to keep my head straight and move away. I just know what to do to keep away from unnecessary scandal.
How did you cope with those scandals you experienced then?
I was in the North and relatively young, I didn't feel the damage that much. It was not an issue for me, and it didn't affect me psychologically or mentally.
Now, you seem to be a different Halimat. I think you are now a ' born again'. Is it that you want to people to see you as a good girl or because you want to make good things out of your career?
I have always been a good girl. Actually, I want to focus more on my career and don't want anything to affect me mentally or otherwise. It is all about being serious, knowing what you are going to do; this is 2011, no time for playing.
Naturally the first time you appeared before the camera, it must have been a difficult thing. How did you feel then?
Oh! It was difficult; I was jittery to the extent that I was missing my line. I was supposed to act alongside Liz Benson and Eucharia Anunobi, but somebody came and encouraged me. The movie was Sabotage. It was an experience I can't describe, it was something else.
You went back to school after you've already hit the stardom, was it your own decision or just to please your parents?
I have always valued education, I have always wanted to go back to school and this was automatic without anybody forcing or encouraging me. When I came into acting I knew I would go back to school. I love reading a lot, so, I love school and when people are talking I can contribute; not just talking about showbiz without having anything else on my head.
What has being famous done to your personal life?
I try as much as possible to keep my personal life from the public. So fame has not affected me. I don't come out often; if I am not working I am doing something else. I don't socialize like that. I am not the type that goes to club or party often.
Apart from acting what other things do you do?
I am into perfumery; very soon I will launch my own personal product and clothing line. And there are other businesses that I do that I don't want print. So, my life is not all about acting.
You said earlier that you have appeared in 40 movies in two years, can you mention some of these movies?
Love alone, Girls in love, Everything is about love, Good girl turns bad and lots of others that I can't remember.
Have you produced any movie of your own?
Not yet maybe in the future; I am not in a hurry. Movie production is not for everybody.
Have you ever dated an actor before?
No, I have never. When I was coming I knew what I wanted and I have been very stubborn about that.
Okay, talking about harassment have you experienced this?
Yes, I have been harassed, but those people are no longer in Nollywood; it was not a do or die. I was never in a hurry. I got my first role on merit after audition.
Still talking about dating an actor what stopped you from dating one, is it that they have not come for you or you don't find them attractive enough?
Not that. I just found my head straight on my shoulder. I don't want any dirt around me. Wherever I want to go I want to have that confidence that I have not dated anybody around here. Of course, I am a pretty girl.
And you are yet to see any handsome actor proposing to you?
Indeed, there are lot of handsome actors in Nollywood, but they are all married and I don't want to break their homes. I have my own man and I don't need to date actors.
Really, so tell us who is the man in your life at the moment?
That's my personal life and I don't want to discuss it.
So Halimat is now engaged.
No, I won't say I'm engaged but I have a man that we respect each other very well.
Is it the Lebanese man we heard about?
I don't know of any Lebanese, I have a man in my life and no more. I don't want to talk about that anymore.
How do you see marriage?
It is an institution between two adults that understand each other before they go into it.
How soon do you want to get married?
As soon as God wants it; everything depends on God.
What does sex mean to you?
Please, I don't talk about sex. This interview is meant to be about my career and not about sex.
But you are adult and you and your boyfriend would have done it several time.
No, I don't believe in sex before marriage.
Really?