I'm Joke Silva's adopted sister —Eboigbe .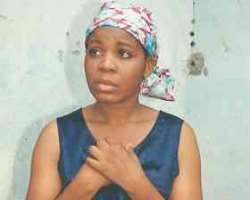 Ekinadose Faith Eboigbe is a Theatre Arts practitioner, an alumnus of both the University of Lagos and the Fate Foundation Entrepreneurs Business School, with work experience in the fields of entertainment spanning more than 15 years. A member of the National Association of Nigerian Theatre Arts Practitioners (NANTAP), Eboigbe in this interview with TONY OKUYEME speaks on her pet project YETI (Young Edu- Tainment Initiative), love for live theatre, children, and experiences.
At her Surulere home in Lagos, Faith Eki Eboigbe, as she is simply called, spends time thinking on how to translate her pet project YETI into improving the fortune of this country, through creativity, harnessing the talents and potential of the children, especially at the primary school level. This stems from her experience.
Born in Surulere, Lagos, Faith Ekinadose Eboigbe whose middle name Ekinadose, in Edo means "a well planned market must yield profit", attended Ideal Primary School, Falolu, Surulere, and Lagos Anglican Girls Grammar School, Surulere, Lagos.
Growing up for her come was an experience which prepared her for what she is doing today. "It was fascinating", she says, "especially while I was in secondary school, I have always loved to read and watch television. My passion was in those two areas. If I was not reading, I was watching television. While I was always so interested in the arts through reading and watching television, I was very fascinated about how people, (actors and actress) especially the box called television, and I was always asking questions. My other passion was talking. I could talk non-stop. My parents felt that these were basically my talents, so they urged me to go through."
According to her, when she finished secondary school and she could not get to pass the Joint Admission and Matriculation Board (JAMB) to study Theatre Art immediately, her parents urged her to go and study Mass Communication because as she put it, "I liked to talk and that maybe at the end of the day I could be a broadcaster and still get into the television box that I have always been fascinated about.
"So I went to read Mass Communication in Jos. After that I came back from Jos and that was actually when I got into working in practical. I was lucky, I ran into the awesome lady Joke Silva Jacobs and we started working in a television programme that was produced by Imeh James. It was a fashion programmed called New Trends. Joke Jacob was the presenter. I was employed as advert manager. It was with Imeh James that I started learning and cutting my teeth in television production, and Joke Jacobs also saw the talent in me and she took me in.
"Right now, I am actually the 'adopted child' of Dr. (Mrs) Silva, Joke's mother, because Joke took me in as her little sister, and every production that she has done, I have always been part of , even the one she is doing now. They have gone into television and stage productions, I am always part of it. So I got fascinated; and Joke was the one who introduced me to the TV personality, Lola Fani-Kayode, who also saw that interest and passion in me to work in television production. So I started working with her, and I learnt a lot from her. I think I am lucky I actually started learning practical in production line before I even went back to the University of Lagos, to get more training in other aspects of production.
"As I said, I met Lola Fani-Kayode, and I was her production manager for many of her productions, Drive and Stay Alive to Mind Bending, to her first television talk show, Facing Fact as well as the other soaps that she did before she went to London. I was always her production manager and I learnt a whole lot more from her. From there the passion grew and I was not interested in doing anything outside the entertainment or the art industry."
She has also worked with a lot of highly placed intelligent producers and directors in the country, especially, Yomi Layinka who shot a lot of commercials, through which she learnt a lot on how commercials are put together.
"But in the middle of doing all the these productions my passion goes straight to the children. I found out that I was always concerned about how we can engage our children in a very developmental way because I am one of those people who believe that at that early age we need to start moulding them to direct them to right focus, basically for us to even explore and find out their talent and potential just like my parents did for me.
" So, about 12 years ago I started a programme to celebrate Children's Day. For me, Children's Day was not going to be about bouncing castle, D.J, and so on; it was more of a developmental thing, so I created a programme titled Creative Workshop where we were having A Day to Learn. It was always titled A Day Learn, and the children must for that day learn something. The programme is actually like an arts and craft workshop. We have done the programme with Goethe Institute, Lagos, French Cultural Centre, Lagos, National Theatre, and so on. Part of the programme is either they are doing arts and craft, because they must learn something on that day which they would remember, or drama. I love live theatre; I have a passion live theatre. So we have always put them on stage. This of course is on developmental issues.
"I have worked with children, and I have helped them to develop, creating ideas and issues concerning themselves, their environment, their communities, and their immediate families. I have written so many plays that are issues oriented. Some the plays include Dancing Mosquito (which is on the need for children to work towards living in a healthy environment so as to avoid the deadly effect of mosquito bites and the resultant malaria parasites) Temi The Dancer, and For The Love of Country (a heroic drama) is a satiric play with a social moral theme, a clarion call to the Nigerian youths to play their part in restoring glory and honour to the motherland (Nigeria), as Nigeria celebrates her golden jubilee anniversary).
According to her, she has passion to work with children. "Children love me so much and I love them deeply from my heart, and I feel that I need to always learn to give back to help other people to form them in the right positive direction."
She notes that she started with celebrating Children's Day which is on May 27. Then in the middle of doing this for children, she decided that she could not continue to do this 'one-off thing'.
"We have always tried to make this day a significant one. We aspire to take the day higher than the pedestal level in which the larger Nigerian society celebrates it. We do this by engaging the children in creative and productive activities and making the larger public see and review the situation of the Nigerian child.
"I thought of how I am going to really touch the lives of these children that I am passionate about. I felt that I needed to do something and make it a regular thing. To do this I knew I needed more education so I went to Fate Foundation Entrepreneurial Business School. I went there with my ideas and they were able to help me put it into practical form, and translate it into reality that it is today. The project idea is titled YETI, an acronym for Edu- Tainment Initiative.
YETI she says, is starting this month in public primary schools, adding that she is collaborating with the Ministry of Education.
"YETI is your answer for us to rebuild the educational system in Nigeria; it is your answer to rebuild the children in the right direction. YETI is your answer to develop the youth to be more pro-active towards nation building. I have the approval from the Lagos State Ministry of Education. We are starting with the Lagos State government. Our dream and focus is to take YETI all over Nigeria.
"YETI is divided into three variants. The first is the vocational which I have been doing to teach and occupy the children, engage them to bring out their talents and creativity. We need to build this country into a producing country, not a consuming country. Right now we are more of a consuming country. We import almost everything. What we are saying is that we have the talents, potential, and manpower. It is just the training we are lacking. We need to start building that background for these young people, that is why we are starting from the primary school level - primary four to six – so that when they grow with it into secondary school and into university.
"The second one is the theatre for development. You know that through play, children learn more and it stays in their memory. The third one is the pro-active dialect, in which we are saying that the moral values in our society is depreciating, and we are using this one to talk to them and motivate them on why it is important to be morally upright. Celebrities and parents will serve as facilitators," she said.