South African 'Obama' Movie Actress Cara Lachelle Arrested For Drug Possession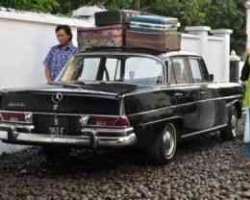 South African model who played Barack Obama's mother in the film 'Obama Anak Menteng' ('Obama The Menteng Kid') has been arrested by the Jakarta Police for drug possession.
Cara Lachelle was arrested on Friday for the possession of 1.19 grams of methamphetamine. Anjan said he was not aware that Lachelle took part in the movie.
Lachelle starred as Obama's mother Ann Dunham in the movie directed by John Rantau. Lachelle is an actress, model and presenter who was born in South Africa on March 27, 1983.
Lachelle was arrested at an apartment in Rasuna Said, South Jakarta, last Friday. The arrest was made based on the information given by a drug dealer, Doddi, an Indonesian man whom the police had arrested earlier.
"She is just a user," chief of the Jakarta Police Detective Unit said.
Doddi was arrested after he delivered Lachele's order of methamphetamine. The police raided the apartment and found the drugs hidden in a multivitamin container.
The police also arrested three other suspects in the case, namely Erick, Jovis and Mendi. All of them are Indonesian nationals. From Doddi and the three other suspects the police confiscated four hand guns, 424 ecstasy pills, 52.15 grams of methamphetamine and 223 of Happy Five pills.