Why Bisi Ibidapo-Obe Can't Marry Now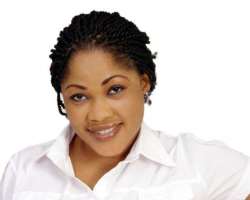 When popular Yoruba actress, Bisi Ibidapo-Obe and her London-based fiancé's families were introduced to each other last year, a lot of people expected that the wedding date would be announced soon after.
But the wedding will not take place until the actress is pregnant, NollywoodReel can reveal .
The London big boy has already rented a posh apartment for the beautiful actress in Brook Estate, Magodo, Lagos, but his family members have threatened to send Bisi packing if she does not get pregnant as soon as possible, the same condition they gave her if she must marry their son.
NollywoodReel gathered that since the two lovers have been together, they have been making ceaseless efforts to get the fruit of the womb for over a year now, but to no avail.
The situation is said to have given the parties involved serious concern that they have to seek for medical attention, but none of the tests carried out on them indicated that they have medical problems.
However, the guy's family members have run out of patience with her, threatening that the issue must be sorted out in a couple of months.
When NollywoodReel called Bisi, known as Omo Logbalogba on phone at about 11:04 a.m yesterday, she refused to comment on the issue. She simply said "I'm very busy now. I'm shooting in Abuja."