APRIL POLLS: WAVE OF DEFECTIONS AS ALBATROSS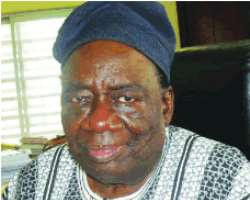 Akinjide
During the pre-independence years and the immediate post-colonial dispensation, 'cross carpeting,' as it was known then, was the order of the day. It created tension, chaos and stood the new nation's sovereignty on the brink.
In 1951, the Action Group(AG), led by the late Chief Obafemi Awolowo successfully supplanted the National Council of Nigerian Citizens(NCNC), leadership of the Western House of Assembly through massive defections of NCNC parliamentarians to the AG.
The confusions that marred the 1964 general elections gravitated into 'cross carpeting,' and grand alliances which precipitated the widescale convulsions that rocked the nation, and inexorably led to the 1966 military coup.
Architects of the 1979 Constitution, in adopting the presidential system of government, diffused the impact of 'cross carpeting' on governance but carefully elevated it to fresh democratic heights, which has since been adopted wholesale in the 1999 Constitution and its first and second review, now at the putative stage. Section 40 in the 5th schedule of the Constitutions stipulate that 'every person shall be entitled to assemble freely and associate with other persons, and in particular, he may form or belong to any political party, trade union or any other association for the protection of his interests: provided that the provisions of this section shall not derogate from the powers conferred by this constitution on the Independent National Electoral Commission(INEC) with respect to political parties to which that commission does not accord recognition.'
Latching on to this provision in the constitution, a maddening wave of defections across all the political parties, have been recorded at the snap of a finger. The 2002, 2006 and 2010 electoral bills also give more teeth and fillip to the incendiary movements, by electing to be silent on it. Indeed, section 99 of the 2006 electoral act inflames defections indirectly. It states that 'where a political party ceases to exist in accordance with the constitution and the act, a person elected on the platform of the political party in an election under this act shall remain validly elected, complete his tenure, and, for purposes of identification, be regarded as a member of the political party under which he was elected.'
As the political space began to be hit by an avalanche of defections in the last twelve years, the joint committee of the National Assembly on the review of the 1999 constitution made bold and spirited moves to outlaw it explicitly, but failed. And the 'merry-go round,' continued. Second Republic Minister of Justice and Attorney General of the Federation, Chief Richard Akinjide justifies the free space for political rovers.
He told Daily Sun, that defections should be done freely and lawfully. Akinjide, a respected constitutional expert said 'it is their democratic right. You have freedom of choice and assembly. There is nothing wrong in that. But it should be done peacefully. It should be done without rancour and within the law.'
His learned colleague and human rights activist, Prof Itse Sagay describes the phenomenon as crass opportunism and lack of principles that is very rife in Nigerian politics.
He attributed the growing malaise to the lack of effective sanctions on those who indulge in it.
While admitting its unwholesomeness on the polity, he called for sanctions to stem the tide. He further offered this panacea. 'Political parties need to begin to reject opportunists who decamp to their parties to contest elections and later go back to their former parties. It is a terrible disease. We need to begin to apply sanctions. It is not good.'
Frank Aghedo, a Lagos-based lawyer however counsels politicians to tread softly on the constitutional loophole and apply morality in their politics. 'That is the problem we have. There is this culture of impunity. There is no justification for politicians elected on one party platform to cross over to another party. Cap 4 of the 1999 constitution guarantees freedom of association. What we are talking about is morality. The law does not forbid it. The constitution does not forbid it specifically.'
He continues: 'There is a proviso, which is also not respected. A person elected to a legislative house, as an independent candidate, the law allows him to decamp and join a party of his choice, by the next election, but not within the subsisting period.' Notwithstanding, the obvious constitutional leeway, the decamping spree has mangled all decency, defied reason, and thrown decorum overboard. Some politicians are known to have decamped to as many as four parties within a month, thereby infringing on certain aspects of the constitution and the electoral law.
For instance, section 177 of the constitution stipulates that a contestant to a political office must be a financial member of the political platform on which he is seeking for the office, at least three months before the elections. A recent example is the case of Chief Ogie Omo-Agege, a governorship candidate in the Delta State governorship re-run elections, on January 6 2011. He has crisscrossed four parties in six months, the recent being the Republican Party of Nigeria(RPN), which he joined only last month. In the new electoral act, section 102 also imposes stringent financial conditions on defectors to a new party, thus, placing a light wedge on the revelry.
From the sublime to the ridiculous: casefile of defectors
By the turn of 2002, signs that massive defections of politicians from one party to another were clear. Disagreements and office ticket racketeering created deep gulfs and upheavals in the political parties.
Former Anambra State governor, Dr. Chinwoke Mbadinuju was in the throes of a major struggle to get re-elected on the platform of his party, the Peoples Democratic Party(PDP). His dream was aborted. Deflated, but determined to hold on to the reins of power in 2003, he decamped with his supporters to the Alliance for Democracy(AD) and contested the 2003 elections on its platform and lost. He has since returned to PDP.
The same scenario also played out in Borno State. The late Mala Kachallah, won the 1999 governorship elections under the All Peoples Party(APP) now All Nigeria Peoples Party(ANPP). His benefactor and the son of his friend, Senator Ali Modu Sheriff fought him to a standstill for the 2003 governorship ticket of the party and eventually took it. Exasperated, he left for the AD. Former vice president and presidential aspirant in the 2011 elections, Alhaji Atiku Abubakar, left for the Action Congress(AC) now Action Congress of Nigeria(ACN) in 2006 to contest the 2007 presidential election. He has since returned to the PDP.
Others, caught in the circuitious web include:
Governor Segun Mimiko(Ondo) – PDP-Labour Party(LP)
Governor Ikedi Ohakim(Imo) – PDP-PPA-PDP
Governor Theodore Orji (Abia) – PDP-PPA-APGA - PDP
Ex-governor Rasheed Ladoja – PDP-Accord Party(AP)
Senator Patrick Osakwe – PDP-Accord Party-PDP
Hon Uche Ekwunife – PDP-PPA-APGA
Senator Joy Emordi – ANPP-PDP-APGA
Governor Isah Yuguda – PDP-ANPP-PDP
Chief Rochas Okorocha – PDP-ANPP-AA-PDP-APGA
Hon Mohammed Ndume – ANPP-PDP
(Minority Leader, House of Representatives)
Senator Ifeanyi Araraume – PDP-ACN
Ex-governor Achike Udenwa – PDP-ACN
Ex-governor Chris Ngige – PDP-ACN
Senator Bala Mohammed – ANPP-PDP
Ex-governor Ayo Fayose – PDP-LP
Governor Magatarkadar Wammako – ANPP-PDP
Ex-governor Attahiru Bafarawa – ANPP-DPP-ACN
Chief Reagan Ufomba(Abia governorship aspirant)-PDP-APGA
Dr. Andy Uba – PDP-LP
Chief Franklin Ogbu – PDP-APGA
Senator Julius Ucha – PDP-ANPP
Senator Ehijie Uzamere – PDP-ACN
Hon. Patrick Obahigbon – PDP-ACN
Hon. Samson Osagie – PDP-ACN
Senator Uche Chukwumerije – PDP-PPA-PDP
Senator Alphonsus Igbeke(Egonese) – ANPP-PDP
Ex-governor Adamu Aliero – ANPP-PDP-CPC
Gov Mahmud Shinkafi – ANPP-PDP
Gov Sule Lamido – ANPP-PDP
Chief Dele Momodu – LP-NCP
Gen Mohammadu Buhari – ANPP-CPC
Aminu Masari – PDP-CPC
Umar Ghali Na'Abba – PDP-CPC
Chief Olorunfunmi Bashorun – PDP-ACN
Olusola Saraki – ANPP-PDP-ANPP
Senator Ikechukwu Obiora – PDP-ACN
Hon. C.I.D Maduabum – PDP-ACN
Ralph Okeke – PDP-ACN
Party system and objectives
The unprecedented expansion in the number of political parties since 2002 has been blamed for the unrestrained defections. Founding chairman of the Lagos Chapter of the PDP, Chief Olorunfunmi Bashorun, puts the blame squarely on the expansion. 'In a two party system, as, we have in some advanced democracies, it is difficult to defect, because the options are limited. But when you avail too many choices for people, you are merely encouraging it.
Those who operate a two party system also make provision for independent candidacy to accommodate those, who may dissent with their parties.' Section 78(1) of the 2002 and 2006 electoral acts state that 'Any political association which complies with the provisions of the constitution and this act for the purposes of registration shall be registered as a political party, provided however, that such application for registration as a political party shall be duly submitted to the commission not later than 6 months before a general election.
For further fillip, section 78(3) seals the expansion: 'Any political association that meets the conditions stipulated in the constitution and this act shall be registered by the commission as a political party within 30 days. From the date of receipt of the application, and if after the 30 days, the association is not registered by the commission, it shall be deemed to be so registered.' National Chairman of the African Democratic Congress(ADC), Chief Okey Nwosu, however, sees it as part of the evolution of politics in Nigeria. He seeks to know the objectives of the defectors and rationalizes it in a seeming gritty dissembling.
'Ordinarily, we will say it is part of t he evolution of politics. But at times, you sit down to ask yourself, what are these people moving from party to party, going there to do?
My worry is that most of these people are going there to serve themselves, and not to serve the people. our system is till evolving. They can go to anywhere to contest elections. I am more concerned with the objectives of these people. Whether people move from PDP to ADC should not be the issue. We should check their objective. To a great extent, they are out to serve themselves.'
Clog in democratic wheel
Although, it is agreed that the practice is unwholesome, but many do not see the inherent, potentiality to halt the march of democracy in Nigeria. Aghedo said that though the nation's democracy is nascent, there is a bubbling eagerness to saturate the taste of democracy made more desirable by years of iron fist military rule.
'That section of the constitution on freedom of association is the mantra; the catchphrase. It is manic. Everyone is latching on to it like ants out of a dunghill.' For Sagay, it does not constitute a threat to democracy. 'What constitutes a threat to democracy is when the Independent National Electoral Commission(INEC) decides not to allow peoples votes to count in the elections.
Another threat is the power of incumbents, who are always favoured by the powers that be. If people can be allowed to vote for a candidate of their choice irrespective of their parties, then democracy is on course.' The spectre presents a mammoth platforms for multiple choices; and a hurdle for stability.