SARAKI VS SARAKI: WHY I WON'T FORGIVE BUKOLA – DAD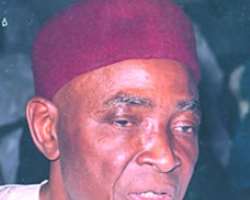 The leader of Northern Union (NU) and father of the incumbent Governor of Kwara state, Dr. Olusola Saraki explain why he is quarrelling with his son (Governor Bukola Saraki)  in an interview with newsmen in Ilorin,Kwara State LAYI OLANREWAJU was there.
 Excerpts:
Sir, we were not chanced to meet you and General Muhammadu  Buhari discussing but  we learnt that you have declared for the Congress for Progressive Change [CPC]. We want you to give further clarifications on this?  
Thank you very much members of the press. It is not true that I or we have declared to go anywhere. No. It is not true. That is not to say that now we are members or not of the CPC. We discussed in general and I asked the former Head of State to give me the CPC network generally in the country.
To tell me about CPC network in Nigeria ;that is  in the North West , North Central, North East, South West, South East and South -South as well as their footing in each of the 36 States.
Yes, we discussed about Nigerian politics and how the CPC Party is doing, faring. We went through this state by state, zone to zone and discussed individuals in politics. But we never discussed  Kwara on joining CPC. That is why it took us a period time. Yes, it is true we have some problems in the PDP. I am a supporter of PDP. I am not a card carrying member of PDP. But the party to me, I don't like the way they are running the party. But I am just only one out of million members or supporters of PDP.
 So, yes it is true. PDP in Kwara has some problems, because you know my son is the Governor. I am very proud of what he has done. I am very, very proud of him because for so many years, for so many, for 30, 40 years for what I have been shouting for, for what I have been clamoring for is progress in Kwara State . Take for example, Baruten in the northern part of Kwara.
  In 1979 I remember when I went to campaign in Baruten I slept outside because there was no room for me  to sleep in. No where comfortable that I can sleep. I had to sleep when every body else  had gone to bed. They gave me mattress and I had to sleep on the tar outside at the veranda/ I slept outside there.
And by 6 o'clock in the morning, I hurriedly got up and washed my face and dressed up and got going. So, at that time, Baruten was not part of Kwara. So, I was looking for anybody that wants to be Governor to make sure that Baruten is part of Kwara. In other words, develop the place so that people can go there and come to Ilorin here, the State capital without problem. Today, my son the Governor, Bukola Saraki has made the road costing more than N6or N7 Billion in that Local Government. I am very, very proud of him for what he has done in the Zone.
But what I don't like is that he has left the place so loose for any idiot to just become thin god. They did not look after the masses. That is my grouse against them and we are trying to resolve it in one way or the other. So, we have not reached the stage and as I told you yesterday, I will tell you where we are going whether we have settled and if they are ready to follow me. But so far in my life I am your leader and once you accept that and follow my advice and want to tell them what to do, no problem. That is the stage we are with the PDP. So, it is not true that we have decamped for anybody. No, no, no. We are not like that. We are too much one way straight forward and as I told General Buhari, I told him look,  we in Kwara State , we are men of God.
We serve God. For whatever we do today we will remain by it tomorrow and remember God. In other words, we are very honest and very, very honest to the core. I told him that we don't deceive anybody. If we are with you, we are with you. So, I thank him for coming because for him to take a plane to come and greet me here it is something and you know it costs money and this is not his first time to come and see/ greet me. He has been here before. So for him to hear that I am back, he has come and I thank him for that.
 And as I have said I was not feeling fine. This my right leg has been giving me trouble due to the disc of the back .So they said the only way to do it is to operate it. So, I went for the operation in America and it is six weeks today I had the operation in the United States . And I am supposed to be resting but because of  this 'wahala' in PDP and everybody now looks up to me to say no, stop and it is stopped. And that is our saviour in Kwara. Once I say stop that and they stop because they know that. So this is the issue and this is the problem. We are not declaring, we have not declared at all for anybody.
Sir, the number of Gubernational aspirants we are having today in Kwara especially in the same party, PDP is unprecedented. Where we are having 12-15 aspirants coming within the same party. Before now it used to be one person and that is all unlike what is on the ground now.    Yes, that is a very good question I too, I feel very ashamed and very sad that I understand that about twelve of them are in the race which has never, never ,never …. happened in Kwara State for the past 30-40 years that I have been piloting the ship of Kwara State . It has never, never, never happened to Kwara State . In filling up any position at all, it has never happened.
It is in this 'Great Hall' that we do take decisions that you, you and you will go for this or that political office after consultations of course. But this time, my son (Governor Bukola) just left everything loose. That is why I am quarrelling with him. That we have not done things in this way. He just left everything loose. We should have discussed it at home and  come up with your own candidate but he allowed all these sort of characters to come up. They want to become Governor, people that cannot even win their Local Government Areas or wards to become councilor. It is true they can not win councillorship in their local area. You know, you all knows them.
Now they want to be Governors. He had allowed that and that is why I am quarrelling with him and we are trying to put an end to that, trying to resolve it. It has never been like this and  it is very sad that seven, twelve are vying at the same time within the same party. Some of them, nobody even know them in Kwara State . Apart from being a cabinet member or commissioner in Kwara State , nobody knows them. Some of them, I don't even know them myself. You know he appointed them. I don't even know whom they are .Although on most of the commissioners he consulted me before he appointed them.
But not all these characters personal Assistants, SAs.(Assistants this or that) I don't even know them. So they misadvised the poor boy and as you know Bukola has never been in politics. This is the first politics he would be involved in. But unfortunately, he has spent too much time outside Kwara State that he was not at home to know all these characters and unfortunately when President Umar Yar'Adua died he has to come back home to face the havoc that has been done. So, I don't know what they are doing. Anyway, when we are talking I will see what can be done to rectify the situation.
  
What is the position of the Northern Union on the 2011 presidential election and their ambition of President Goodluck Jonathern ?
   You know the struggle we had with the Northern Union when the whole country in 1992, 1993, 1994 during the Abacha regime. We agreed that the presidency should rotate between the North and South for eight years North, eight years. Now South has finished their eight years and they want to continue and you know the situation that the Northern Union was formed to fight that attempt; that agreement is agreement , so we all stood up and went round the whole country and thank God, He heard our request and answered our prayer.
That brought out president Umar Yar'Adua and President Jonathan now. So, since then and president Jonathern wanted to continue and but we accepted we kept quite for the Niger Delta because we fought it together. But if Jonathan's people of Niger Delta want to continue, they should consult us. They didn't consult us at all even up till today. They didn't tell us that look oh, let us discuss. We want our son to continue. We will hear their mission. If they put a good case before us, I mean if we have Jonathan as bridge of peace. if after Jonathan there will be peace, we will support him. But then, they never discuss with us. And that is what  upsets all of us that how can they behave like this.
That is the problem we have. So we hope to hold a meeting and review that. So on what you asked as to whether we are going to take a side on the part of the North . That is, are we going to support one of the northern candidates or support President Jonathan.We have to look at the parameters and see the issue of place of the north. If four years of Jonathan is going to be four years, tell me four years is around the corner, let him go or not.
These are the things we want to look at. But we are not against President Jonathan. No. I saw him last Sunday (four days ago). He is a very,very  pleasant man. Very humble a man. Very,very humble. I have never seen such a head of State as pleasant as that man. Very,very humble man. So we want to discuss and see how far we can go with all what we have now.