IBB CONDEMNS ATTEMPT TO LINK HIM WITH BOMBINGS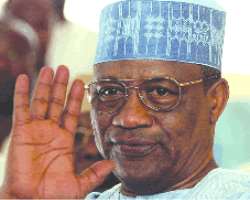 Ex-military president, General Ibrahim Babangida (retd) has condemned the attempt to link him with the spate of bomb blasts in parts of the country, describing it as cheap blackmail.
According to a statement signed by Babangida's spokesman, Kassim Afegbua, the former leader was seriously concerned with the bombings that had claimed several lives and wanted the government to squarely address the problems through convocation of summit of stakeholders on security to identify new methods of tackling the problem.
While urging the government not to play politics with the dangerous trend, he noted that the development should be attributed to failure of governance rather than engaging in buck passing. The retired general, while commiserating with the families of those who lost their lives in the dastardly acts, prayed that God would grant the souls of the departed ones eternal rest.
The statement urged the government to take adequate measures to rally round all stakeholders with a view to finding a permanent solution to the festering crime, noting that it had given the nation a bad image and made her the attraction of the world for negative reasons. The statement reads in parts: 'The loss of innocent souls and helpless citizens of this great country should worry all of us. It should bother all of us to see Nigerians being slaughtered in such wanton manner as if we were in a war situation.
It is barbaric, reprehensible, condemnable, brutish and callous by every standard. It is a disturbing trend that must be given all the needed attention both by government and the citizenry to arrest the trend. It does not call for name-calling, buck-passing and blackmail. It is not an issue to play politics with. It is a collective responsibility. It requires the attention and participation of all to assist in getting the relevant information at the right time and use such intelligence information to achieve the desirable result of checkmating this growing insensitivity.
'General Ibrahim Babangida wishes to use this medium to remind Nigerians that he has served and invested so much in the growth and development of Nigeria that it would be unthinkable to link him to any act(s) that would tend to undermine constituted authority in the land. Among his years of service are thirty-two year in the military including fighting at the war front to keep the country together, aside from serving as a military president for eight eventful and productive years.
Those who are trying to blackmail former president General Babangida would not have had a country called Nigeria today if he had not fought along with other patriots to sustain our nationality. He has been nursing injuries received at the war front since 1970 till date. 'We all should agree that there is failure in governance rather than passing the buck, or finding very idiotic and flimsy reasons to label some distinguished persons as being responsible for such failures.
Having identified the problems, it will now dawn on us to collectively put our heads together to find appropriate solutions, bearing in mind that these criminals live amongst us. Government has a greater responsibility to jump-start the process of rallying everybody together.
We must re-direct our effort as well as doubling our energies. Policing is a collective responsibility hence it will serve more useful purpose if government decides to create a synergy between it and the populace to make the intelligence gathering aspect of security more encompassing.'